[vc_row][vc_column width="2/3″][vc_custom_heading text="Reviewer: Ning"][vc_column_text]DESCRIPTION
This pack comes with 36 Appearing Business Cards with the word NAUGHTY written on them. Perfect for the holiday season! Great to reveal if someone has been naughty or nice. How do they work? There's an amazing secret that you'll find out when purchasing this set. These cards do the work for you.
NOTE: This effect is designed to work for indoor performances only, and you will need to purchase some inexpensive items.
REVIEW
I have to admit that when these little bundles arrived all carefully wrapped in brown recycled paper with a length of twine knotted around, I thought they were the most adorable things ever. Yes, I fully embrace the environmentally friendly packaging because if we don't love the earth, how else can our future generations enjoy what we have? Anyway, let's now focus on the crux of today's review: The Amazing Appearing Business Cards by Sam Gherman.
The product description above from Murphy's Magic (or your favourite online magic dealer) rings true. You receive a stack of 270 GSM eggshell white cover card stock, with the handmade cards printed using a specially engineered heat sensitive ink that will be light to dark grey in colour. When the surface of the card is warm, the ink turns invisible. And as they cool down to room temperature, your audience will see the ink gradually fading in. It's a remarkably visual effect, which you can easily pair with another diabolical mentalism tool… the SvenPad!
We're in the midst of winter right now, and over the holiday period I've been using these A LOT since they just look so damn good. Sam, the creator of the Appearing Business Cards, has created a wide range you can choose from so you can use them as predictions accordingly; besides the typical card reveals, you can choose the names of cities, celebrities, ESP symbols, and more… Naughty or Nice, anyone? 😉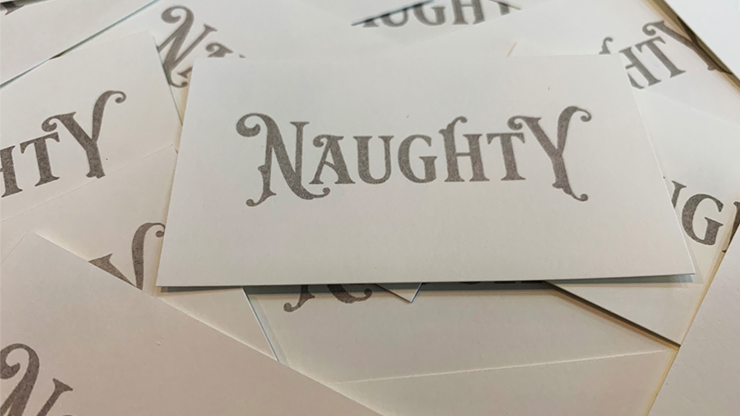 I really like these because they're easy to carry around and "activate" (more so right this season). Yes, as mentioned in the official product description, you do require a special little something to activate the change, but you most likely already have one stashed in your winter coat as we speak. And coming in packets, these things are really not expensive. Geeky Asian that I am, I own the rechargeable USB version which works as a portable phone charger as well LOL maybe that's something you might want to check out.
Still on that note; if you're standing next to a heater, it takes less than 2 seconds to get the cards ready (yes I tried) and the change looks really spectacular in the hands of your spectator or laid out on any cool surface. The ink appears like magic… exactly how it would appear on enchanted parchment in the world of Harry Potter. Anyway, you're a magician, I'm sure you can get creative and figure out what works best for you 😉
Honestly, I much prefer this as a method of revealing a prediction because it looks so much classier and magical than compared to say, running a cigarette lighter under a scrap of paper you've prepped your prediction on using a certain heat sensitive pen we all know about. The former method anyway, has been around for a decade and a half, so this is a very timely upgrade.
Price wise, I see this as very reasonable. Especially when these utility cards can be reused. Obviously do NOT torch them with your fire wallet or place them in direct sunlight. If you're careful in storing them in your wallet, the stack of 36 business cards (a variety of predictions in an assortment of 3 x 12) will last you quite awhile, even for workers doing table hopping gigs at restaurants.
Well done Sam. You must be a wizard. Now I'm really tempted to turn my own business cards into appearing cards!
[usr=10]
Magic is our passion but we are not a magic shop 
 You can purchase this here![/vc_column_text][/vc_column][vc_column width="1/3″][vc_column_text]
[/vc_column_text][vc_widget_sidebar sidebar_id="gp-standard-sidebar"][/vc_column][/vc_row]