[vc_row][vc_column width="2/3″][vc_custom_heading text="Reviewer: Satish Kumar"][vc_column_text]Bio
Gregory Wilson is an American magician and a two-time FISM award winner who specializes in close-up magic.He is a regular performer at the Magic Castle in Hollywood, as well as large corporate events all over the world. He is professionally represented by Secret Source Entertainment, Inc. Gregory is also one of the resident "Wizards" on Wizard Wars with Penn & Teller
Product
This is a comprehensive 3 Hr. video /Lecture on impromptu magic with everyday objects, playing card but more importantly a lot of stress on performance strategy and misdirection techniques. Greg is one of my favorite magicians and i admire him more after seeing this lecture as he doesn't shy away from his mistakes and shows the recordings where he is self critical and gives ideas what should have been done on approach and routining. Those are Big Lessons. This is the final segment and worth every $ you will invest on this Lecture
Effects
The lecture takes you through some of Greg's signature effects and also teaches magic with impromptu objects that can be used in everyday situations.
There are more than 10 stunning effects and many of these i am sure you have seen people perform. What i personally liked is the way the effects have evolved for Greg. How he shares his experiences and makes the handling easier and approach each of these from the spectators psyche.
Bottle Production from paper Bag– Watch the explanation. Its clear,improvised and uses no gimmicks and personally something i perform too. It gets the wildest reactions. In this case he produces a champagne bottle and his handling is a slower reveal which makes it much more mystical.
Star Bucks: Greg uses the Star Bucks Coffee takeaway Cup and paper heat safe to perform some great transformations. He demonstrated with sugar sachets that change color while going through the heat safe. Extremely magical. This can greatly couple with the paper bag stick routine too
Pitch and Ditch: Greg's signature. I have seen the teachings before for this which was really focused on skill. What i see in this lecture is he has simplified it and given the audience management angel in better detail to make the move easier. I would still say that it has Greg's signature all over.
Ring Side: Its a combination of coin vanish with the ring transposition. Personally its a great get ready to go into a ring and string routine
Watch Steal and Pick Pocket: If you are into pick pockets , you will love the segment. This is the longest segment on the tape.it details improvised moves and mis-direction
Exact Change and Penny and Dime: Exact change is an effect where u ask a spectator to cal out a number between 10 and 100 and the exact change is in your pocket. Penny and dime is version of copper silver but with no gimmicks.
Stick Shift: Angry mans handcuff with toothpicks.. Intense impromptu and this version uses the spectators hand too. Fooled me badly and something i love and will surely practice to perform.
Card Work: Great class on Peek that can be used for many effects and card to box effects multiple sequence. Teaches sleights that helps to perform it. Its effects that throw spectators off and guarantee reactions.
Slydini paper Balls: Uses papers and solid objects liek glasses and Coke bottles etc. Must watch. This is one of my effects when people ask me to perform one more. This is the time where the spectators are with you.
Rating:  9/10
HIGHLY Recommended
Summary
I am biased when its Greg Wilson but i think this is 9/10 for couple of reasons.
The thing you learn on this video is not just magic effects but what makes your magic better. Even if you don't perform the above 9 effects ,i can assure that the lessons you take from this will be relevant for your magic as well
Impromptu is a weapon a magician should have all the time. Analyze every situation if someone asks you to perform, what would you go for? This lecture gives you many ideas to fill your weaponry
This is also pack nothing still play Big on many counts.Things that captivate me are Stick Shift, Bottle production,Card to Box. Pickpocket magicians- Its a must watch
Lastly why 9/10, because its a 3Hr video and i didn't realize it. I was thrown off that i watched 3Hrs without breaks and didn't seem like it too.
Enjoy the Video. You won't regret.
Magic is our passion but we are not a magic shop 
 You can purchase this here!
[usr 9][/vc_column_text][vc_separator][vc_custom_heading text="Reviewer: Harapan Ong"][vc_column_text]
If you're a magician looking for a ton of new material that is fun and workable, plus a lot of advice from a magician who knows how to work a crowd in the real world, you're in for a treat; Gregory Wilson's lecture is perfect for you.
Be prepared though – Greg Wilson's lecture is much longer than most At the Table Live Lectures, clocking in at above three hours of magic. However, the reason for that is Greg's tendency to go off on a tangent and start explaining parts of his repertoire that he is more than happy to point out was not originally planned for the lecture. One of the memorable ones is an entire impromptu segment on pickpocketing, one of Greg's signature pieces. This isn't a complain at all – in fact some of those unplanned lessons are the best and most entertaining, simply because Greg is a master at improvising and thinking on the spot, and seeing him riff off the cuff without a script is just great. One of the best things about watching Greg's lecture is that it is as much a performance as it is a lecture – Greg presents his tricks with all the enthusiasm and charisma he has, making the three hours fly by like a breeze.
The lecture is packed with tricks, routines and ideas from start to finish. It's amazing how much Greg has managed to squeeze in, and if you know anything about Greg, you would know that his tricks are all workable in the real world and are also a breath of fresh air to watch. However, many of them do require a considerable level of sleight of hand capability on the part of the viewer. A lot of the tricks and routines he presents in the lecture also require the magician to be extremely bold in terms of audience management and misdirection, another hallmark of Greg Wilson's style of magic. There's a lot of entering the spectator's personal comfort zone and direct body contact, which may not be suitable for every magician's performance style. However, even if you don't use those routines, as I mentioned it is an absolute joy to see Greg pull these bold moves off and fool an unsuspecting volunteer during the lecture.
There is a particular segment in the lecture that I wish to point out though – which is a segment that Greg calls Coffeehouse Conjuring. I first came across this when he wrote a column in MAGIC Magazine, where he presents a full routine using only items found at a coffee place like Starbucks. In this lecture, he also presents one of those routines involving colour changing sugar packets with a coffee cup sleeve. What I like about this Coffeehouse Conjuring concept is simple – you get to learn magic that is non-card material, and completely impromptu as well, which is a rarity nowadays. Do get some back issues of MAGIC Magazines with Greg's column in it – there are some fantastic impromptu routines that are both amazing and original.
In short, I highly recommend this lecture to magicians looking to add some routines to their repertoire, or those who are looking to get some inspiration for their own repertoire. Watching Gregory Wilson in full performance mode is also an utter joy, and is a subtle lesson in audience management from one of the funniest and most dynamic performers I've ever seen. Last but not least, do check out his Coffeehouse Conjuring column in past MAGIC Magazine issues; trust me, it is totally worth it.
See murphysmagic.com/atthetable/ for more information
[usr 9]
[/vc_column_text][/vc_column][vc_column width="1/3″][vc_column_text]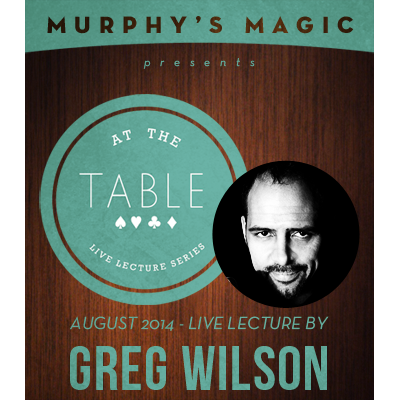 [/vc_column_text][vc_column_text]
[/vc_column_text][vc_widget_sidebar sidebar_id="gp-standard-sidebar"][/vc_column][/vc_row]