[vc_row][vc_column width="2/3″][vc_custom_heading text="Reviewer: Harapan Ong"][vc_column_text]I don't quite know what to think about this lecture by Chris Hannibal. It seems like the lecture was intended to be targeted at magicians looking to go professional who are looking for tips from a veteran worker. While there certainly were tips and ideas on that, I felt that the magic presented in the lecture fell short of my expectation, and there was more focus on Hannibal talking about printing your logo on cards and T-shirts to sell at your own show.
In this lecture, Hannibal seems to spend quite a bit of time talking about his efforts in branding and marketing. Hannibal talks about how to create a brand by using logo on T-shirts and badges to sell or give away at his shows. He also shows the cards he printed with his name on the back, which he also freely gives away after his shows. He emphasizes on the importance of your audience remembering your name, rather than just remembering you as another generic magician that performed at their event or party. I do think that's a good piece of advice for all magicians, whether you are an amateur or a professional.
However, the tricks presented in the lecture seem to fall short of expectation for a working professional. An example of that is the Pringles act that the host, Mike Hankins, calls his second favorite trick. However, it seems to be a rather unremarkable card-under-object routine, ending with a card-to-impossible-location finale. The timings for all the loads seem to be very obvious and poorly executed, and yet Hannibal claims that it is a "workhorse" routine for him that, if my memory does not fail me, has put him "on the map". I apologize if I seem too harsh, but I honestly doubt that statement.
Another problem I had with this lecture is the choice of jokes and material used in the lecture. As an example, Hannibal performed a long Cards-Across effect called "Roadhouse" that was peppered with rather inappropriate jokes. To be fair, he did clarify at the start of the routine that this was for an adult crowd – however, I could not help but find myself cringing when Hannibal was asking the ladies to put the cards in their bras, or crack jokes about "pulling out from behind". I wouldn't mind the stock jokes and sexual innuendos, but yet again sleights in the routine were all poorly executed as well. The sexual jokes, by the way, did not stop there – throughout the lecture there are other moments where I found myself cringing involuntarily at the awkwardness of the jokes. The polite, formal situation of a At the Table lecture was just not suitable for such material, and I was disappointed that Hannibal chose such material to be presented.
There was one good thing mentioned in his lecture though, and it was this concept called the Sleight Club, which he and his friends have set up – a session where magicians gather and be brutally honest with each other about their routines and sleights so as to achieve maximum productivity and improvement. I think this is a good sentiment to have, and is a concept that should be applied to more sessions and conventions. I think magicians are often too polite to point out mistakes made by other magicians during sharing sessions, which result in no improvement whatsoever on the routine presented.
In conclusion, I think this At the Table Live Lecture by Chris Hannibal would be useful to those looking for some tips on how to expand yourself as a commercial / professional working magician. The tips on merchandising and selling your brand could be useful to some magicians. However, I cannot imagine anyone finding the routines or the presentations in this lecture to be useful or something to emulate. I could certainly do less with the overdone jokes and the crude sleight of hand – perhaps better, more suitable sleight of hand could be presented at this lecture in the future.
Magic is our passion but we are not a magic shop 
 You can purchase this here!
[usr 4][/vc_column_text][/vc_column][vc_column width="1/3″][vc_column_text]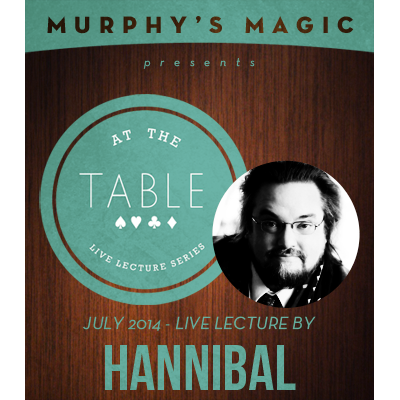 [/vc_column_text][vc_widget_sidebar sidebar_id="gp-standard-sidebar"][/vc_column][/vc_row]