[vc_row][vc_column width="2/3″][vc_custom_heading text="Reviewer: Mark Wong"][vc_column_text]DESCRIPTION
Internationally renowned for his streamlined and practical approach to card and close-up magic, we are proud to welcome John Carey for an At The Table lecture like no other! Having published 3 critically acclaimed books, Crafted with Carey, Minimalistica, and his most recent work, The Carey Files, John's work is in the repertoires of working magicians around the world. In addition, he has released a myriad of DVDs which are sold in magic shops everywhere. If you want powerful and memorable close-up magic that won't bust your knuckles but will leave a lasting impression, join us as John Carey delivers all the goods here At The Table! Here's what you'll learn:
Triple Inpurseination: A beautiful opening effect. Triple Spellbound meets Coins To Purse!
Whispering Ambitions: A powerful combination of the classic Whispering Cards premise and the Ambitious Card. Simple, strong, and practical.
YAFAP!: An interactive 4 Ace production built around the premise of the past, present and future.
Your Cards Are My Cards: Carey's favorite approach to the classic Last Trick of Dr. Daley.
Kaleidoscope: An almost self-working color-changing cards effect with immediate reset. Perfect for walk around!
Think as I Think: The classic Do As I Do effect but with thought-of cards? Yes, that's right!
Ambitious O'Henry: A beautiful small packet rendition of the Ambitious Card with a knockout off balance transposition.
Little Vernon: Carey's minimalistic approach to Dai Vernon's Out of Sight Out of Mind. A killer thought-of card discovery!
Slow Motion Oil and Water: A visually stunning rendition of this classic plot culminating in a slow-motion finale. You will love this!
Think n Sync: Want a reputation maker? Look no further. Another diabolical thought-of card effect where the magician and the spectator's thoughts combine. Did we tell you it is self-working?
A Mystery in Time: We finish with one of the strongest versions of the Mystery Card plot you will see! Quite simply a beautiful routine.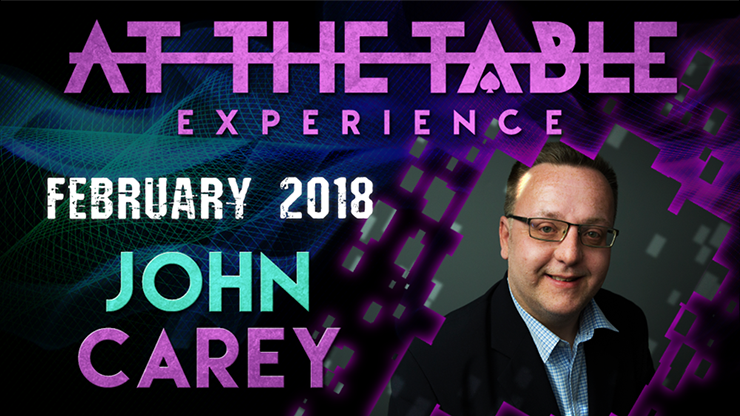 REVIEW
This at the table lecture features the legendary John Carey. He covers a few different kinds of material in this one, ranging from coins, to cards, to a little bit of mentalism too. 
Even though there is so much material in this one, I felt that the difficulty level isn't very high – anyone with some knowledge in magic should be able to do all of the things he is teaching in here. Heck, some things are so simple and good that even beginners can do it.
An example of simple and good on this lecture would be "Think as I Think". This is Johns approach to the classic do as I do trick. I feel that this is spectacular and has the potential to be a magician fooler as well. Instead of the typical do as I do, in this version, your spectator shuffles the cards in his/her hands, spreads through them mentally selects a card, and shuffles the cards again. You do the same, and you both are somehow still able to arrive at the same card later. I feel that this is a significant add-on to the original trick, and I will definitely be exploring this concept.
Another really nice one that stood out to me was his handling of oil and water. Even though I do not perform this type of routines, I felt that it was really smart. I believe a lot of thought went into this routine. It is multi phased and there even is a "reset" built into it. With that being said though, this one does have some sleights. Probably not for complete beginners, but if you are willing to put in the work for it, you will have quite a nice piece of magic in your hands.
The crediting on this project is also impeccable. John seems to have an endless pool of knowledge regarding which moves come from where, and I think that is really nice, especially if you would like to research further on certain specific moves.
John also stresses in this lecture that he hopes that you will take and use, but not copy whatever he teaches wholesale. He stresses for us to take the material he teaches and make it our own, adding our own personality to it. I think this is really important because there are so many performers out there who perform whatever they buy verbatim. I guess its fine if you are doing that in the beginning just to get a hang of it, but honestly, once you add your own personality to it, you will really start to see the difference!
In summary, the material on this lecture is suitable for pretty much all skill levels. There is stuff that is suitable to be performed for laypeople, and there is also stuff that can be magician foolers. At only $7.95, I'd say this is worth getting if you would like to see and learn his takes on some of the more popular plots in card magic.
[usr=8]
Magic is our passion but we are not a magic shop 
 You can purchase this here![/vc_column_text][/vc_column][vc_column width="1/3″][vc_column_text]
[/vc_column_text][vc_widget_sidebar sidebar_id="gp-standard-sidebar"][/vc_column][/vc_row]