[vc_row][vc_column width="2/3″][vc_custom_heading text="Reviewer: Madame Curator"][vc_column_text]The first of the on-going "At the Table" series by Murphy's Magic, Michael Ammar's live lecture is available as a solid 2 hour download that is generously packed with modern day magic miracles, appealing to magicians from all walks of life.
Hosted by another magic heavyweight, Joshua Jay, the professionally produced video was recorded with multi-cameras for various camera angles, and filmed before a live studio audience. A nice touch was that people tuning in 'live' could ask Ammar some realtime questions too. Magicians from all over the world – Japan, South Africa, America, etc. – had all sorts of questions for the master magician, who patiently and good-naturedly answered them all. It was wonderful getting a nugget of understanding and insight into Ammar's thinking about magic, work smarts and ethics.
Unless you're a magician who has been living under a rock, we would all agree that Ammar is well-loved and respected for his work. In fact, one of my very first magic videos was Ammar's "Ice Breakers" from a long time ago, and back then I'd already enjoyed his personable easygoing style and his clear instruction in magic. Ammar's classic "pencil behind ear" trick in there was my favorite go to for kids because it gets them every time.
In this lecture, Ammar candidly shares about the magic he performed during his recent guest appearance on David Letterman's popular TV talk show. Some magician favorites like Ammar's cute but freaky "Little Hand" effect, his famed topit work and more are taught, alongside footage from the TV spot.
One of my favorite parts of the teach-in was Ammar's tutorial for his visual "Silk Thru Coffee Mug" routine (similar to his "silk through microphone" effect in his "Easy to Master Thread Miracles" DVD). Ammar shows the special something you will need to make the magic happen, and also suggests a much cheaper alternative you can buy instead… albeit the cheeky fact that it would need to come along with a loud cough from you to mask the loud tell-tale squeak during performance.
A good amount of time was also given to Ammar's legendary handling of "Crazyman's Handcuffs"; proving hands down that he is still the master of this visual magic classic. Besides rubber bands, the lecture also had Ammar teach a variety of close-up magic using common everyday objects like money, credit cards, mobile phones, besides playing cards (really enjoyed his side steal teach-in) and more, which makes up a pretty wide repertoire.
If you're a magician who is new, or not yet familiar with Ammar's solid body of work; this lecture would be a good first video as a sampler of what he can offer. Those of us who are already quite familiar with Ammar's decades-long legacy, would find only a few brand new effects shared here. However, I do think the price of the video is already worth Ammar's critical sharing of magic theory, personal life experiences and philosophy gleaned over the years in his amazing magic journey.
In summary, this lecture download has something for everybody and it was a delight to see how Ammar has evolved as an artist over the years. It is clear from this live session as well, that Ammar still has the magic. Highly passionate about the art and extremely driven; he is a shining beacon of inspiration to the rest of us. And oh man, Ammar's bubbly little laugh is highly infectious.
[usr 7]
For more information about "At the Table" live lecture series, held every Wednesday at 4pm PST, please visit http://www.murphysmagic.com/atthetable/
SPECIAL: To experience the first 20 minutes of any live lecture for free, please check out http://www.murphysmagic.com/free20/[/vc_column_text][/vc_column][vc_column width="1/3″][vc_column_text]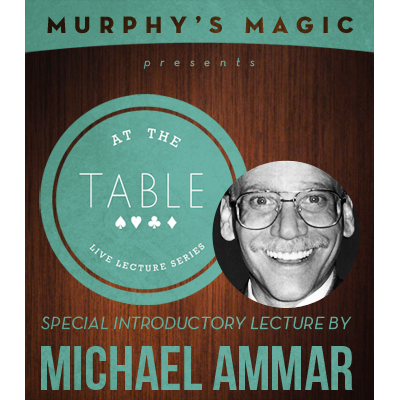 [/vc_column_text][vc_column_text]
[/vc_column_text][vc_column_text]
[/vc_column_text][vc_widget_sidebar sidebar_id="gp-standard-sidebar"][/vc_column][/vc_row]