[vc_row][vc_column width="2/3″][vc_custom_heading text="Reviewer: Ning Cai"][vc_column_text]DESCRIPTION
Philipp Ganglberger has earned his living with performing mentalism for over twenty years by now. Besides having multiple TV-Specials with his friends as a group called "Magic Mushrooms", he has appeared on nearly every stage in Austria. B2 is the name of the billet routine he used to do (and still does) in his act. It is suited for stage and parlor. Within the routine two thoughts are read. The routine itself is directed at advanced mentalists. You will have to p**k, s***ch, and mis***l. Did wer mention there is a du**y as well. But if you dare to practice you have something really marvelous at your fingertips. Mentalism done the Old School – no electronics, just you, yourmind, your fingers and your audience.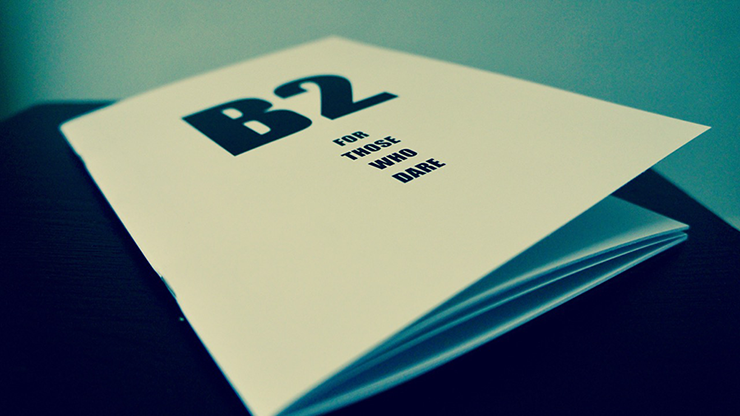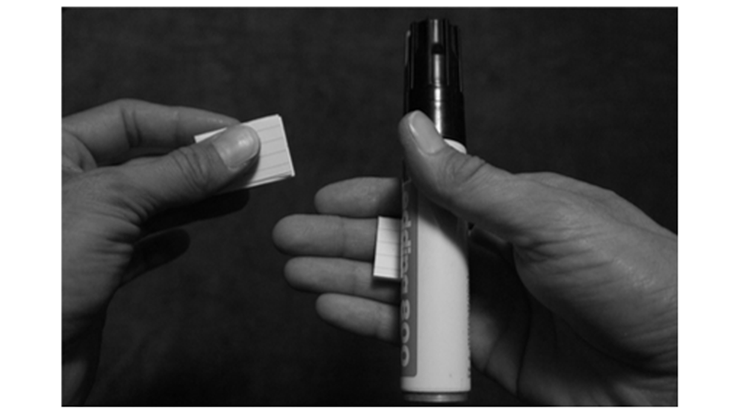 REVIEW
Philipp Ganglberger's B2: For Those Who Dare is a billet routine designed to be performed on stage. Printed in black and white on good quality art paper, this instructional booklet is 30 pages long from cover to cover, with plenty of pictures clearly illustrating important moves. The A5 booklet also has plenty of pictures illustrating the finer details of this mentalism routine taken from the author's own professional act.
To be honest, it took me a few hours to get through the material since English is not the author's first language (Google sensei pointed me to this sexy Austrian mentalist/ magician's website) and I've a baby to take care of during this COVID-19 lockdown, so it's not all his fault; I want to stress that the contents of this booklet are absolute GOLD. Sure, some descriptions may be a little clumsy as he takes the reader through the necessary prep work and stage directions, but the routine is very clever and well thought out.
It is also evident that Philipp is a professional performer from the wealth of knowledge he imparts and subtleties introduced. I won't give too much away, but I was especially impressed with his logical reasoning about the various possibilities that women spectators may write down; the birth time of their first born child being one. Very astute indeed. There are other things but I'll let you discover them when you savour the secrets in his fine book.
Philipp has also given credit where credit is due, to veterans like Barrie Richardson and Jas Jakutsch whose works inspired his thinking. I do enjoy learning abut Philipp's creative thinking process, and then toying with the ideas and considering how I may adjust to personalise and vary things my way. Philipp carefully takes the reader every step of the way, even covering topics like pocket management, prop organization, and stage management.
B2 is clearly a masterpiece that is precious to its creator, a fresh respite from the magic junk released by magicians to make a quick buck. This is the real deal for the professional performer, by a professional performer. It is reliable and will work every time, leaving nothing to chance. You are in absolute control. The routine might seem a bit of a challenge when you read its official advertising description above, but trust me… when you break it all down, it is really very doable.
This mindreading act is not something you'd casually bust out at the pub, but is definitely something special for workers who perform on stage or parlour. I personally know a friend who's definitely adding this to her professional repertoire once this global pandemic blows over and she's back at work. That friend is me.
Honestly, I enjoy B2 and would give it a perfect score if the booklet was better edited (maybe it's time I make use of my postgrad degree and offer professional editing services to industry peers who are planning to release books in English). While the featured photographs are good, a tutorial for the moves would be a nice touch. And on that note, a link to a performance video would be brilliant. I enjoy watching professionals in their element, and I'm sure I'm not the only one who would appreciate that. Lastly, a little bit of a nitpick, but numbered pages would be good for easy reference.
Philipp Ganglberger's B2 comes highly recommended. I dare you to pick up this awesome billet routine 😉 You won't regret it.
[usr=9]
Magic is our passion but we are not a magic shop 
 You can purchase this here![/vc_column_text][/vc_column][vc_column width="1/3″][vc_column_text]
[/vc_column_text][vc_widget_sidebar sidebar_id="gp-standard-sidebar"][/vc_column][/vc_row]