It's just a couple of weeks to the end of the year, so what better time than now to do a round up of the Best Magic Downloads of 2020 🙂 Compiled for your easy reading are a list of 30 very deserving titles, a combination of magic and mentalism, that are worth your time and money. Here we go!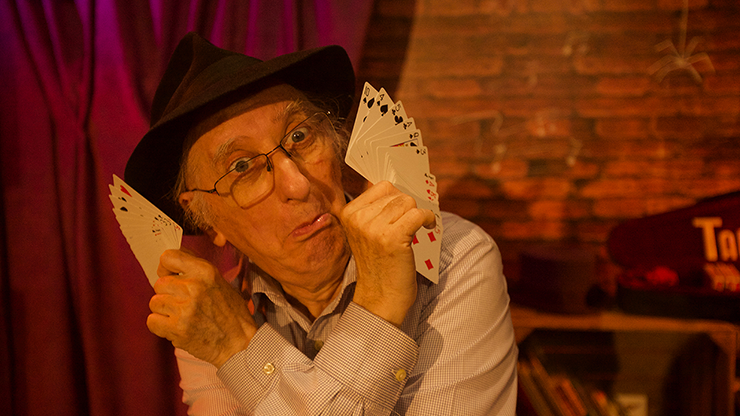 Magic From My Heart by Juan Tamariz
The collection you've been waiting for – from no other than Juan Tamariz! Appropriately named, Juan Tamariz – Magic From My Heart shows us why Juan Tamariz is considered to be the greatest magician in the world. He cares about all nuances he's purposely placed into each move, to achieve audience reactions that go beyond amazement. His heart is truly into it, and you will surely benefit from this download collection.
The Marvelous Pencyclopedia by Tom Crosbie
Turn your everyday un-gimmicked Sharpie into a lethal magic weapon! On this download you will find a comprehensive library of moves and sleights using the Magician's favorite pen – The Sharpie. You can easily work the many routines into your Zoom show.
Turn a glass full of ink into a glass of clean water with a real goldfish in it. You essentially show a drinking glass full of ink, cover it with a cloth, whisk it away and voila… The liquid has turned into water, and a goldfish is swimming in the glass! This is an incredible surprise with guaranteed shocked reactions; a theatrical piece of close up magic they will never forget.
The PIN code divination is one of the most impressive feats you can perform for a modern audience. Sherlocked is a system that can be used by itself, or in conjunction with other PIN code revelations. It is easy to recollect and you can use it in virtually any environment regardless of region or language barriers. With absolutely no forces, peeks, or awkward unexplained processes, this system will assist you in revealing a participant's freely thought-of PIN code.
Derren Brown's most trusted friend 'and consultant Andy Nyman is a creative force in magic and mentalism. Now, with this MASSIVE 3-video download, you can gain exclusive access to his most exciting routines.
Let's Get Flurious by Gary Kurtz
An intensive 90 minutes of top quality magic from one of magic's hottest creators and performers, Gary Kurtz. Included on this outstanding download are Gary's signature effects Flurious, Forced Thought, Signed, Sealed, Delivered, and more. There's also a very special section devoted to magic psychology, misdirection, and direction of attention. Gary's thoughts on these subjects can give your magic a much greater impact on your audiences.
The Boris Wild Marked Deck Project
This is NOT about just having a card selected and reading its value from the back. It's WAAAAAAAAY more than that. Master the techniques Boris will teach you in this 4 hour long download, and you will have a weapon in your arsenal that will elevate ALL the card magic you perform. Think of the Marked Deck as a tool that can supercharge every routine you do. It can add a layer of deception to any effect, help you get ahead of your spectators, rescue you if a trick goes wrong – and Boris teaches you how to achieve ALL of this.
Hand-Picked Astonishments: Thumb Tips by Joshua Jay and Paul Harris
Not only are all the basics covered, but you'll learn how to make a "nesting" thumbtip, several effects you can perform anytime and anywhere, and even two larger routines suitable for bigger audiences. If you have never used a thumbtip before, this is the perfect primer. If you consider yourself a thumbtip expert, there is still a selection of brand-new, unpublished routines and concepts.
Learn 7 revolutionary and insanely-visual rubber band magic tricks unlike anything you've ever seen before. As if that wasn't enough, every single routine can also be performed in the SPECTATOR'S HAND. That's right, the band will disappear or change colors in their hand, or even penetrate right through it. No gimmicks needed. Just regular rubber bands and some unbelievably creative methods.
Haunted Deck Plus 2.0 by AntwanTowner
Antwan Towner has performed his unique take on the Haunted Deck thousands of times over the last 20 years and is excited to finally share it with the magic community. He'll show you everything you need to know, including tips and tricks for fearless handling and performance as well as some awesome bonus effects.
Faded is an amazing effect whereby something drawn changes into something else – a prediction, the name of a spectator's card, it's up to you. The writing or drawing really looks smooth when changing and transitioning. The paper can be examined by the audience. This is very easy to use without a complicated set up. Simple handling. No magnet, string or elastic.
Divine playing cards, drawings, star signs, words, without your spectator ever having to say a word. They will remain completely silent, and you will be able to tell them their thoughts in seconds. Imagine doing any anagram that you already do, but without the spectator ever having to respond to you. They simply just imagine the answers, and with 100% accuracy, you nail their thought.
A Card Merely Thought Of (ACMTO) by Molim El' Barch
A Card Merely Thought Of is one the most direct mind-reading effects you'll ever see. It is an amazing two-phase effect that offers a unique approach to the classic "Think of a Card" plot. ACMTO can play big or small. It's perfect for everything from close-up magic to stage magic and even virtual magic over video calls. No gimmicks!
Blind Flap Project by PH Ontheroof and Mario Tarasini
A automatic and visual change unlike anything you've ever seen. This is a game-changing method that is different than any of the other basic methods you might be familiar with. You can can even conduct the color change with a coin resting on top of the deck of cards, adding a new layer of impossibility!
Crystal Ink by Priyanshu Srivastava and JasSher
Crystal Ink is an ink appearing and vanishing effect on a playing card that gives you the ability to print any design that you want any time. Highly customisable, it is easy to make and is so visual it looks like a complete camera trick. Does not use any flaps, threading, magnets, or double stick tape.
Card Animations by Patricio Teran
The animated card is one of the most beautiful and fun concepts in close-up magic, and Patricio Teran takes this to unbelievable new heights. This magic download will teach you 4 remarkably innovative card animations, and show you how to build your own cards step-by-step. This is a must-have for anyone who wants to perform visual card magic.
DRAWING by Luis Zavaleta & Michelle Ayllón
A card is selected, signed, and returned to the deck. You draw a stick man with a to hat and he reveals the selected card in a very magical way! The card can be given away or examined. A cute card trick that is easy to do, no sleights.
This award-winning card trick will have your audiences simultaneously stunned and bowled over from laughter. It starts out like any blank deck routine and ends with a twist they will never see coming where the entire deck "prints" itself and traps your spectator's signed card for a kicker reveal. In this special magic download, Marc shares all the details you'll need to perform Kane, as well as the key intricacies behind getting the most out of the presentation.
The Real Invisible Deck by Christopher James Dugdale
With The Real Invisible Deck, you can perform an invisible deck routine with regular playing cards and no forces. Your spectator can even spread through the deck of cards and find the reversed card themselves. You won't even need to look at the cards once they're removed from the tuck case.
Kolossal Killer 3.0 by Magic Willy aka Luigi Boscia
This mental magic trick touts itself as the classic Kolossal killer but with only one card always in view! The magician shows a card folded in 4 and held closed by a clip, the spectator thinks a card, when the magician opens the card, it is the one thought by the spectator.
The Mind Reading Orange by John Kaplan
I love it when mentalism isn't serious (too often it is). With this instant download, you'll get to watch John's entertaining performance in its entirety, before learning every single detail of the 5 minute long set. This card in orange routine is easy to perform and allows you to focus on entertaining your audience instead of any complex technical necessities.
No Cards, No Problem by John Carey
This amazing collection of non-card material covers everything from ring magic to coin magic, rubber band magic, mentalism, and so much more. As with all John Carey products, everything is taught with an incredible amount of detail. You'll be ready to perform these effects in no time.
Dani's Collection of Weapons by Dani DaOrtiz
In Dani's Weapons, you'll receive a 3-part masterclass in psychology and magic methodology that includes effects that you can immediately load into your holsters, but more importantly, Dani dives deep into the fundamental aspects that make his style of magic possible. He goes in-depth for almost 3 hours in this three weapon collection, and discover a new foundation for which to cultivate your magic repertoire for the next age of illusion. Highly recommended!
9 incredible new routines from the legendary Dani DaOrtiz, one of the most innovative card magic creators of all time. You're going to absolutely love this instant download offering over 2 hours of content. If you're not a fan yet, you definitely will be after watching The Boundless. Again, highly recommended!
10 Trick Online Magic Tutorials / Series #1 by Paul Romhany
So this one's a little special: Paul, magician/ magic creator/ editor of VANISH magazine, has taken the DVD concept and turned it in to an online product you can sell yourself on your website, to schools, libraries etc. as a download magic tutorial. You can easily customise it yourself by adding your logo. All the work has been done for you.
Five to Five by Alejandro Horcajo
Transform a pack of gum into a stack of cash with this instant download from Alejandro Horcajo. Organic magic at its finest, this shockingly visual effect uses objects everyone can relate to. Everything happens instantly and the gimmick is easily reset.
Of the Little Things Vol. 1 by Alan Rorrison video
These are the little things that kill and have been pet effects and hidden gems of Alan's for years. Now these hard hitting pieces of strange are in your hands to have fun with.
The Kreskin Altoids Effect by Menny Lindenfeld
This is an incredibly practical and commercial approach to the "find the object" plot that is super fun to perform and may even convince your audience that you have supernatural powers. If you enjoy this popular mentalist's work, you'll surely like this one.
Now available as a download! You can starting learning Dani DaOrtiz's greatest routines and best-kept secrets immediately! This collection from a true master magician is one that every serious magician should own. As with his other titles, I highly recommend this.
Master Magician Dani DaOrtiz continues his seminal collection of amazing routines and best kept secrets with Here & Now II. This live seminar was filmed live in Spain in his studio and covers more than 6 hours of innovative magic tricks, techniques and concepts. Highly recommended, especially if you're into theory and philosophy besides effects!
The Evolution Project by Alejandro Navas
5 knockout card tricks that happen in the spectator's hands! These effects were designed exclusively for Zoom Magic Shows and other virtual magic performances. This is a tremendous value. I love this and so will you.
The Evolution Project 2 Distance by Alejandro Navas
Alejandro Navas returns with another incredible download filled with interactive and amazing card magic designed for Zoom magic show or socially distanced magic shows. All of the magic takes place in your audience's hands. Highly recommended for the virtual performer.
Wherever you are in the world, do support your favourite magic shops during these trying times 🙂 Here's wishing you the very best for 2021!