[vc_row][vc_column width="2/3″][vc_custom_heading text="Reviewer: Ning"][vc_column_text]DESCRIPTION
The Carat XDS Single Card Display Deck Stand elegantly displays your favorite playing card while keeping it protected from potential damage or harm. The Carat XDS also can be used as a deck stand to show off your favorite deck, or to keep your current working deck at ready access.
The case edges are beveled, and the corners are rounded for a more elegant look and feel.
The Carat XDS is made of two main components, the display and the base panels. These are easily assembled and disassembled, allowing for easy storage and portability.
The display panel is made up of two pieces of clear archival quality acrylic attached by 4 neodymium magnet pairs, which provide a strong bond while still allowing for easy access to the card inside.
The back piece of the display panel has a cutout the shape of a poker-sized playing card so that your card is easily centered in the display. There is also some space between the two pieces, reducing the risk of damage to your precious card. Please note that the cutout is only 1mm deep, so cards thicker than 1mm may still be squeezed by the two pieces.
In addition, there is a shelf to place a deck in the front of the display panel.
HIGHLIGHTS
Clear archival quality acrylic for unobstructed views of both sides of playing card while safely protecting and storing it
Beveled edges and rounded corners for an elegant look and feel
4 neodymium magnet pairs to keep the playing card firmly sealed in the display while still allowing for easy access to insert/remove it
Poker-sized card cutout in back panel for card to center the card in the display and provide space between the two front and back pieces so it is not crushed
Can be used as a deck (or phone) stand
Easy to assemble/disassemble for easy storage and portability
PRODUCT SPECIFICATIONS
Materials Used: 1mm, 3mm and 5mm archival quality clear acrylic and neodymium magnets
Dimensions: display panel – 12.4cm x 7.4cm, base panel – 10.0cm x 7.4cm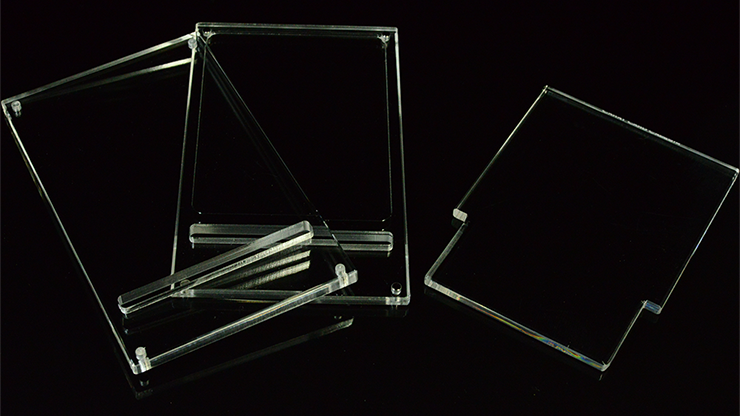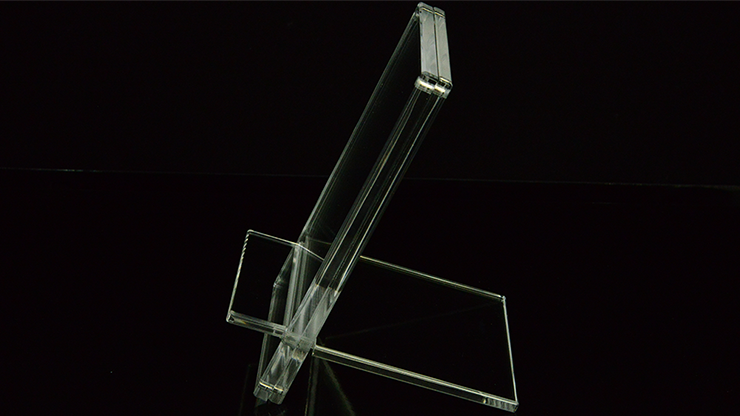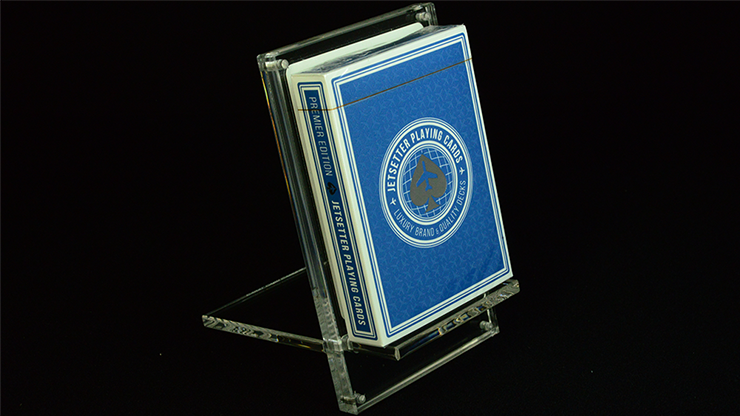 REVIEW
I was most impressed when I received my Carat XDS single card display deck stand. The unit came well packed in a stiff cardboard box, with the acrylic pieces individually wrapped in plastic to minimise scratches. Putting it together is a breeze: snap them together and slide the base into the slot. You can pop a signed card in the shallow recess within the two acrylic pieces, or choose to display your favourite deck of cards.
This display stand is extremely well designed. All the edges on my unit are smooth to the touch, something I appreciate since acrylic can sometimes scratch you when the edges haven't been sanded smooth. It is well designed with tiny but powerful magnets that do not distract from the minimalist look, and the mini ledge on the front which protrudes out is about a half inch… perfect to rest a deck of poker cards. Or your mobile phone, even.
As you can see from the photo above, I've used my new Carat XDS single card display deck stand to display a gaff for an effect I'm working on where a card with a torn corner fixes itself. I'm more than happy with the quality of the acrylic, where the sandwiched card on display still looks clear and bright and not dulled in any way. The weight is perfect; just enough heft so there's no way it will tip your deck over.
This works as a brilliant mobile phone stand as well, perfect for any Zoom calls you're making during this period of COVID-19 quarantine. Packs flats and easy to transport, you just need to be careful not to scratch the surfaces.
Recommended 🙂
[usr=8]
Magic is our passion but we are not a magic shop 
 You can purchase this here![/vc_column_text][/vc_column][vc_column width="1/3″][vc_column_text]
[/vc_column_text][vc_widget_sidebar sidebar_id="gp-standard-sidebar"][/vc_column][/vc_row]