[vc_row][vc_column width="2/3″][vc_custom_heading text="Reviewer: Michael Siegel"][vc_column_text]DESCRIPTION
Copper/Silver/Brass just got WAY better. Thanks to Jack Carpenter, the routine is now complete. Coins appear, change places, and vanish. Carpenter Coins is a fully loaded routine, with a beginning, middle and, ending that the routine always cried out for. There are seven astonishing moments of magic in Carpenter Coins, and the best part is that it's all easy to perform. The coins do most of the work for you.
Here's what happens: you start with a Mexican Centavo, a Chinese coin and a half dollar and make each one cleanly jump from your pocket back to your hand. Then, two of the coins transpose with another, before finally all vanishing and reappearing in your pocket.
You receive a coin set consisting of precession-made coin gimmicks in a custom-made case. And if you already perform our Charming Chinese Challenge, or No Sense, you'll be pleased to hear that the Chinese coin perfectly matches the one used in those effects.
Carpenter Coins has all the hallmarks of a perfect routine for walkaround and close-up performers: you end the routine totally clean, it resets instantly, has no angle restrictions, and contains many visual, deceptive moments of magic. Best of all, the routine is easy to do and you learn every move in Jack Carpenter's detailed video explanation.
Includes: All of the gimmicks you need, plus an extra Chinese Coin and Mexican Centavo.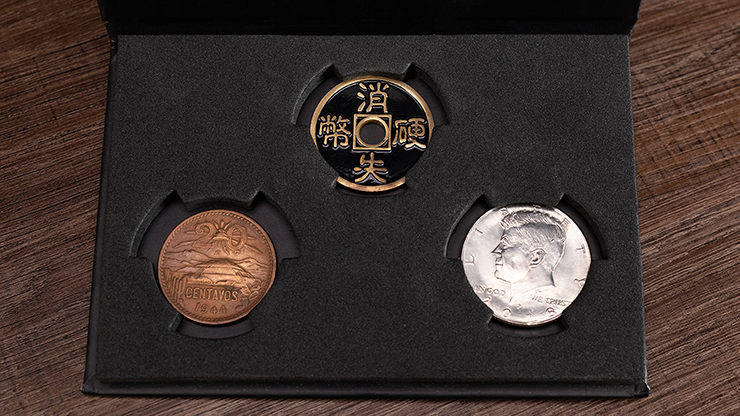 REVIEW
Carpenter Coins by Jack Carpenter is a unique set of gimmicked coins that along with the creative, easy to follow, smooth-flowing routine by Jack Carpenter, bring a new, multiphase magical dimension to the standard and classic Copper/Silver/Brass coin routine.
The coins come lovingly packed in a beautiful box that can be used to store the coins when not in use. The link to the 23.52 long video instructions are in the inside cover of the box. The video instructions are not fancy but professionally done. John Carpenter himself does a studio performance of his routine on a spectator. You first show three coins: a silver American half dollar, a copper Mexican Centavo and a Brass Chines coin with a hole in the middle of the coin. You begin by placing all three coins in your hand. You remove the silver half dollar and the half dollar magically reappears with the other coins. You then remove the copper Mexican Centavo and that coin magically reappears in your hand. You then take out the Chinese coin which joins back along with the other coins in your hand. You follow-up with the standard Copper/Silver/Brass effect where you put the silver half dollar in one hand and leave the copper Mexican Centavo and the brass Chinese coin in the other hand. Magically the coins change places. Then when you do it again and remove the half dollar. But instead of the coins changing places, the Chinese coin and the Mexican Centavo vanish. Then the silver half dollar vanishes, and all three coins reappear in your pocket where the coins can then be examined.
John Carpenter's routine is fantastic. The standard Copper/Silver/Brass routine is a wonderful routine, but it can be difficult for the spectator to follow the copper, silver and brass coins. Not so with John Carpenter's routine. John Carpenter's routine is easy for the spectator to follow and has a clever, logical beginning, middle and ending. John Carpenter's unique routine combines the hopping half routine with the Copper/Silver/Brass routine making it a wonderfully magical and entertaining routine.
John Carpenter's fabulous routine is made easy by the special set of coins. You get the standard Copper/Silver/Brass set of coins along with another gimmicked coin. The gimmicked coins are beautifully made. When all of the gimmicked coins are together, that particular set is slightly thicker than the standard set of CSB gimmicked coins. However, it is only briefly shown in that complete state once in the beginning of the routine and briefly at the end of the routine. No one will notice the thickness of the coin as long as you follow John Carpenter's handling. You also get a very nicely made authentically looking antique Chinese coin and an actual real copper Mexican Centavo unlike the fake, manufactured Mexican Centavo coins that most magicians are familiar with. You will need to obtain a regular American half-dollar which is not supplied. You should also obtain a basic coin purse from your magic dealer to keep the coins in for your performance.  
This is a marvellous set of coins with a fantastic routine which only cost $75.00. This is a real bargain for this set of beautifully made coins and for John Carpenter's routine. I myself purchased several sets. I highly recommended Carpenter Coins. 10 out of 10 lucky charms.      
[usr=10]
Magic is our passion but we are not a magic shop 
 You can purchase this here! [/vc_column_text][/vc_column][vc_column width="1/3″][vc_column_text]
[/vc_column_text][vc_widget_sidebar sidebar_id="gp-standard-sidebar"][/vc_column][/vc_row]