[vc_row][vc_column width="2/3″][vc_custom_heading text="Reviewer: Madame Curator" font_container="tag:h3|text_align:left"][vc_column_text]Like most magicians, I have a pet peeve about teaser videos marketing effects that aren't entirely honest. Thankfully, the "Changeling" is not one of those. Yes, it looks as awesome as it's marketed. Hooray!
You receive the special somethings needed to make the magic happen – supply your own currency, along with your usual DIY craft kit, and budget about an hour to put together your new favorite magic gimmick. I live in a part of the world where rubber cement isn't sold in stores so I used a correction tape styled roller glue which works like really strong double stick tape (don't you just love fancy Japanese stationery) as an alternate adhesive and it worked beautifully.
Being nice guys, Marc Lavelle and Titanas have included more than enough special somethings in their DVD, allowing you to create three gimmicks. It's really up to you how you want to construct it – you could do a color change (two different colored bills) or even a lottery ticket to money change. It's completely up to your imagination. It's true that different size and colors don't matter.
Where I live uses polymer/ plastic notes where the denominations are of different colors and sizes. Paper stock currency (the old dollar notes) are extremely rare in circulation these days. I was confident that "Changeling" would work flawlessly on regular paper stock, so I took on the task of constructing my gimmick using polymer/ plastic dollar notes to find out exactly how well it would hold up and what the challenges would be.
It took about 45 minutes to create my first gimmick carefully from scratch and one thing is for sure… Made well, it will impress your audience because the change is so visual! There are two transparent spots on our currency design, so I just avoided those see-through corners when planning the construction of my "Changeling" gimmick.
The DVD teaches you several moves required for the three main routines (excellent variations and handling are shared at the end of the DVD) and Lavelle does a good job bringing you through the effects and patiently takes time to explain the psychology behind the moves.
Polymer/ plastic notes however, will not behave like their paper stock counterparts. They have that inevitable bounce and will not fold down fully, much less stay still in a flat position, which unfortunately made the brilliant "Two Bill Transpo" effect (where the note is isolated in a glass held in the spectator's hands) not quite work out for me.
But before you go "oh shucks", there is an easy go-around this… Just use paper, not polymer/ plastic, money! We live in a world today where people travel all the time. Performers can easily come up with patter about why they are using foreign currency. Perhaps they were tipped by a very happy American tourist who loved their awesome magic. Or maybe they just came back from a business trip from said country. Lavelle also gives suggestions like having a cheque change into actual money, for instance.
Now how about ironing your polymer/ plastic notes for instance, you may ask. Well. I have not personally tried it but after thinking about it, I did wedge my folded gimmick under a heavy flat weight for two days to set the creases in and the results seemed to work. There is more control and much less unwanted unfurling, but I'm still not able to pull off the "Two Bill Transpo" effect because the gimmick stubbornly refuses to co-operate due to the nature of polymer/ plastic.
Having said that, it's not the end of the world if where you live uses only non-paper bills. If you're flexible and creative, you will still create a visual impact with "Changeling" and probably discover even more possibilities after playing around with it. This is a smart effect too good not to be used and the longevity of the gimmick should hold up decently. Kudos to the creators for coming up with a great idea and making this concept work.
Magic is our passion but we are not a magic shop 
 You can purchase this here!
[usr 9.5]
[/vc_column_text][vc_separator][vc_custom_heading text="Reviewer: Bernard Sim"][vc_column_text]Effect:
A visual bill change/ switch effect with several other routines using the gimmick.
Product description:
Honest product description without any hype. Really, there is no bone to pick here.
Method:
Bill change/ switch effects have been around for a long time. From using TT to bill transposition found in Ammar's Easy to Master Money Miracles. I think most magicians would know at least a method or two to perform such effects, after all, its money we are using and most spectators will be intrigued by it, especially if you use their own note.
I was at one stage always carrying a prepared gimmick in my wallet until Singapore changed some of the notes to plastic notes. I had very good mileage out of the gimmick I made. It was simple, does the job but the downside was that you can really show as clean as The Changeling.
The Changeling uses a prepared gimmick which will take you about 30 mins to make but this gimmick will last you for some time. This version's advantage is that you can show both sides of the note after the change. It also allows you to do a very visual change. The strongest part of this is that the change can take place in your spectator's hands. I am pretty sure your spectators will be awed by this effect.
There are 3 routines taught in the DVD and they are all very strong. I especially like the routine where by a spectator's bill is changed to another and the signed bill appearing in your wallet. I can see this routine combining with a Nested Wallet will make it even stronger.
Quality:
You get the detailed DVD instructions and some parts for you to construct your gimmick. I'd say the gimmick quality is not bad but it will depend on your part to make a good quality gimmick.
Pricing:
At $29.95, somehow, I felt it was a little overpriced especially when you have to sacrifice some more notes to construct the gimmick but it is still worth to spend this amount for such effect.
Verdict:
For plastic currencies, it'd still work but I guess you have to put in more effort when constructing the gimmick. So yeah, get it. Its difficult to improve on the bill switch especially when there are so many versions out there. I think this is a winner.
Highly Recommended.
[usr 8.5][/vc_column_text][/vc_column][vc_column width="1/3″][vc_column_text]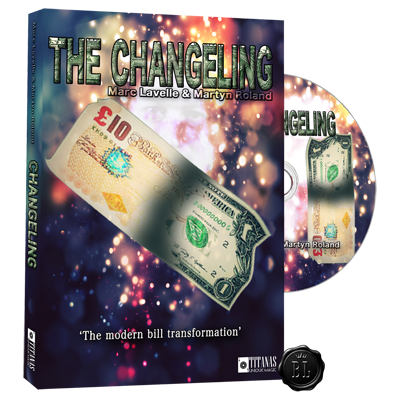 [/vc_column_text][vc_column_text]
[/vc_column_text][vc_widget_sidebar sidebar_id="gp-standard-sidebar"][/vc_column][/vc_row]