A new book from award-winning originators Chris Wardle and James Ward
Practical ideas for devising effects, plus 15 great tricks to illustrate their methods
Streamlined methods and effects you CAN and WILL use!
Chris Wardle and James Ward are both award-winning members of The Magic Circle, with a long list of credits devising magic for books, magazines, television, radio and the stage.
In this new book they share their simple and practical methodologies, whilst using examples of their own creations to illustrate their points. Inside you will explore workable, practical ways to devise your own magic and methods for making effects 'your own' in order to offer something unique to your audiences.
Included are a brand new take on 'The Jigsaw Card' and a Date Prediction with a kicker finish by Chris, and an ingenious name-matching idea and a memory-cheating effect, 'Eye Witness', from James, to name but a few.
This book will inspire you and set you on the right path for Creating the Impossible.
"Creating the Impossible is that rare thing, an original and practical handbook for magicians… Chris Wardle and James Ward have taught themselves to be inventive, resourceful and sharp. In short, they are the right kind of expert. They are creative. They are ingenious. Read this book carefully and I believe their ingenuity will start to rub off on you."
– From the Foreword by Geoffrey Durham
"Chris and James have done a wonderful job with this book which I don't think has existed before. Useful for both creators and those who are new to creating magic, this book will inspire and educate the reader on the creative process. I feel all magicians should read this book. I love it!"
– Angelo Carbone
"Both Chris and James have the ability to take simple ideas and, by the addition of layers of subtlety and ingeniously-devised presentations, build them into entertaining mysteries, many of which have found their way into the repertoires of leading professional magicians. This is because they instinctively understand what appeals to the public."
– Walt Lees, editor of Repro Magic's magazine, The Magician (formerly Club 71), Mystery Magazine and Abracadabra, the world's longest-running weekly magic magazine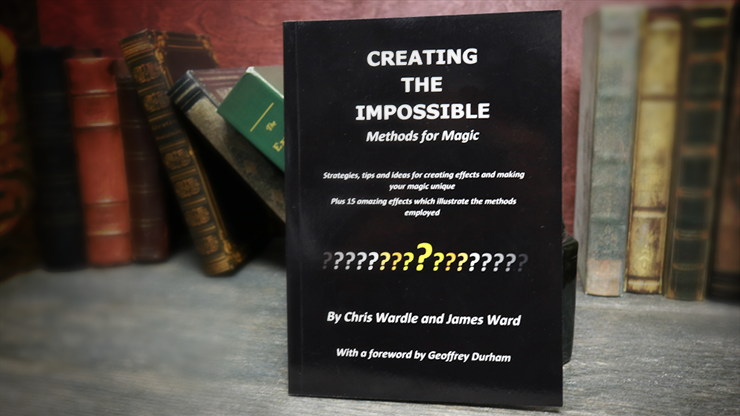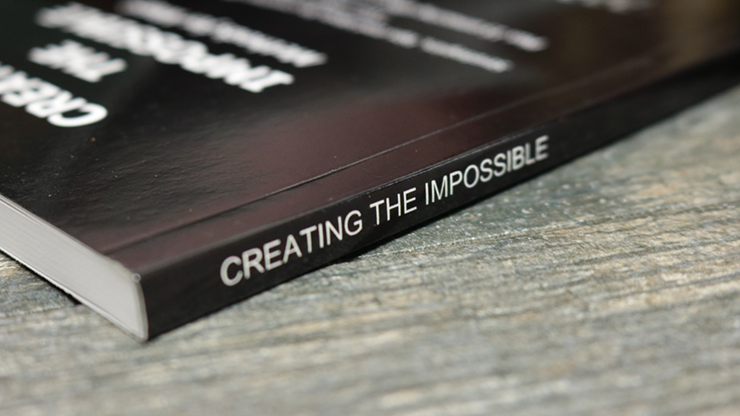 REVIEW
So I did a bit of reading over the weekend, and finished an interesting self-published book by Chris Wardle and James Ward called… Creating the Impossible: Methods of Magic – Strategies, tips and ideas for creating effects and making your magic unique Plus 15 amazing effects which illustrate the methods employed. Right, it's quite a mouthful but that's the entire title on the front cover. So let's just call it Creating the Impossible and in a nutshell, it is all about the creative process 😉
I picked up this slim paperback because Angelo Carbone (who is he? well, only just THE amazing genius who came up with super smart routines/ effects like The Gift and Cue the Magic) had shared good things about it, and I really love how creative he is with his magic… just check out his recent stuff on social media! Now, I'm honestly not very familiar with the works of the authors, both British magicians/ magic consultants, but their CV do look illustrious.
Right after finishing a few solid books that touch on originality and creativity in magic (like Parlour Tricks by Rhys Morgan and Robert West AKA Morgan and West, which I recently reviewed), I thought that Creating the Impossible would be a good book to read. It's not a short article or an essay or just one chapter… it's 104 pages dedicated on the art of making magic your own; finessing a novel idea into a well-crafted presentation, to set yourself apart from the mediocrity.
You won't suddenly transform into a demi-god of magic and creativity after this book, or maybe you will… who knows, you could very well produce a new effect that becomes the next bestseller or the crowning glory of your lecture series. But what I can safely say is Creating the Impossible is a must read for the discerning performer who wants to stand out and be different.
After the introduction, the book begins with a thought-provoking interview with both authors, tackling the elephant in the room about do you start with the effect or method? Do you start with the method and then find the trick? Chris Wardle and James Ward share their different takes to the Method, and what works best for them. We dive into their in-depth methodology after that, which is great food for thought.
Plenty of case studies are also presented for context accordingly, and readers also get to learn some tricks (e.g. the mind-boggling jigsaw card which is reminiscent of clever puzzles like in Machinations). If you think this book is beyond you, let me state now that I believe Creating the Impossible is accessible to everybody. You don't have to be Angelo Carbone 😉
For example, the authors expounded on several resources and principles to spark magical invention: what can you do with dry erase markers or dry wipe pens? Or drawing pins or magnetic thumbtacks? There's more in the list, but that's just for context. There are gems in this little book. Don't let its size fool you. If anything, photocopy their summary of Ways to Create New Effects (page 53 – 55) and stick it somewhere you'd see everyday.
So is Creating the Impossible for you?
I'd say, this is literature for the aspiring artist who wishes to create something new, and not merely entertain the masses with a trick even their grandparents have seen before. If you want to be a solo artist and not a cover band (in the context of magic obvs), or a future magic consultant, or put out the next big thing… read this book. Creating the Impossible has great content… hopefully their next reprint will have higher production value or an included PDF for those of us who prefer to read on the phone or iPad… but that's just nitpicking really. I enjoyed this tremendously and can imagine the intermediate magician gleaning massive ideas and strategies from the tips shared.
Magic is our passion but we are not a magic shop 
 You can purchase this here!