[vc_row][vc_column width="2/3″][vc_custom_heading text="Reviewer: John Teo"][vc_column_text]This is a gimmicked version of the triumph card trick.
In the classic triumph effect, a card is selected and lost in the deck.  The deck is then separated in 2 halves.  One half is turned over face upwards and shuffled into the other face down half.  The entire deck can be shown to be a mixture of face-up and face-down cards.  With a magical gesture, the entire deck rights itself and all cards are now face downwards except one card which is face-upwards – the selected card.
Dissolve is a gimmicked deck that allows you to visually show the mixture of face-up and face-down cards gradually righting itself.  As the ends of the cards in the deck are riffled once, the audience can see the mixture of face-up and face-down cards.  When the cards are riffled again, the audience can see that there are now more face-up cards and less face-down cards.  Eventually, with one or two more riffling of the cards, the cards in the entire deck are now all facing upwards.  The deck is turned over and spread face-downwards and the selected card is the only face-up card in the face-down deck of cards.
You receive the special gimmicked deck made of red-back bicycle cards, and an instructional DVD.  The DVD is well produced with Francis Menotti demonstrating and explaining Dissolve.
Francis teaches 3 versions of performing Dissolve.  The in-the-hands version is the basic version.  There is also a table version, and a no-reset version.  The latter suggests that you can immediately repeat a performance of Dissolve to another group of spectators without having to reset the gimmicked deck.
As a bonus, Francis teaches a routine called "To Market".  A card is shown to be marked on its back.  This card is placed aside.  A card is selected and signed and lost in the deck.  The marked card is now placed on top of the deck.  Magically, it vanishes and travels into the middle of the deck in search of the selected card.  When the marked card is turned over, it is the signed selected card!  When this card is turned over, the marking on its back has vanished.  Magically, the signature also vanishes from the face of the card.  The signed card is then found in the performer's jacket pocket!  This effect can be performed either with the Dissolve deck or an un-gimmicked deck of cards.
Francis mentions that although Dissolve is a gimmick deck, you can use this deck to perform most standard card tricks before closing your card act with Dissolve.
If you like the visual righting of the mixed triumph cards even if it is accomplished by using a gimmicked deck, then you will love Dissolve.
Magic is our passion but we are not a magic shop 
 You can purchase this here!
[usr 8][/vc_column_text][/vc_column][vc_column width="1/3″][vc_column_text]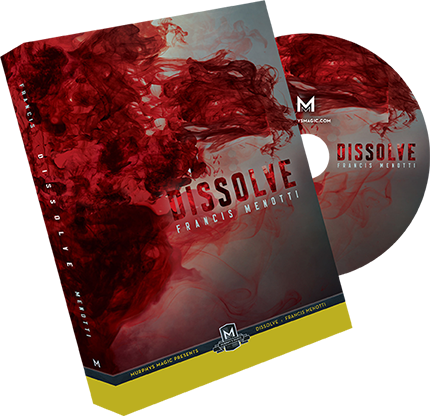 [/vc_column_text][vc_column_text]
[/vc_column_text][vc_widget_sidebar sidebar_id="gp-standard-sidebar"][/vc_column][/vc_row]