[vc_row][vc_column width="2/3″][vc_custom_heading text="Reviewer: John Teo"][vc_column_text]Fire has always attracted people's attention.  A burning car, or a building on fire, will always make the headline in the news.  This is the main reason magicians use fire in their performances.
The fire wallet has been a classic prop for magicians for the same attention grabbing reason.  This has been adapted to fire in a book.  So far, no one has thought of applying fire to a cup of coffee.  This is a shame because if a coffee is so hot, we want to say that we can literally see flames coming out of it!  But we know this is impossible.  So, when we do see real flames coming out of a cup of hot coffee, it is a surreal experience!
Well, the guys at SansMinds Creative Lab have come out with a sensible adaptation of the fire wallet – it is the Flaming Coffee!
You go to your favourite coffee joint with your friends.  You order a cup of hot coffee.  It comes with the cup and the lid.  You say that your coffee is very hot.  When you lift off the lid, people will be surprised to see that your coffee is aflame!  You put the lid on again.  When you take it off, the flame has gone, and you can share your hot coffee with your friend!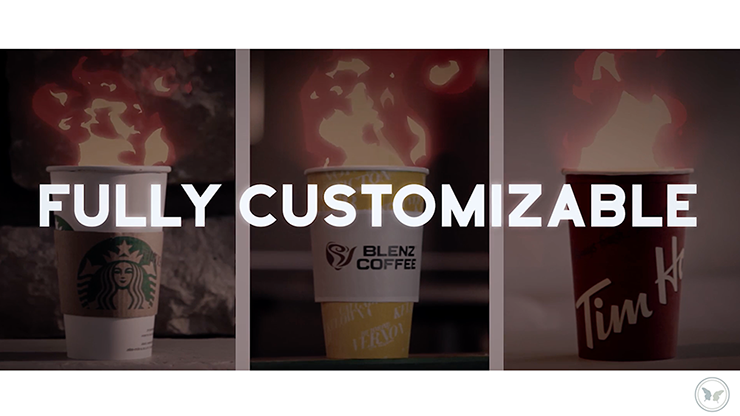 You receive a well-produced instructional DVD and the necessary materials for you to construction your own gimmick.  The gimmick is made out of 2 lids of the coffee cup from the coffee joint where you wish to perform this effect.  This is taught in the DVD.
If you have operated a fire wallet, the working of the Flaming Coffee is not very much different from it.  You will need some preparatory time to put in the lighter fluid on the gimmick.  You cannot perform this with people behind you – otherwise they will see exactly how you cause the coffee to become aflame.
In the DVD, Herman discusses the proper level of the coffee in the cup for the effect to work, and how to obtain this level when your coffee level is too low or too high.  If you have a follow-up effect to perform with the coffee, the attention will not be on the gimmicked lid.  If you intend to perform this as a stand-alone effect, Herman teaches you how to switch the gimmicked lid for an un-prepared one as your spectators may ask to examine the lid.
The gimmick is not difficult to construct, the effect is easy to do, and it is a sure attention-grabber!
Magic is our passion but we are not a magic shop 
 You can purchase this here!
[usr=9]
[/vc_column_text][/vc_column][vc_column width="1/3″][vc_column_text]
[/vc_column_text][vc_widget_sidebar sidebar_id="gp-standard-sidebar"][/vc_column][/vc_row]