[vc_row][vc_column width="2/3″][vc_custom_heading text="Reviewer: John Teo"][vc_column_text]A levitation effect never fails to cause a sense of great wonderment to an audience.
Float is a levitation effect that you can carry in your pocket.
The performer takes out and displays his gentleman's wallet.  He opens the wallet to disclose a credit card inside. With a magical gesture, the credit card mysteriously floats upwards from the wallet.  While the audience is still recovering from its stunned state, the performer closes his wallet and takes out the credit card and hands it for examination.
That is the effect of Float.  
You receive a well-produced instructional DVD and a gimmick.  The gimmick fits inside most gentleman's bi-fold wallet, but it must be black because the gimmick is in black colour.  It is a simple but cleverly conceived gimmick. It works on the black-art principle in conjunction with the wallet.
Unlike other products from SansMinds, you do not need to construct any other item.  Fixing the gimmick in your wallet requires only a moment's work, and all you need is double-sided tape.
Once your wallet is set up, you can carry it and perform the effect at any time and any place.   
You can float any object inside the wallet, such as a credit card, a playing card or a couple of folded bills.  The levitation does create a sense of wonderment for the audience.
There is a small performing angle concern to take care of, but nothing serious.  You perform the levitation way below the eye level of the audience.
Unfortunately, the wallet cannot be examined.  This is a weak point. After the audience examines the floated object, the next thing they want to check out is the wallet.  When asked, you will have to find a reason for not handing out the wallet for examination.
Performing Float is as easy as opening the wallet and making a little unnoticed movement with the wallet.  Resetting is also equally easy. Simply place the object properly back inside the wallet and close it. You are ready for the next performance.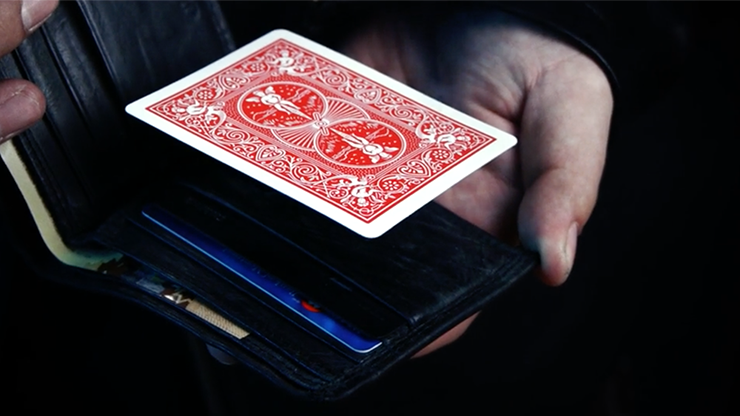 Please support intellectual property. Only buy original. Available from all reputable Murphy's Magic dealers.
[usr=6][/vc_column_text][/vc_column][vc_column width="1/3″][vc_column_text]
[/vc_column_text][vc_widget_sidebar sidebar_id="gp-standard-sidebar"][/vc_column][/vc_row]