Fragment is a clever and practical approach to the visual appearing deck effect, including additional applications such as smooth transpositions and deck vanishes utilizing the Fragment gimmick.
This is a collaboration from the entire Abstract Effects team teaching you how to use the Fragment gimmick in detail, including over 10 unique, surprising variations and ideas!
The main effect is an extremely visual and fair transposition of a full deck of cards with your spectators signed selection that will leave your audience stunned!
It's great for live performances and is absolute gold for your social media! With Fragment there is something for everyone.
Not only are over 10 variations taught in the instructional video, but Nicholas Lawrence teaches a very special bonus effect that works perfectly with Fragment!
REVIEW
The official trailer starts with a social media post of popular magician Justin Flom performing Fragment, which is basically a card trick by Abstract Effects where you make an entire deck appear. Spilling across the table's surface as it spreads out from underneath that single playing card, it's a highly visual effect that does look impossible. But is it for you? Read on to find out…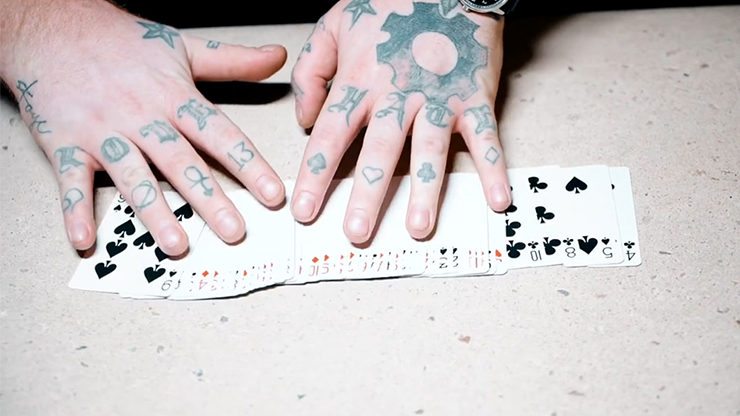 I'd just reviewed another recent release from Abstract Effects, which had surprised me a little the moment I opened the package. This one, to be honest, left me feeling a little more underwhelmed …but as one of my early mentors in magic told me decades ago: Judge the trick by the reaction of your audience, not how simple the workings may seem.
So yes, Fragment by Abstract Effects uses very basic stuff… there's no DIY involved. Just slide it out of the box, check out the password protected online tutorial, and make social media magic.
Yup, that's the buzzword again.
Just like Debut, which I just reviewed, this is best performed to the camera so you get the perfect angles. Done right, it looks remarkable. But like TV magic, you'll need a few takes to nail it.
The online video which shows you how to perform various versions of Fragment is nothing fancy. It's shot and edited in a similar fashion like how the creators made their tutorial for Debut. IMHO it seems like Fragment was created for Justin Flom's magic show, and when the contractual period was over, the folks behind Abstract Effects (most likely consultants for Justin/ his show) decided to sell it. But as much as I wanted to like it from watching their flashy trailer, and as much as the four guys from Abstract Effects tried their best to sell it, this is just not going to be a worker in the sense that you can confidently perform this to your audience on the fly.
So if you know what you're getting and willing to pay US$30 for that, that's all good. I personally think however, that the price point is a touch too high. Like Debut, if it was priced less, Fragment would fare better. And in hindsight, because these are so easily DIY-ed, the creators should seriously consider making downloads in future for effects like these.
You can easily make the gimmick/ gaff yourself with stuff you already own, but just be prepared to take some time to do it right. The quality of my set was just okay, it wasn't perfect but I had the right tools in my magic drawer to fix that easily. However, that being said, for US$30 you'd expect precision.
The Other Brothers and Nicholas Lawrence have made some clever releases in the past, but Fragment is not one of my favourite releases from them. I know it's a money making business for the creators, but before they slide down that rabbit hole which leads into the dark abyss… Abstract Effects should start reflecting about their business philosophy and seriously care about their reputation in this small niche industry. The customer can sense it when creators start putting out stuff without heart, just to make a quick buck.
TLDR; If you want to recreate what Justin Flom did in that eye-popping magic video, you absolutely can with Fragment by Abstract Effects, on social media. But this (and again, as I've said before) is just one woman's review: it just isn't for me.
Magic is our passion but we are not a magic shop 
 You can purchase this here![/vc_column_text][/vc_column]