Extraordinary physical characteristics, shocking performers and curiosities abound.
Celebrate the UNUSUAL and the exotic with Freakshow Playing Cards.
"I don't believe in duping the public, but I believe in first attracting and then pleasing them."
– P.T. Barnum
Some of us are born astounding; the rest of us are self-made nonconformists that cultivate freakdom.
Magicians, cardists, mesmerists, snake charmers, fire breathers, and sword swallowers all push the boundaries of normalcy while entertaining.
Honor what makes you different. Come to the big tent.
Marvel at the hypnotic backs.
Recognize your favorite industry faces on the hand-drawn court cards.
Create miracles with the unique gaffs included.
WELCOME TO THE FREAKSHOW.
Freakshow Playing Cards:
Printed by U.S. Playing Card Company
Features specially hand-drawn court cards highlighting your favorite magic and side-show freaks
Includes 2 gaff cards (misprinted Ace/Joker and a bearded Queen of Hearts/Joker back)
Concept by Eric Ross
Designed by Nick Vlow
REVIEW
Let's talk about cards. Now, unless you've been living under a rock the past decade, you'd know that there's a whole slew of playing cards of various designs readily available. When you're feeling adventurous and you'd like to ditch the ubiquitous bicycle deck in favour of something with a dash of personality, here are just some of my many personal favourites:
DMC Elites: Pro Gaff Deck – the perfect sidekick to the BEST MARKED DECK that every magician should have! I ordered a few bricks of DMC Elites myself, because they're my absolute fave to use. Mucho kudos to the clever marking system created by Phill Smith.
And of course there's the delightful eye candy; classy and elegant artworks by professional artists like the limited edition gilded Vincent van Gogh The Starry Night Playing Cards, Imperio Playing Cards by Gamblers Warehouse, Playing Arts Edition Three Playing Cards (cards are all designed by a different artist from around the world with its own distinct look and feel), and Lady Moon Playing Cards by Dan and Dave. Speaking of the Buck Twins, I also really like their nature themed Harmony Collection Playing Cards (Art of Play will plant one tree with every deck sold) where there's 4 super cool doodle designs to choose from!
Last but not least, there's also many of us who are fans of the quintessential Jerry's Nuggets playing cards and all its various versions: regular in red or blue, vintage feel available in about a half dozen colours, their gaff deck, and stripper deck which can be so diabolical in the right situations. Well done Conjuring Arts Research Center for bringing back this classic!
A brand new deck that just caught my attention is this…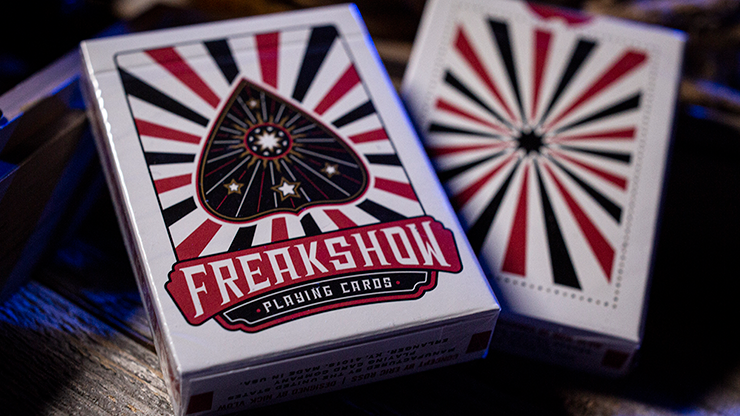 …the Freakshow Playing Cards!
Celebrating modern day "carnie" artists from around the world, there's definitely a PT Barnum feel to these hand drawn cards (check out who's the Jack of Clubs!) that are printed on USPCC air-cushioned bicycle stock.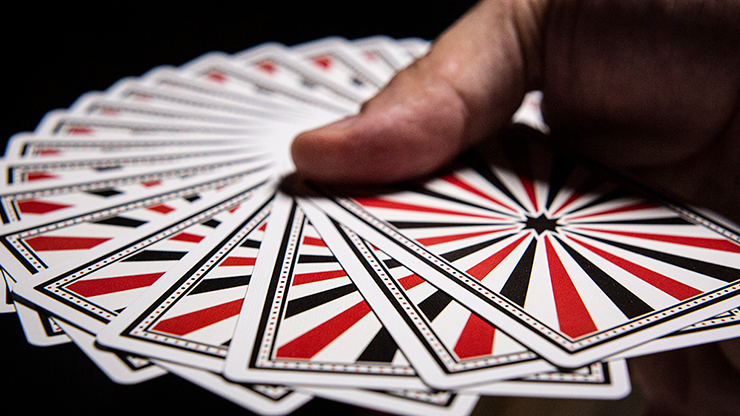 The backs of the Freakshow Playing Cards have a very distinct traditional circus top vibe to it, and the royal figures illustrated are of present day artists like the bearded lady, snake charmers, sword swallowers, and more. As featured above, the Jack of Clubs is our very own Anti-Conjuror… Dan Sperry! He looks like the Marilyn Manson of magic, but IRL the man's a real sweetheart.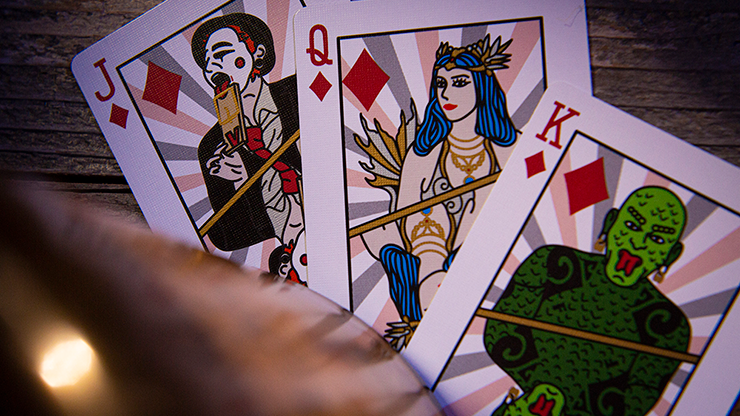 These pictures do no justice to the actual deck. I think they look better in real life, and these cards handle nicely too… so if you're also a cardist and not just a magician or card collector, you'd be glad to know it's quality stuff. Sleight-of-hand folks will be happy to know that there are 2 card gaffs in there (specially printed Ace/Joker and the bearded Queen of Hearts with a Joker back) which allows you to do some transformations.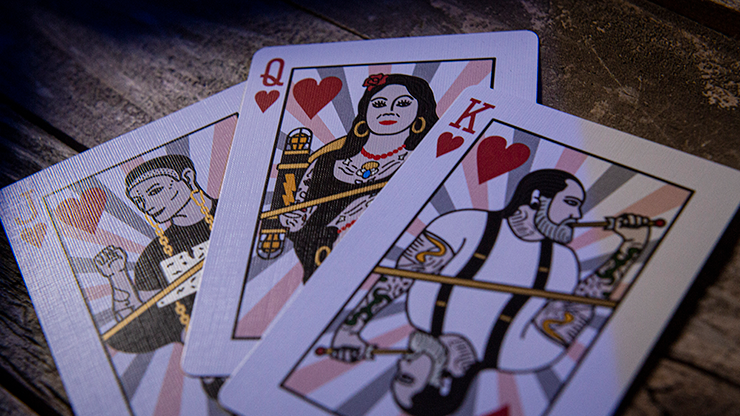 IMHO the Freakshow Playing Cards would lend a perfect touch if you have a routine with a narrative, since it has interesting human faces. But this deck doesn't just have to be exclusive to us magic nerds. They'd make stellar gifts for game/ card collectors, as well as, fans of The Greatest Showman. I'm not naming names… but I actually know someone who watched it 29 times. So there you have it.
Recommended! A vibrant, edgy deck to show the world you're not an old fart 😉
Magic is our passion but we are not a magic shop 
 You can purchase this here!