[vc_row][vc_column width="2/3″][vc_custom_heading text="Reviewer: Ning"][vc_column_text]The Illusioneer was a critically-acclaimed smash success in its original French language, and now this important work has been translated into English. You'll learn Matrix handlings, as well as stunning card magic designed for use in professional gala shows or strolling engagements. Carlos Vaquera is a seminal force of European magic, and this is his opus. With more than thirty card effects, six coin pieces, and several essays on the practical theory of magic, The Illusioneer will inspire you to push harder with your magic.
You will learn:
32 card tricks
6 coin tricks
6 moves
Plus 8 essays
Belgium's Carlos Vaquera has an unrivaled fluidity and elegance when he performs. His close-up style is visual and effortless, and in this book he takes you through his life's work in concise, step-by-step instructions. With nearly 300 pages of instruction and beautiful illustrations, this book is a rare glimpse into the mind of one of Europe's real masters.
Hardbound. 298 pages.
"I found the book absolutely fascinating…..This one was a delight. Chock full of cool card and coin effects….some of the card tricks were inspired by the works of Edward Victor, Jack Carpenter, Dan and Dave Buck, Larry Jennings..tons of really cleaver ideas with an unique twist on many of them. I encourage you to get the book JUST for the essays ALONE. He has essays on finding a mentor, craftsmanship of magic verses art of magic, music; and my favorites were 8 tenets of magic, and the one on stage freight." –Shawn Farouhar (FISM World Champion)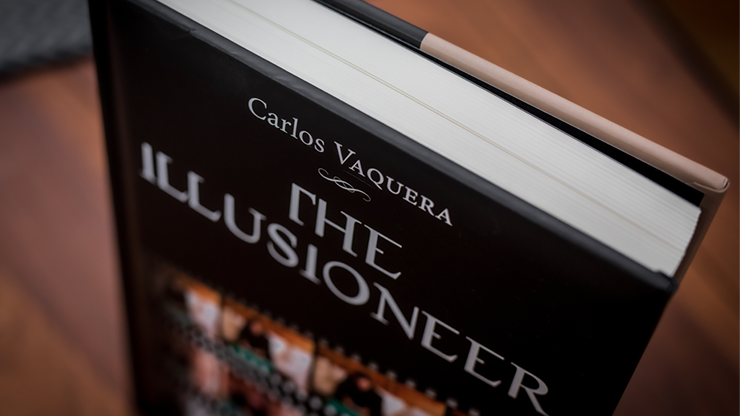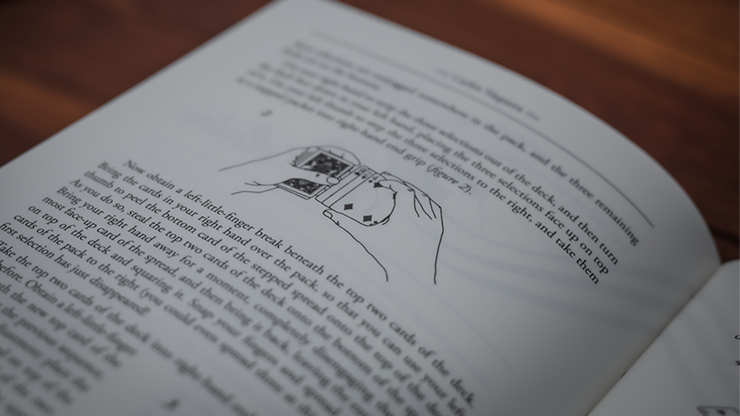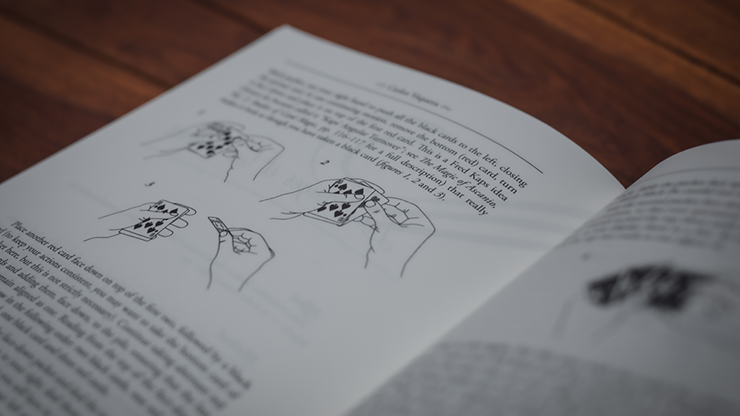 REVIEW
Illusioneer by Carlos Vaquera is a brilliant gem that is so much more than just a mere book featuring close up material targeted at the intermediate to advance level magician. I honestly have to say, I still can't believe the good people at Vanishing Inc have priced this beautiful hardcover containing nearly 300 pages of pure magic for only a mere 40 bucks! Someone must be crazy or maybe a mistake in MSRP was made, but either way it definitely stands to benefit us readers 🙂
Besides being a master magician, Carlos Vaquera is undoubtedly a modern day philosopher and talented poet ("Never forget that your hands are merely a pretext for sharing an emotion and, as a result, moving your spectators…"). Every routine within Illusioneer is beautifully crafted in thought and precision. His work is heavily influenced by serious technical heavyweights such as Shigeo Takagi, Ed Marlo, Larry Jennings, Arturo de Ascanio, as well as, present day artists like Paul Harris and the Buck Twins.
As mentioned, intermediate to advanced magicians will gain the most out of this. However, if you're still leveling up on your sleight of hand, don't fret. Beginners will really benefit from the thought provoking articles. In particular, the in-depth essays on practice and stage fright will come in handy. I personally enjoyed the ones about creativity and music. Mr Vaquera uses a collection of clever quotes to accompany his writings, and the gorgeous illustrations aid in illuminating the technical moves required for the different card and coin routines. The last section of Illusioneer (appendices) focuses on essential techniques he personally uses, such as the various steals, controls, and moves.
While we'll be able to see Carlos Vaquera's remarkable sleight of hand prowess shine on magic videos posted on YouTube, I sure wish we had access to the accompanying videos that came included with the original French version, which was first published by CC Editions in 2014. That's the only reason why it loses half a star in this magic review. Anyway, off the top of my head… Leading Ladies, Les Rouges et les Noires, Sandwich a Trois, Chiromancy, and Coins through Table are just some of my favourites from the book. There is so much solid information within to savour, just like fine wine. I highly recommend it and I guarantee… Illusioneer will be a modern day classic.
TLDR: CLOSE UP WORKERS, YOU NEED THIS IN YOUR COLLECTION!!!
[usr=9.5]
Magic is our passion but we are not a magic shop 
 You can purchase this here![/vc_column_text][/vc_column][vc_column width="1/3″][vc_column_text]
[/vc_column_text][vc_widget_sidebar sidebar_id="gp-standard-sidebar"][/vc_column][/vc_row]