[vc_row][vc_column width="2/3″][vc_custom_heading text="Reviewer: Ning"][vc_column_text]DESCRIPTION
Inspyring Coin is specially created for the purpose of performing coin mentalism routines — zero sleights involved! Most of the routines are self-working. Yet the routines are easy to learn and perform so that you can focus fully on your presentation.
Just pop your Inspyring Coin into your wallet or pocket, learn the routines, and you are always ready to perform some amazing miracles. The size of the coins is a handy 30mm (1.25 inches) in diameter.
What you get: A pair of copper coins which look like ancient Roman coins. One with a glossy finish and another with an antique finish. And an 'authentication' card. Also included is a massive 90-plus page PDF containing 18 amazing coin mentalism routines.
Apart from the included routines, there are other possible routines which can be done using some of the elements built into the coin. This coin is not magnetic so it neither attracts metals nor gets attracted to magnets. As a result, it can be freely handled by both the performer and participants. Inspyring Coin, then, is an ungimmicked and multipurpose coin.
The Inspyring Coin is so nice to hold and look at that even without any of the included routines, it can simply be a great conversation starter and can lead to any other routines you may want to perform, depending on your style of presentation.
What the experts have said about some of the routines.
"You are an excellent thinker and quite prolific. It maintains your standards of excellence!"
– Marc Salem
"The Unknown Mentalist has done it again! He has a real talent for taking fascinating math principles and creating real-world presentational hooks that your audiences will find engaging and thought provoking."
– Marc Paul
"This is the demonstration on how it is possible to give new life to old principles, creating well orchestrated routines! Bravo my friend!"
– Luca Volpe
Simple, easy-to-do and self-working routines, but with incredible impact on your audience. Zero sleights. No pre show, no stooges, no instant stooges, no dual reality, no magnets, no threads. The coins can be freely handled before, during and after the routines by both the performer and the participants.
The massive number of routines include many types, such as predictions, divinations, coincidences, mind reading etc. A few sample effects are as follows.
1. CENTURY OF COINCIDENCE – (Part of Script) – "Have you heard of the Century of Coincidence? No? Well, this is something totally missed by historians but luckily discovered by magicians and mentalists. The 100 year war between the English and the French is actually a Century of Coincidence. And, weirdly, this gets proved every time we do a demonstration." The routine climaxes with some impossible revelations.
2. ATTITUDE WITH LATITUDE – (Part of Script) – "Geographically speaking, any point on Earth can be defined by a unique combination of latitude and longitude. Similarly, every thought that arises in the human mind can be defined by a unique combination of dreams and memories. Let's do a demonstration based on the latitude and longitude of human thoughts." The routine then uses some international telephone codes for an unbelievable climax.
3. ALPHA CONSPIRACY – What you do in this routine is no less than a conspiracy using the alphabet and a book (this is NOT a spelling routine). Hence the name Alpha Conspiracy and it has a double climax. This is a Book Test that can be done using any ungimmicked book. (Part of Script) – "According to linguistic research statistics, these 2 dozen words have been proven to have high impact on the human subconscious mind." And the routine ends with a thundering double climax.
These are just a few of the 18 routines included, along with several bonus ideas.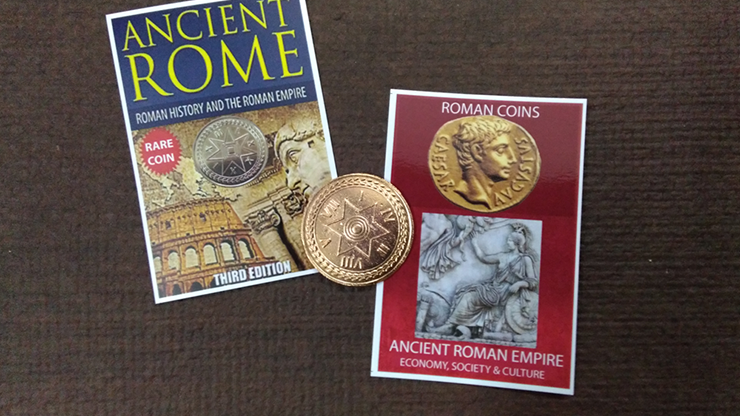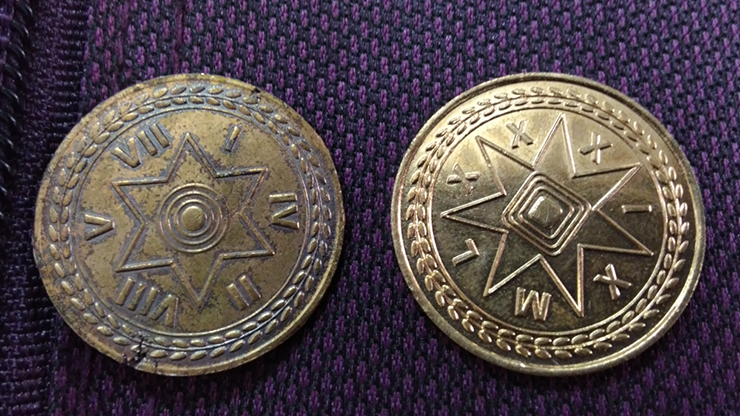 REVIEW
You receive a coin envelope with the 2 specially minted copper coins with symbols, packed in a small ziplock bag. The Inspyring coins are identical except for the treatment applied. One coin is bright and shiny while the other isn't. The official ad above from The Unknown Mentalist features a coin with a nice aged patina and worn edges but my set looks similar to its shiny new twin, save for what seems like a smear of bright green on one side and radioactive rainbow on the other. I suppose the supplier who produced these wasn't able to spend the time or resources to "age" and replicate what's shown in the marketing copy, which is a bit of a shame since expectations aren't quite met.
Also included in the package is a double sided "authentication card" which reads more like an advertisement of some sort. Despite The Unknown Mentalist stating that "its visual presence itself can add a lot of weight and credibility to your script/patter or back story", I have to politely disagree as the card with its rather tacky photoshop design is not convincing to the educated layman and I wouldn't use it as part of the presentation. It's actually a pity since I'd personally rather the creator funnel funds used to create this "authentication card" (which is printed on very nice glossy card stock), towards the better fabrication of the ancient looking Inspyring coins.
Also addressing the elephant in the room, the coins look nothing like ancient roman currency; they don't feature the standard imprints of heads (as seen above on the Inspyring "authentication card" in the official ad copy). The only thing properly roman about these coins are the numerals. But that's by no means a problem at all. You can always present this well-made prop as something else other than a 3rd edition rare coin from ancient roman times… I'm confident you can easily come up with something else like how it's a divination coin, a gift from a wiccan friend, or an odd curio your grandmother came across at an estate sale.
Now having said all that, I must say that I'm impressed by the tremendous wealth of information within the 93 pages of the included PDF hosted on Murphy's Magic, which you can download using the included password. The Unknown Mentalist, whoever they are, is evidently a modern day wiz at mathematical magic. S/he (if they're not a collective, I'm fairly certain that this must be a gentleman who is not a native English speaker) has also added some zing to old principles, which the discerning mentalist will enjoy.
The routines taught in the Inspyring manuscript are solid, classical mentalism effects so you don't get any street magic style metal bending types. There's also no sleight of hand required, and I really think this is something well within the reach of anyone keen in expanding their repertoire in mental magic. There's also a RAR file to download, which contains pictures you'll need to print out if you choose to perform the routines that require it. While the ad copy lists 18 coin mentalism routines, there seems to be more. There really is a massive amount of brilliant ideas in the PDF (which could be better organised with a contents page), and you might just be inspired to come up with even more possibilities.
TLDR: The Inspyring coins are made to last a lifetime; its accompanying 93 page manuscript is an incredible boon for mentalists and magicians who love magic with numbers. Displaying an impressive wealth of knowledge and research, this is well worth its $30 price tag. Recommended especially for those who enjoy mathematical miracles.
[usr=7]
Magic is our passion but we are not a magic shop 
 You can purchase this here![/vc_column_text][/vc_column][vc_column width="1/3″][vc_column_text]
[/vc_column_text][vc_widget_sidebar sidebar_id="gp-standard-sidebar"][/vc_column][/vc_row]