[vc_row][vc_column width="2/3″][vc_custom_heading text="Reviewer: John Teo"][vc_column_text]A memorised deck enables one to do unexplainable effects with a deck of cards.  However, many magicians forgo this because it is really hard work not only to memorise an entire deck, but to retain the memory of the stack for all future performances.
Here comes Woody Aragon with his Instant Memorised Deck.  You do not have to memorise the entire deck. You can actually set up the system on the go with a borrowed deck.  You borrow a deck, and in the process of toying with the cards or performing an effect, you actually set up your system in the deck.  
This is not to be confused with Boris Wild's deck of the same name – the Instant Memorized Deck.  Boris' deck is not truly a memorized deck, but one that is formula-based, like the Si Stebbins or Eight Kings stack.   
Woody Aragon's Instant Memorized Deck is a memorized deck – this means it allows you to perform some fantastic effects.  The real advantage of Woody's Deck is that you can use a borrowed deck and you set it up in an instant.
You receive a DVD with Woody teaching you exactly how to do that in the Introduction.  He teaches you 2 different methods – one using a Faro Shuffle (another frightening word), and one without (thank goodness!)  Woody uses the first effect in the DVD to secretly set up the deck.
4 Card Prediction – 2 cards are set aside as a prediction.  In the end, they form a four-of-a-kind with the 2 other cards selected by the spectator.  In the process of performing this effect, Woody sets up the borrowed deck for his Instant Memorized Deck.  Once this is accomplished, he can perform the following effects.
Weighing The Cards – a small packet of cards is placed onto the performer's palm.  By "weighing" this packet of cards, he can tell for sure the exact number of cards in the packet.  This can be repeated many times if required. Woody then teaches a variation of this effect called "Numerical Coincidence".
Any Named Card – spectator names any card and the performer can tell its exact location in the deck.
Memory Exhibition – as an exhibition of the performer's super memory, spectator secretly moves one card to another location in the deck behind the performer's back.  The performer is able to pinpoint the exact card that was moved.
CAAN – 2 decks are used in this effect.  A card selected in one deck is found exactly at the location randomly named by the spectator in the other deck.
Instant Poker – performer plays 5-card Poker with 3 other people.  He demonstrates how he can deal a four-of-a-kind to one of the players.  Eventually, he shows that his personal hand is superior to the person's four-of-a-kind!
Throughout the DVD, you can also learn a lot from watching Woody performs: his comical and care-free, nonchalant presentation, and the way his mind works as he explains the effects.
This is an entire act you can do with a borrowed deck of cards!  Nobody, until now, can believe you can set up a memorized deck with a borrowed deck quite instantaneously.  Even those who are sacred stiff of memorized decks may want to consider learning this.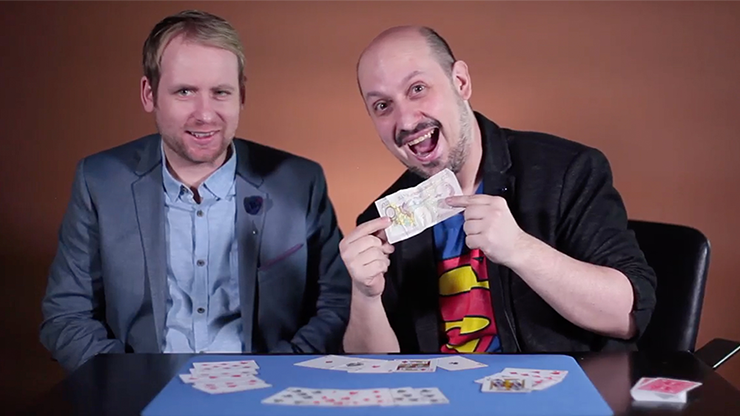 Magic is our passion but we are not a magic shop ? You can purchase this here!
[usr=9][/vc_column_text][/vc_column][vc_column width="1/3″][vc_column_text]
[/vc_column_text][vc_widget_sidebar sidebar_id="gp-standard-sidebar"][/vc_column][/vc_row]