[vc_row][vc_column width="2/3″][vc_custom_heading text="Reviewer: John Teo"][vc_column_text]Unlike what is suggested by the title, this book is not about comedy magic.  It is a book on children's magic.  The effects are designed to have lots of interaction with the young audience and for them to have fun and laugh aloud.  In this sense, the title of the book is justified.
It is a large tome comprising some 326 pages with 48 original effects and routines.  It is well written and handsomely produced in hardcovers.  You will be proud to have it sit alongside other books in your book self.
The 48 effects and routines are all original with Christopher Barnes, the actual name of the author.  They also all come fully scripted.  They are not meant for you to copy wholesale, because you have a different performing persona to Christopher.  You should use them as a guide to come out with your own script.   
The effects may not all feature original magical principles.  Many of them are adaptations of classical children and other effects.  Christopher has a knack of taking a popular effect and customizing it to suit the theme of his children show.  The end result is an effect that is so dissimilar from the original one that it fits into the definition of an "original" trick or plot.  Here is where you can see Christopher's creative thinking at work.  In the concluding segment of the book, Christopher gives some interesting examples of adapting the following classic effects:
Jolly Polly

Farmyard Frolics

Bashful Bunny

Jim Pace's "The Web"
If the effects are all original with Christopher, then you cannot get them anywhere except to make them.  Christopher teaches you how to do so quite easily: all you need are hot glue, spray adhesive, gaffer tapes, cardstock, photo paper and clear matte spray.  He also shows you how to obtain the necessary graphics, toys or other items from the internet.  None of the items to construct require you to use a power tool.
This book is truly special.  You will be inspired by Christopher to create your own effects so that:
You can easily customize your show to your client's theme or requirement.

You can perform using props that no other magicians possess.  If your customers like your magic, they have to hire you, and only you.

The more you create, the easier it is for you to create more.
All the effects are organized into 8 separate chapters.  Christopher's wise advice in each chapter reflects his vast experiences as a number-one children's magician.  The 8 chapters are:
Open Says Me

– importance of having a strong, highly interactive and laughs generating opening effect.  Includes a game that controls how a kid should sit when watching your show, and 4 opening effects using name tag, wands, silks, and spring bills.

Stung!

– sucker effects are highly interactive, but you are taught how to soften or ease the sucker or rude ending.  Includes 6 effects using paper strips, hand mirror, ketchup sucker bottles, ropes, jumbo cards and the dick/rabbit optical illusion.

On The Back

– how to construct a practical kit to get any small item secretly stuck onto your back or onto your helper's back, and what is the optimal number of times to do this during your show.  Includes 5 effects where a toy teddy, Oreo biscuit, some cooties and a miniature cake end up on your or the helper's back.

Accessories Make The Outfit

– how to take the classical comedy props, such as the break-away-wand, and get more laughs per minute out of it.  Includes the use of 8 accessories such as the slap bracelet, toy boomerangs, the paint colour palette and the various comedy wands.

Help!  I Need Somebody!

– describes the principle of the "10-second helper", a ploy to prevent your child helper from becoming a useless "table" in your show.  Includes 6 effects involving ice, sponges and slush powder, family pictures, colour prediction, pictures of food items, fake moustaches, and a child magician.

Quiet, Not Riot

– the true sign of a great professional kids show is to be quiet, not rowdy, and yet without losing the impact of the magic.  Includes 4 effects using toy budding rose, coins, miniaturised trophies and pictures of dinosaurs, hamburger and cheese.

Help!  I Need Multiple Bodies

– how to structure the various routines into a unified show and how to use multiple child helpers to build up the climax.  Includes 7 effects using stuffed animal toys, bills and coins, made-up fake ice screams, tear-no-tear papers, mouth coils, chattering teeth, gloves and sunglasses, and a baking routine using spaghetti.

Not-So-Tricky Magic

– how to have a paradigm shift and look at your effects through the eyes of your child audience, so that you can truly create those magical moments when a child comes up to help you.  Includes 7 effects using coloured gloves, whoopee cushion, spring snakes, bubblegum, a lamp, a Hexbug Aquabot (mechanical swimming goldfish) and how to make a live Santa appear.
It is difficult to choose which effects would be you favourite.  They are all good and effective for that particular segments in your performance.
There are several illustrations that are being referred to in the texts that are missing in the book.  They occur in the descriptions of 2 effects in chapter 5.  This is a small downside compared to the almost 50 original effects that you can build, customize and use.  A double-DVD set that costs the same amount as this book would only provide you with half or less than half of the number of effects.  If you agree with the adage that "if you can make and use at least one effect, you get your money's worth", this book would easily worth several hundreds of dollars.
Magic is our passion but we are not a magic shop ? You can purchase this here!
[usr=10]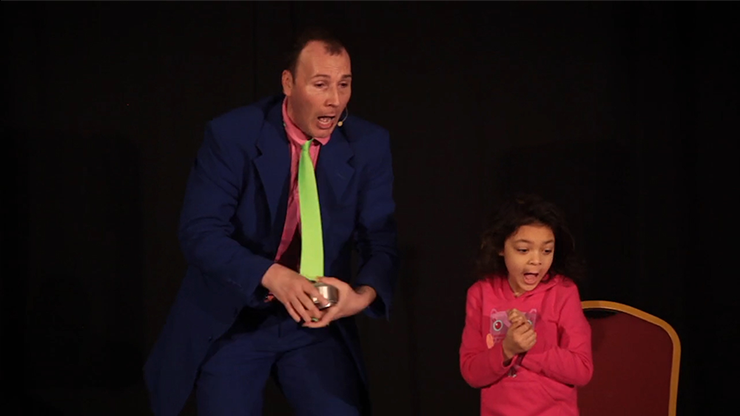 [/vc_column_text][/vc_column][vc_column width="1/3″][vc_column_text]
[/vc_column_text][vc_widget_sidebar sidebar_id="gp-standard-sidebar"][/vc_column][/vc_row]