[vc_row][vc_column width="2/3″][vc_custom_heading text="Reviewer: John Teo"][vc_column_text]As the name implies, this trick has a humorous climax.  In fact, it has a sucker ending with a mysterious twist!
The effect consists of a spectator freely shuffling a deck of cards and then selecting one.  Without looking at the identity of this card, he places it in his pocket, or otherwise holds on to it, ensuring that no one can touch it.
The performer then brings out another deck of cards with a different colour back, and places it on the table face downwards.  Before doing anything with this deck, he wishes to eliminate the 2 jokers from it.  He claims that he can simply cut to the 2 jokers without looking at the faces of the cards.
He concentrates and cuts to the first joker.  This is quite an impressive feat by itself!  Instead of cutting to the second joker, he urges the spectator to try and do it.  The spectator does it and succeeds.  Everybody is surprised!  Up to now, everything that takes place is serious and impressive.
The performer now starts to remove jokers after jokers from different parts of the deck.  The audience now realises that nothing is really that impressive since the performer has been using a deck full of jokers!
All cards are shown to be jokers except one card, which remains face downwards.  The spectator who has been guarding his chosen card is now asked to reveal his card.  This is when all laughter from the audience seizes momentarily.  When the performer's card is turned over – it matches the selected card!  Thunderous applause now replaces laughter!
The trick is based on a simple concept and is easy to do.  What makes it highly entertaining is the construction of the routine.  It starts off as a serious trick, then it becomes a joke.  When the audience thinks they have been had, the entire effect turns around to becoming serious again.  This change of mood is what makes the entire routine highly entertaining and satisfying to watch.
You receive a gimmicked deck only.  You are also given a registration code to access the video instructions online.  The product is manufactured by Alakazam Magic that no longer provides instructions on a DVD, but on its web-site.  Presumably, this is to save both manufacturing and transportation costs of having a physical DVD.  The deck comes in an oversized box packaging, originally meant to contain a DVD.  You have to supply an ungimmicked deck of cards yourself.
The instructions are provided by Peter Nardi of Alakazam Magic.  He does a good job in performing and explaining Last Laugh.  As with most Alakazam products, your gimmicked deck is well made although the price is a little on the high side.
Last Laugh is an effect that both mystifies and entertains.
Magic is our passion but we are not a magic shop 
 You can purchase this here!
[usr 9][/vc_column_text][/vc_column][vc_column width="1/3″][vc_column_text]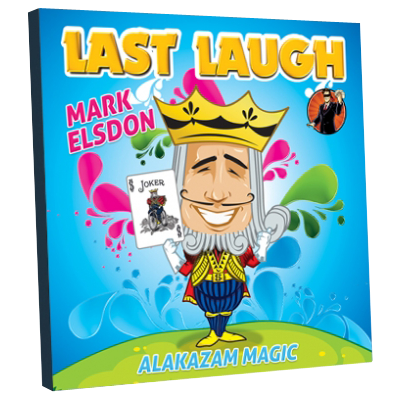 [/vc_column_text][vc_column_text]
[/vc_column_text][vc_widget_sidebar sidebar_id="gp-standard-sidebar"][/vc_column][/vc_row]