[vc_row full_width="" parallax="" parallax_image=""][vc_column width="2/3″][vc_custom_heading text="Reviewer: John Teo" font_container="tag:h2|text_align:left" google_fonts="font_family:Abril%20Fatface%3Aregular|font_style:400%20regular%3A400%3Anormal"][vc_column_text]Luxury Linking Ropes is a linking ropes routine by Daniel Ka of Spain.
There are many rope routines utilizing gimmicked ropes available in the market.  What is so special about Daniel Ka's routine?
Standardised gimmicked ropes typically allow you to cut and restore the rope, knot and unknot the rope, form loops of rope and then link and unlink them.  The routines available are a hotchpotch of these effects.  There is no climax or a proper ending in the routines.  Daniel Ka's Luxury Linking Ropes has a structured multi-phased routine with a logical and surprising ending (climax).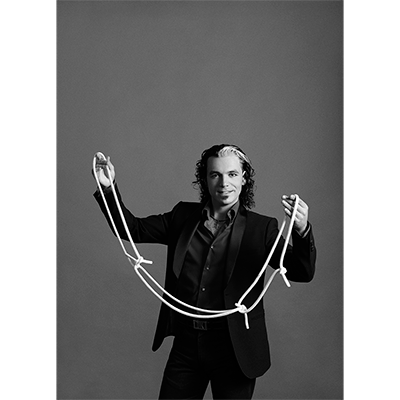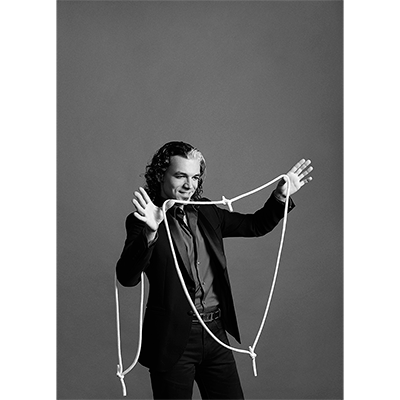 Here is the effect:
Three long pieces of rope are displayed.  The performer takes one piece of rope and ties the two ends together with a knot to form a loop of rope.  He does the same thing to each of the other two pieces of rope.  He now has three loops of rope.  He proceeds to link all the three loops together like a chain.  Just as magically, he unlinks them.  He then takes two loops of rope and merges them into one long loop of rope with the two knots still on the rope.  Finally, he takes the third loop of rope and merges it into this loop.  Now he has a very long loop of rope with three knots on it.  He unties one knot and the loop becomes one long piece of rope with two knots on it.  He then magically causes one, and then both knots, to pop off the rope, leaving a very long piece of rope at the end.
You receive the specially gimmicked ropes and a password to download videos from the internet.
There are four videos.  Two of them feature individual performances of Daniel Ka and Paco Herrero respectively.  The other two contain their individual explanations of their acts.
The routines by both Daniel Ka and Paco Herrero are similar.  The main difference is that Daniel starts with three long ropes and he ties them into three rope loops.  Paco begins with the three rope loops already tied with a knot each.  Both do the rope routine as a silent act to background music.  Although the effect is the same, the performing style of both magicians is different.   It is interesting to watch two different presentation styles of the same effect.
The ropes are very well made (hand-made) by Paco Herrero.  You are supplied 2 extra short pieces of ropes as spares.
As mentioned, you receive a professionally made set of ropes, and a structured multi-phase linking ropes routine that is a winner in your hands.
Please support intellectual property. Only buy original. Available from all reputable Murphy's Magic dealers.
[usr 9][/vc_column_text][/vc_column][vc_column width="1/3″][vc_column_text]
[/vc_column_text][vc_widget_sidebar sidebar_id="gp-standard-sidebar"][/vc_column][/vc_row]