[vc_row][vc_column width="2/3″][vc_custom_heading text="Reviewer: John Teo"][vc_column_text]Many magicians want to be creative so that they can come out with new ideas to incorporate in their performances or make into products to sell and make money and become famous.
Here is a book written by a magician who is also creative.  "Only Ideas" is the title of the book. Everything about this book smacks of uniqueness and creativity.  The book measures only 4 inches X 5.75 inches. The pages are printed in black and white. There are pages which are black with white words printed on them.  There are white pages with black printed words.
The author, Rory Adams, is only a 22 year-old boy from England.  Has he got enough experience, especially from the magic standpoint, to be able to advise magicians on creativity?  Well, several years ago, Rory created an original magic effect per day and posted it on Instagram for almost 290 days.  This got him a job working for Dynamo. Since then, he has also produced "The Next Great Magician" and other primetime TV shows.  Rory has also made a DVD entitled "Moments" featuring 12 original effects that comes together with a gimmick. All these achievements speak a lot for him.  This little book allows you to understand what makes Rory tick!
The book is easy to read.  There are no lengthy essays, but meaningful quotations and short write-ups.  It commences with what Rory understands as being creative. You cannot force creativity and there is no standard procedure for being creative.  However, there is some structure to this chaos. Rory discusses the start and end points, the baseline, the purpose and the restrictions to coming up with new ideas.
From this point onwards, true to its title, the book gives exactly 100 ideas for new magical effects.  Some effects come about by modifying existing tricks such as Mark Southworth's "Double-cross", Daniel Madison's "Angle Zero" and Chris Philpott's "The Hundredth Monkey".  Rory also finds new applications for some classics " such as Smash and Stab", "Torn and Restored" and the Sven's principle from "Svenlopes". The author also comes out with fresh ideas involving the "Rube Goldberg 'Domino' Machine", "Bullet Catch", "Green Man Emergency Exit sign", and "Etch-A-Sketch".
In the next 10 pages, it is application time for you, the reader.  Rory provides 10 new magical concepts, but you have to come out with the appropriate methods.
At the end of the book is a Glossary section that explains the magical effects mentioned in the book.
This book is especially useful for seasoned magicians who are experienced enough to know what is, and is not, new in magic.  It is a book on creativity written for magicians. It is a book that you will want to go back to, to inspire and motivate you to come out with something new for magic.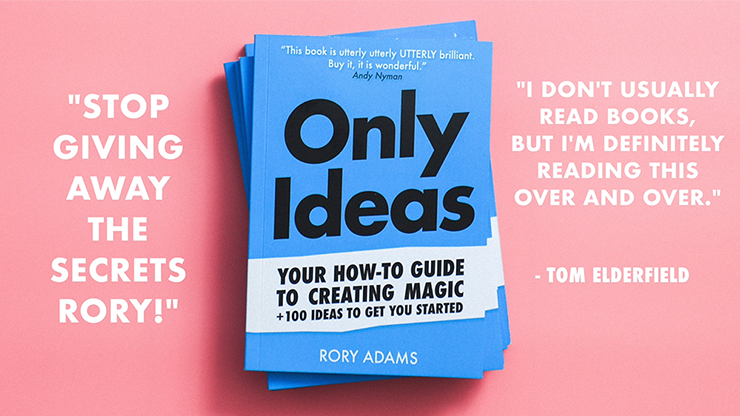 Please support intellectual property. Only buy original. Available from all reputable Murphy's Magic dealers.
[usr=10]
[/vc_column_text][/vc_column][vc_column width="1/3″][vc_column_text]
[/vc_column_text][vc_widget_sidebar sidebar_id="gp-standard-sidebar"][/vc_column][/vc_row]