[vc_row][vc_column width="2/3″][vc_custom_heading text="Reviewer: John Teo" font_container="tag:h3|text_align:left"][vc_column_text]Oracle is based on a mathematical system that allows the performer to know one part of the information of a chosen card.  This principle has been used in card tricks before by many magicians such as Harry Lorayne, Simon Aronson, Paul Cummings and Pit Harling.
What Titanas did was to streamline the method and make it easy for the performer to pick it up.  He also came out with a wonderful presentation utilising this principle.
In effect, a spectator thoroughly shuffles a deck of cards and randomly chooses one card.  She then divides the deck into 3 piles.  The performer then spreads the 3 piles of cards and studies them.  The cards are gathered up and another spectator selects a card.  When the 2 cards are turned over, they are found to be mates.
The wonderful thing about this effect is that you can use any deck of cards, including a borrowed deck, provided it is a complete deck.  You can perform it at any time, and anywhere.  There are no angles to worry about.  There are no sleights or memory work involved, but you do have to practise in order to be familiarised with the system.  Titanas reckons that you need to practise for approximately one week.
Once you have mastered the system, the mating of the cards appears to be impossible, even to magicians.
You receive only a DVD.  Well, you do not need anything else since it does not utilise any gimmicked cards.  This is no menu in the DVD.  You do not need one since the duration of the DVD is only 20 minutes.  Within this short duration, Titanas does a good job in teaching the concept and showing you how to apply it to a card trick.  Once you understand the principle, you can come out with your own effect.  The presentation by Titanas is, I believe, the best use of this system.
Magic is our passion but we are not a magic shop 
 You can purchase this here!
[usr 9][/vc_column_text][vc_separator][vc_custom_heading text="Reviewer: Madame Curator"][vc_column_text]Titanas has produced quite a number of popular products and also collaborated closely with several contemporary mentalists (Dee Christopher from Britian, Nefesch from Europe) and just a little while ago released Marc Lavelle's Changeling, which I simply adore. Titanas's latest offering, Oracle, is available both as an online video download and good old fashioned DVD. The instructions for Oracle are about 20 minutes long and the effect is a well-loved mental magic classic of having two spectators select cards, which turn out to be matching mates of each other.
Granted, the clever mathematical system takes some time to learn but the effect is pretty diabolical since there is no need for gimmicks of any kind and you can perform Oracle with any deck of cards as long as it is complete (any missing cards would throw you off). Magicians familiar with the works of famous memory expert Harry Lorayne and the well-respected Aronson stack creator himself, Simon Aronson, may already know this old, nearly forgotten, magic principle that Titanas teaches and streamlines.
While I think Oracle is a fine routine for laypeople; in my humble opinion, it would work best as a magician's fooler and to sweeten the deal, its price point is surprisingly low. The effect is strong and I think the method is very clever, so paying just US$10 for it is a real steal. While I do consider Oracle a self-working card trick, having said that, you will probably need to invest a week or so to adequately nail down all the mental gymnastics required to pull off this mathematical system swiftly. Done well, Oracle as a method would be excellent as an impressive show of memory demonstration or even used as a gambling routine themed performance.
If you are determined to make the effort in practicing this, Oracle is a definitely one nifty little thing to have in your arsenal of magic tricks whenever someone hands you a deck of cards and requests for some mentalism on a whim. You can use it in a close-up setting or a stage/ parlor show where there is a 'live' camera feed and I reckon once you know the principle well you can work on jazzing up your presentation style and making it your own, so you differ from Titanas's straightforward demonstration of Oracle. A lovely investment for fellow math nerds out there.
Please support intellectual property. Only buy original. Available from all reputable Murphy's Magic dealers.
[usr 6.5][/vc_column_text][/vc_column][vc_column width="1/3″][vc_column_text]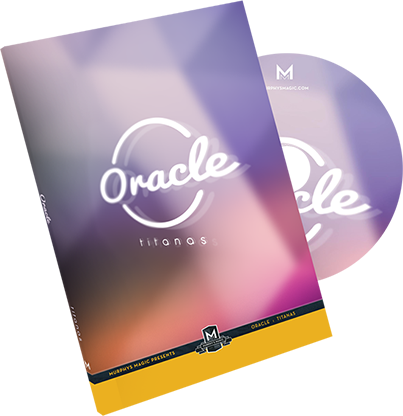 [/vc_column_text][vc_column_text]
[/vc_column_text][vc_widget_sidebar sidebar_id="gp-standard-sidebar"][/vc_column][/vc_row]