[vc_row][vc_column width="2/3″][vc_custom_heading text="Reviewer: Ning"][vc_column_text]DESCRIPTION
When two creative minds come together and create magic, you know that the end result will be something special.
Outnumbered is a simple "blind" puzzle solve that will leave your audience amazed!!
Rubik's Cube magic, magic squares, and memory feats are some of the most compelling, believable, and awe-inspiring weapons in the modern magician's arsenal. Outnumbered takes all three of those effects and combines them into one pocket-sized, easy-to-perform miracle!!!
An instantly recognizable number puzzle game is handed to a spectator to mix up. The magician then "memorizes" the position of the numbers and turns the puzzle face down as he attempts to solve it without looking. Despite there being almost 20 trillion different combinations, the magician is able to solve the puzzle.
Outnumbered can be "solved" in three different ways. A regular 1-16 solve, a magic square solve, or a seemingly random solve that has already been predicted.
Outnumbered requires no memory work, no need for complicated algorithms, and no skill to perform. The spectator can even perform the solves themselves!
Outnumbered is a custom-made gimmick that does all the work for you and can be handled by the spectator before and after the solve.
Leave your memory and mathematical skills at the door. THIS IS OUTNUMBERED by Danny Weiser and Matthew Wright!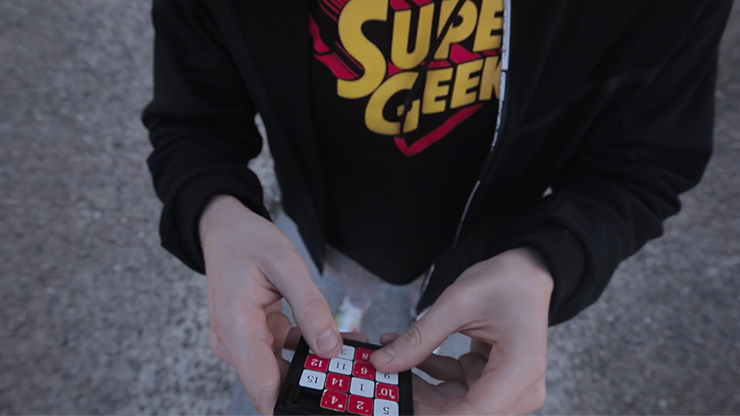 REVIEW
Full disclosure: I'm a huge fan of Matthew Wright and his work. He is original, super smart, and funny. Outnumbered is this British genius's latest brainchild, and you can watch him perform this effect flawlessly to folks who are clearly impressed. In the video tutorials, we also see how it is possible to start performing this pocket miracle for a real world audience right after learning it.
The online teach-ins are first class, and what I really appreciate is that the creators of Outnumbered have also provided extra gimmicks so you can easily customise your unit accordingly. Also, if you adore routines that utilise the magic square and mathematical magic, you're definitely in for a special treat 🙂
As with all magic effects, you need to pick what suits you/ your performing persona. This applies to the professional working magician, not so much the hobbyist. While Outnumbered will well suit someone perfectly (here, I'm thinking along the lines of French mentalist Vincent Hedan's stage character where he can easily prattle off the entire sequence of Pi since he's gifted with an eidetic memory), it doesn't quite work for me. It is utterly disappointing because, believe me, this is an effect I really want to do since it's totally MIND BLOWING when pulled off well!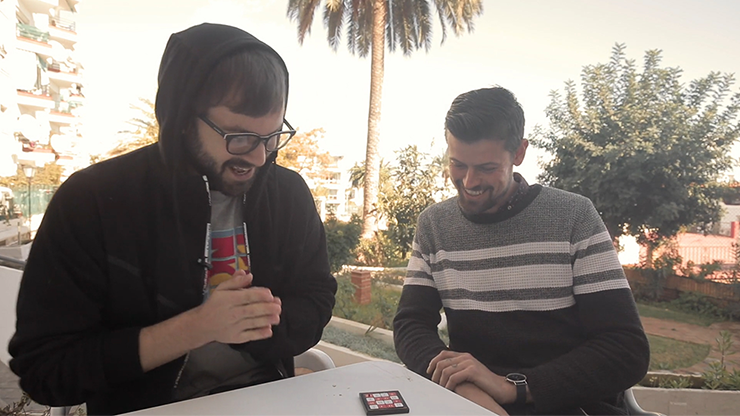 I wonder if the Outnumbered prop could have been better made for ease of use. Granted, it's meant to look like a cheap retro toy fashioned from pieces of plastic, but perhaps it may have been better fabricated? I'm having a bit of a struggle with the "tightness" of the plastic frame. Hopefully this will settle in time, because as you can imagine (without me saying too much so as not to give anything away), the smooth working of all the bits are crucial to the believability and delivery of the presentation.
And to be fair, I'm not sure if it is the current winter climate that's to be blamed, along with a combination of dry hands and short nails (I play music so I do clip them very short), along with a new plastic prop that requires time to season or "loosen up" in this cold unforgiving European weather. To add, I also have smallish hands and weak wrists, which makes the important move quite a bit of a challenge especially when there's a sceptic in the audience burning your every action with their eyes.
Don't get me wrong. I still love this magic puzzle's clever concept and everything, but Outnumbered wouldn't be a go to effect that I'd have confidence performing for now. To sum it up for context; if you're like 99% of magicians (i.e. not a woman with small hands), I think you'll love this and give Outnumbered full marks.
[usr=7.5]
Magic is our passion but we are not a magic shop 
 You can purchase this here![/vc_column_text][/vc_column][vc_column width="1/3″][vc_column_text]
[/vc_column_text][vc_widget_sidebar sidebar_id="gp-standard-sidebar"][/vc_column][/vc_row]