[vc_row][vc_column width="2/3″][vc_custom_heading text="Reviewer: Bernard Sim" font_container="tag:h3|text_align:left"][vc_column_text]Effect:
A coin, a business card and dollar note is borrowed. Spectator can place any of the items into the pocket and then hold the remain two items each in one closed fist. A prediction in the form of a keychain which is on table at the beginning of the routine matches the outcome.
Product description:
The product description pretty much describe what this can do accurately.
Method:
When Free Will by Deddy Corbuzier was released, magicians all over were raving about it. It's not the prop that they were raving about, the prop is in fact poorly made at that time and I've seen pirated versions which are so much better than the original. Anyway, back to Free Will, the method is genius, it opened up doors to so many other variations and one of them was TNT by Wayne Dobson (a very clever man). TNT uses the same method but the props are good quality plastic card. It was easy to perform, I was very happy with that.
Fast forward a few years later came Fair Play. I'm a sucker for such effects and especially such clever gimmicks. The downside for the two effects I just mentioned is that you'd need to force one of the items. As for Fair Play, the spectators really have a free choice. With this clever and cool gimmick, your prediction is always 100% accurate.
There are no moves involved at all; all you need to do is learn how to activate the gimmick so as to have the correct prediction. It's that simple! You can perform this whole night at a gig as the setup is less than 2 seconds. And you can borrow the items if you want or you can use your business card and then get them to keep it.
Quality:
This is a serious issue here. I have always like effects released by Paul Harris but it seems that he like to work with Uday in the production of the props. I have experience poorly made gimmicks by Uday and I know some people who shy away from props made by Uday even though it has the Paul Harris name on it.
There is no proper quality control on Uday's products. I speak from experience as I've seen four out of ten Fair Play that needs replacement as the gimmick was not working properly. Having said that, all the replaced gimmicks works flawlessly, so it's really a quality control thing.
Pricing:
US$39.95 is rather a good price for such a product, especially when a precision made gimmick is included.
Verdict:
Even though the quality control is not consistent, I still recommend this as this is a very clever gimmick. I'd even suggest you get two sets as one day this will be out of production. Make sure to test your set so as to ensure it is working properly.
Highly Recommended.
[usr 9]
Magic is our passion but we are not a magic shop 
 You can purchase this here![/vc_column_text][/vc_column][vc_column width="1/3″][vc_column_text]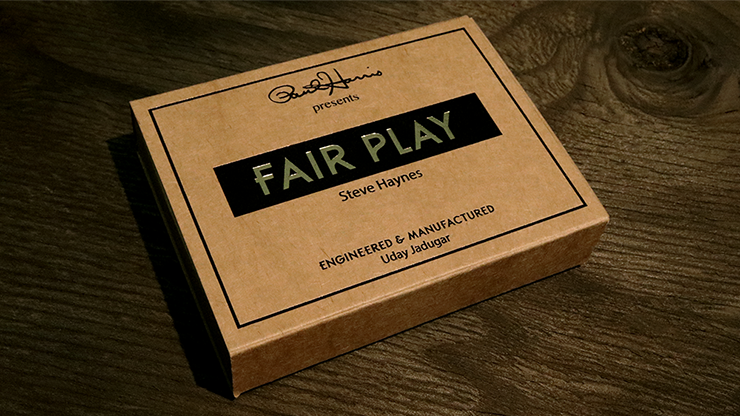 [/vc_column_text][vc_column_text]
[/vc_column_text][vc_widget_sidebar sidebar_id="gp-standard-sidebar"][/vc_column][/vc_row]