[vc_row][vc_column width="2/3″][vc_custom_heading text="Reviewer: John Teo"][vc_column_text]Steven X's Pen-nomenon is a ghost pen effect – a pen that moves by itself as it writes a message or a piece of information on a note pad.  This enables you to perform a spirit-writing type effect.
Here is the basic effect of Pen-nomenon.  A spectator signs her name on the top sheet of a stack of index cards.  She selects a playing card.  A pen is put on top of the index card stack.  The performer calls on the spirits.  Suddenly the pen moves by itself, writing the identity of the spectator's selected card on the signed index card!
You receive 2 Spinnerets, many tiny blobs of wax, and an instructional DVD.  A Spinneret is a tiny thread reel specially manufactured by Steven X.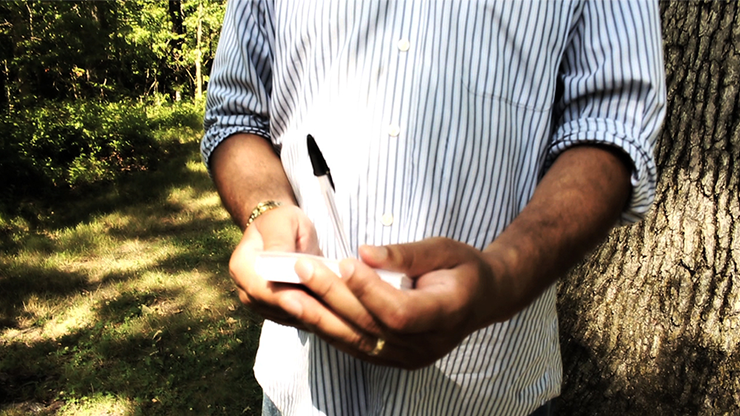 This is a good investment.  Not only do you receive 2 Spinnerets, the well-produced DVD, which lasts about 1 hour and 16 minutes long, teaches you many interesting things:
An alternative handling of the basic routine
3 variations of the routine that do not involve playing cards
How to prepare the pen, Sharpie or pencil for the ghost writing
How to hook up and set up the Spinneret from mouth, cap/hat or shirt pocket
How to use wooly nylon thread
How to construct your own pen or pencil thumb writer
Steven's personal handling of the "out-to-lunch" effect
Properly performed, the sight of the mysterious moving pen gives an eerie sensation to the audience.  Even though you are set up with the Spinneret, you can move quite easily and freely.  Steven teaches you how to have the final hook-up just prior to the movement of the pen.  
Magic is our passion but we are not a magic shop 
 You can purchase this here!
[usr=9]
[/vc_column_text][/vc_column][vc_column width="1/3″][vc_column_text]
[/vc_column_text][vc_widget_sidebar sidebar_id="gp-standard-sidebar"][/vc_column][/vc_row]