[vc_row full_width="" parallax="" parallax_image=""][vc_column width="2/3″][vc_custom_heading text="Reviewer: Nique Tan" font_container="tag:h3|text_align:left" google_fonts="font_family:Abril%20Fatface%3Aregular|font_style:400%20regular%3A400%3Anormal"][vc_column_text]Having purchased the previous releases of Ran Pink over the years, I am familiar with his work, and have worked his various approaches to the centre tear in much of my professional shows. He is a great thinker.
I was pleasantly surprised with this release. P'ink is a utility that will allow you to have predictions change, visually if you so wish. There is just so much potential with it and it will allow you to create really organic, amazing animations on paper. I am really unsure how much I can reveal about this, but I think it is safe to say that it is a gimmicked pen, and if the Frixtion Pen was on one end of a rainbow, P'ink would be on the other end.
It comes with a link to an online instructional video, on which there are just so many ideas and applications that are possible. In one effect called Reburn, you strike a match and blow it out. You place the used match in a spectator's hand and have them make a fist around it. After your magic moment, you have them open their hand to reveal that it has miraculously become a fresh match again, and you strike it to prove it.
One of my favourites is Flea Circus, which is performed with a business card. Little dots, or fleas, are seen to visually and gradually jump from one end of a business card to the other. The spectator gets to keep the card as well.
There are also more subtle applications, which probably suit me a little more, involving more mentalism type of presentations. In How to Read, you apparently cause a spectator's to lose their ability to read. With P'ink, you are also able to predict the outcome of a string of coin tosses with the prediction in full view at all times.
As cliché as it sounds, the applications are truly only limited by your imagination. Just playing with it for a bit will fire up some ideas of your own, which is nice; few products out there are able to naturally encourage you to be creative like this.
Do watch the instructional video in its entirety before your play with the pen though. If you are not careful, you might mess up the nib of the pen and it will take some work to get it working properly again. Also, do experiment with different surfaces on which you intend to perform with. Some do work better than others – for example, I do not recommend plain white pieces of paper on which to prepare P'ink. You should be rather safe, as depending on what you are using the pen for, you can prepare the items in advance and ensure that they work perfectly before heading out there to bring it for a spin.
One pen should enable you to create many gimmicks to perform with and with proper care, it should last you for quite a long time.
Please support intellectual property. Only buy original. Available from all reputable Murphy's Magic dealers.
[usr 7.5][/vc_column_text][/vc_column][vc_column width="1/3″][vc_column_text]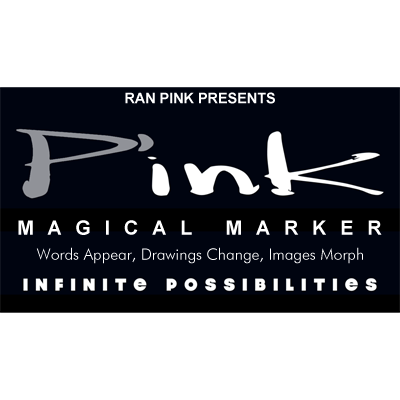 [/vc_column_text][vc_column_text]
[/vc_column_text][vc_column_text]
[/vc_column_text][vc_column_text]
[/vc_column_text][vc_widget_sidebar sidebar_id="gp-standard-sidebar"][/vc_column][/vc_row]