[vc_row][vc_column width="2/3″][vc_custom_heading text="Reviewer: Debra Cheah"][vc_column_text]
DESCRIPTION
Drink your fill of 10 hyper-visual effects all done with an everyday organic object! In this refreshing new project, the geniuses behind "Envy-Lope," Brandon David and Chris Turchi, share secrets hidden inside every straw wrapper.
Here's just a taste what you'll discover:
STRAW THROUGH BILL/RECEIPT A straw punctures a borrowed bill or receipt, and is visually pulled right through the very center. The straw is pulled cleanly through without any marks or tears on the receipt/bill. Both objects can be immediately handed out and inspected.
Torn and Restored Wrapper: A straw wrapper is torn to reveal the straw inside. With a wave, the magician can heal the torn wrapper and hand the straw out for inspection. Sure, this is probably the most useless super-power ever, but the effect is AMAZING!
Torn and Restored Straw: A straw is torn into two parts, one in each of the magician's hands. With a simple toss, the torn straw is now made whole!
Moving X: The magician draws an X on a straw with a Sharpie. Slowly and visually, the X begins to travel down one end of the straw to the other. The straw can then immediately be handed out and inspected by the spectator.
Straw through Straw: A ultra-visual penetration of two straws. Melt a straw through another or just cleanly pull it through in one motion. This one, you've got to see to believe!
You'll learn all these effects, plus more!
With a nearly 2-hour deluge of expert instruction taught by Chris Turchi and Brandon David, there's something here for everyone – from beginner to the advanced, from the mentalists to the magicians, and even social media performers!
Quench your thirst for visual organic magic with Project Straw! You'll be lovin' it!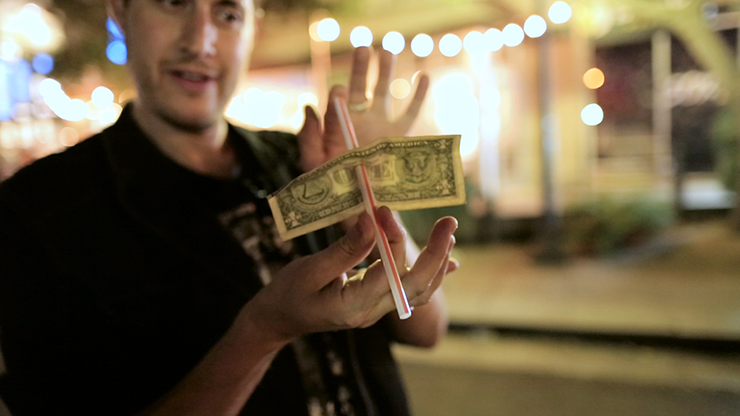 REVIEW
Brandon and Chris take you through the process to make the gimmicks for the effects, and then how to perform each effect. They give clear instructions on how to make each gimmick which are easy to follow along. I was able to follow the instructions easily and come up with working gimmicks while watching their video. But note that as you are working with small parts, if you want to be sure you make a perfectly concealed gimmick(especially if you're doing this for social media), you will need to take extra time and patience with your construction. But if you just want a gimmick that works well enough for the effect, it's extremely easy to follow and construct.
Brandon and Chris give clear instructions on how to perform the effects, and I was able to grasp the concepts quickly. However, as you are working with small and flexible gimmicks, you will need to take extra practice in order to perform the effects smoothly. But with constant practice, the effects are easy to pick up and I was able to perform them smoothly, though not perfectly within a few days of practice.
With the exception of 'torn and restored straw'(which they mention in the video is angle-sensitive), the effects are also generally angle-friendly and you end clean once you have removed the gimmicks, which Brandon and Chris teach you how to do. This makes them perfect for live performances. 
While Brandon and Chris mention that these are great for restaurant magic, I feel they work better for street magic instead.
Living in Singapore, I actually had trouble finding some of the recommended straws for the effects. This was either because in common places like food courts and fast food restaurants, the most common straws were either transparent or striped, which were not recommended for most of the effects. Or for some of the restaurants and bars I went to, they were using paper or bamboo straws. 
Which proves that different restaurants use different types of straws. Which means that if you intend to perform this in a restaurant, you either have to pre-make a lot of gimmicks on different types of straws, or go to the restaurant beforehand to find out what type of straws they use.
With that, certain effects don't work well with certain types of straws (as Brandon and Chris mention in each effect which type of straw works best for each effect). So you may have to be prepared to adapt your handling, do another effect or justify why you have a different straw from the restaurant. 
Also, there are countries pledging to do away with plastic straws, and with that restaurants are switching to either reusable straws or paper straws. 
Given the gimmick construction, the effects unfortunately cannot be done with reusable metal/bamboo etc. straws. 
Out of the 4 main effects, I have only been able to do 'straw through receipt' with a paper straw, the rest are not feasible as I have yet to see a paper straw come with a wrapper, and the gimmick constructions of 'torn and restored straw' and 'moving x' on plastic straws could not be adapted to paper straws. But of course, if you are willing to take the time to get extra materials to find your own way to adapt the gimmicks to paper straws, it's not impossible to do. 
On the other hand, if you are performing on the street, it is much easier to define why you have a straw on you. For example, you can say you picked up the straw while you were having your dinner, and 99% of spectators will not go as far as to track whether the place you had your dinner really used the straw you are performing with, or if you really went to that place a few hours ago. With that you can easily choose to use the most optimal straws depending on which effect you wish to perform. 
Plus Brandon and Chris also give almost 30mins of amazing bonus effects that while may take some extra practice, will be great add ons to your street performance!
Bonus effects:
Self wrapping straw – you take a straw and visually change it to a straw back in a wrapper, or a different coloured straw. 
Appearing straw – you pull a straw out of your mouth, or appear it from anywhere else you can think of.
Straw through straw – you visually penetrate one straw through another. No bends, no holes, nothing!
Stretching straw – you visually stretch a straw longer than usual
Static straw – you suspend a straw on your fingertips
Mobius – you visually bend a straw right before their eyes
So if you are looking for some visual street magic whether for your live street shows or to make some amazing social media videos, at $20, this is a great investment! 
[usr=8.5]
Magic is our passion but we are not a magic shop ? If you like it, you can purchase this here!
[/vc_column_text][/vc_column][vc_column width="1/3″][vc_column_text]
[/vc_column_text][vc_widget_sidebar sidebar_id="gp-standard-sidebar"][/vc_column][/vc_row]