[vc_row full_width="" parallax="" parallax_image=""][vc_column width="2/3″][vc_custom_heading text="Reviewer: Dr. John deBeixedon" font_container="tag:h2|text_align:left" google_fonts="font_family:Abril%20Fatface%3Aregular|font_style:400%20regular%3A400%3Anormal"][vc_column_text]At www.rubberbandmagic.com, rubber band magic master Joe Rindfleisch offers a download of his Rubber Band Through Hand routine. In Rubber Band Through Hand, Rindfleisch appears to demonstrate the impossible, as he repeatedly passes a rubber band effortlessly through the center of his hand.  In fact, during the course of the routine displayed, this effect occurs 5 times with 5 different variations.  As a result, the viewer is completely perplexed and the performer appears to possess supernatural powers.
Joe Rindfleisch's instructions on presentation are comprehensive and his teaching method is strong, but given the fact that this routine is more than twice as complicated as that for Paradigm Shift, even a seasoned magician will require at least an hour or two of study and practice to convincingly replicate this routine as depicted in the download.  However, as I believe that most magicians will desire to have their routine appear as effortless as Rindfleisch's, many additional hours of practice will ultimately be required.  And yet, once mastered, Rubber Band Through Hand is a brilliant bit of subterfuge that can be performed spontaneously almost anywhere!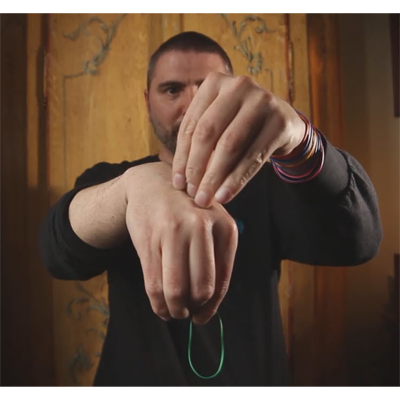 On a practical note, just as with Paradigm Shift, Rubber Band Through Hand is best performed with Joe Rindfleisch's own brand of Elastraflex coated rubber bands. These latex-free rubber bands stretch further without breaking than any others I have encountered; and, trust this reviewer, the extreme elasticity of these brightly colored bands is a necessity for the correct performance of this effect.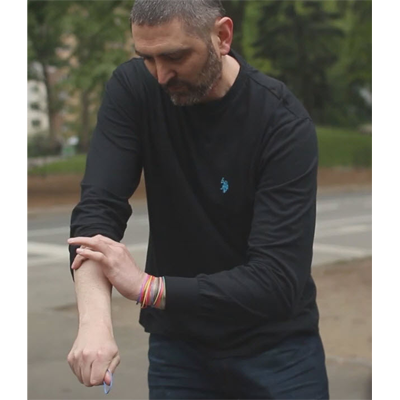 Lastly, my only suggestion for improving the Rubber Band Through Hand download would be for Joe Rindfleisch to add post-production arrow indicators and numerical step guides to aid those who are learning the effect.
Paradigm Shift download rating: 7 of 10 for production, 9 of 10 for value.
See my YouTube videos here.
Please support intellectual property. Only buy original. Also available from all reputable Murphy's Magic dealers.
[usr 9][/vc_column_text][/vc_column][vc_column width="1/3″][vc_column_text]
[/vc_column_text][vc_widget_sidebar sidebar_id="gp-standard-sidebar"][/vc_column][/vc_row]