[vc_row full_width="" parallax="" parallax_image=""][vc_column width="2/3″][vc_custom_heading text="Reviewer: Dr. John deBeixedon" font_container="tag:h2|text_align:left" google_fonts="font_family:Abril%20Fatface%3Aregular|font_style:400%20regular%3A400%3Anormal"][vc_column_text]At www.rubberbandmagic.com, rubber band magic master Joe Rindfleisch offers a download of his Rubber Exchange routine. In Rubber Exchange, Rindfleisch demonstrates a complicated appearing, yet simple to perform, mechanism by which a red rubber band cross becomes blue and then returns to red in the blink of an eye.  This rubber band exchange effect is presented as part of a larger routine in which the effect is presented in various ways to the continued delight of the audience.
Joe Rindfleisch's instructions on presentation are comprehensive and his teaching method is strong.  In fact, of the Rindfleisch downloads that I have reviewed this one is the simplest to perform; and yet, although far from complicated, it is also quite fun to perform and ready to be utilized as part of a larger magic routine. In addition, it is a fairly easy to learn and I was able to replicate the entire routine convincingly with under 30 minutes of practice.  This reviewer really enjoyed learning Rubber Exchange and the sample audience to whom I presented it actually laughed with joy at this unassuming effect.  Rubber Exchange is truly a magical delight to perform.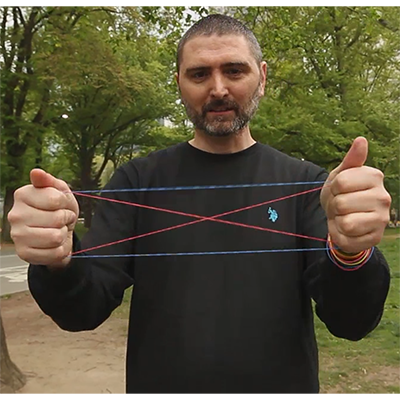 On a practical note, just as with Paradigm Shift and Rubber Band Through Hand, Rubber Exchange is best performed with Joe Rindfleisch's own brand of Elastraflex coated rubber bands. These latex-free rubber bands stretch further without breaking than any others I have encountered; and, trust this reviewer, the extreme elasticity of these brightly colored bands is a necessity for the correct performance of this effect.
Rubber Exchange download rating: 9 of 10 for production, 9 of 10 for value.
See my YouTube videos here.
Please support intellectual property. Only buy original. Also available from all reputable Murphy's Magic dealers.
[usr 9][/vc_column_text][/vc_column][vc_column width="1/3″][vc_column_text]
[/vc_column_text][vc_widget_sidebar sidebar_id="gp-standard-sidebar"][/vc_column][/vc_row]