[vc_row][vc_column width="2/3″][vc_custom_heading text="Reviewer: John Teo"][vc_column_text]Easy-to-do card magic that depends on subtleties are more in demand to the magic fraternity than those that require difficult sleight-of-hand.  The main reason is that most magicians take magic as their hobby rather than a full-time career.  They do not want to spend too much time perfecting their sleight-of-hand with cards.  
Another reason for subtle card tricks is that they enable the performers to concentrate more on their presentation, which is an important part of a magical performance, rather than on the technicalities of card moves.  Even sleight-of-hand card magicians do resort to some easy card tricks if these effects have a great impact to the audience.
Nick Trost was the specialist in this type of magic.  His card creations are often unique in effect and have strong impact on the audience.  
For 45 years from 1952 to 1997, close to 70 of Nick Trost's card effects were marketed.  Most of them required special cards and were mainly of the packet card tricks category.  Nick Trost contributed a card column in "The New Tops" magazine for 33 years from 1961 to 1994.  He also published numerous booklets and manuscripts.  He was truly a prolific creator of subtle card magic.
This is volume number 6 of his "Subtle Card Creations".  The first page of the book proper starts with page number 1351.  This pagination continues from the last page of his previous volume number 5 of the same series.  Nick Trost passed away in 2008, almost 9 years ago.  Before he died, he already planned to publish all his card creations in 8 volumes.  Therefore, we can expect 2 more volumes to come in the future.  Each volume is similar in style and concept.  Each book contains more than 100 effects in over 10 chapters.  If you owned this volume and all the previous 5, you would have in your hands a total of about 700 easy-to-do yet powerful card effects!  Although they contain variations in the applications of the same principle, by any standard, this is still a staggering output from a single person!
His writing is straight-forward and concise.  He describes the effect and then explains the method.  You will have to find your own presentation and patter.  
Although his card magic is easy to do, it is not the same as "automatic" or "self-working" card tricks.  Nick's card effects do require some basic knowledge of card handling such as the ability to control the selected card, some false counts, false shuffles, double undercut, and others.  All these moves are printed in Volume 1 and other earlier volumes.  But once described, they are not repeated in subsequent volumes.  This means that if you do not own earlier volumes, you may have to check out on other resources to find the descriptions on how to perform these card moves.
Many of his card effects depend on setups, but most of them require only a minimal card set-up such that it can be easily accomplished while "toying" with the deck of cards.  Notably different in this volume is the absence of the use of special cards or decks, but an abundance of gambling tricks.
It may not practical to single out the effects that are favourites because what appeals to one magician may not be favoured by others.  Suffice to say that this volume contains such a wide genre of card effects that any magician should be able to find several that he can add immediately to his performing repertoire.
Descried below are the categories, as well as their respective number of card effects, contained in the book:
Gambling effects

– comprising the various chapters entitled "Unique Card Effects (4)", "Blackjack Bafflers (7)", "Poker Puzzlers (8)", "Gambling Tricks (10)", and a long one on "Gilbreath Plays Poker Part 3 (23)".

Mental Effects

– consisting of the various chapters entitled "Amazing Coincidences (5)", "Diabolical Divinations (5)", "Pasteboard Predictions (7)", and an entire chapter on "ESP Card Tests (22)".

"Court Card Capers (7)"

– effects featuring court cards.

"The Four Aces (3)"

– effects involving the 4 Aces.

"Revealments (7)"

– different ways of revealing the chosen card.

"Triple Dealing Effects (14)"

– tricks based on Colm Mulcahy's Triple Dealing principle.
Total number of card effects is 122.  If you are interested in card and mental magic, you will want to own this book.  You will find myriad applications of the many principles expounded in this volume.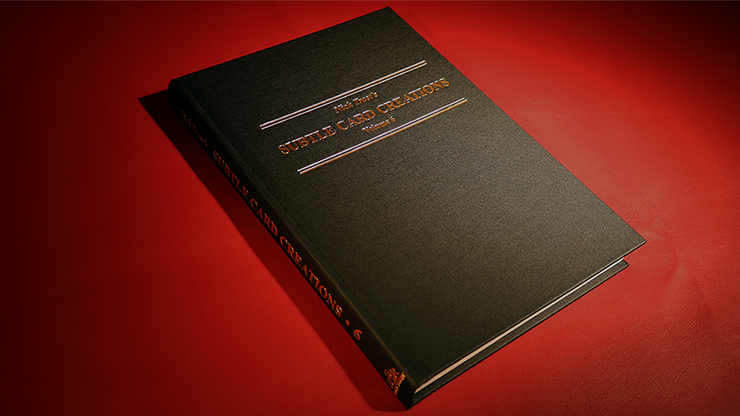 Magic is our passion but we are not a magic shop ? You can purchase this here!
[usr=9][/vc_column_text][/vc_column][vc_column width="1/3″][vc_column_text]
[/vc_column_text][vc_widget_sidebar sidebar_id="gp-standard-sidebar"][/vc_column][/vc_row]