[vc_row][vc_column width="2/3″][vc_custom_heading text="Reviewer: Ning"][vc_column_text]DESCRIPTION
George Iglesias and Twister Magic are proud to present the world the New Super Latex Line of vanishing bottles. Ten years ago, they put in the market a very innovative line of vanishing bottles sealed to contain liquid inside. After many years they have improved the formula to get a better material with new advantages:
Modern and very realistic lookalike appearance.
Maintenance free.
Sealed for liquid.
Collapse very small, fitting in your fist to 1/10th of his original size.
The New Super Latex Cola Bottle (Full version) is great and practical. If you don't want to use real liquids in your show this is the bottle for you! Show a Coca Cola full of liquid. Now place the bottle into a paper bag and after playing the classic vanishing gag, show your real magic and make the empty bottle vanish right away!
The New Super Latex Cola Bottle (Half version) is the top of the line, is a bottle that will allow you to do several tricks, you will be able to vanish a bottle "half full" of liquid and even better you will be able to transform the bottle into many other objects. It is precisely made out of two pieces that fit to perfection, the bottom part is a loading compartment designed to conceal any load or items to be produced. The top part is sealed for liquid to be able to show the bottle full and pour out the top content on a glass.
The New Super Latex Cola Bottle (Empty version) is great and practical. Show a Coca Cola full of liquid, pour out all the content in one or two glasses, offer the coca cola to your spectators or take a sip. Now place the bottle into a paper bag and after playing the classic vanishing gag, show your real magic and make the empty bottle vanish right away!
You will learn 12 different routines, and of course the limit is your imagination, as soon as in your hand, we are sure you will come up with even more ideas to perform. Load anything inside of the bottle and make it appear at any time. You can show the bottle a few inches away from your spectators… Is that realistic!
EFFECTS:
Vanishing a Cola bottle half full of liquid
Cola to Fanta
Cola to Beer
Cola to Candies
Cola to Tequila Shot
Cola to Rope
Cola to Silks or Streamers
Cola to M&Ms
Cola to Watch
Cola to Ring
Cola to Cookies
Cola to Confetti
And many tricks more that you can perform!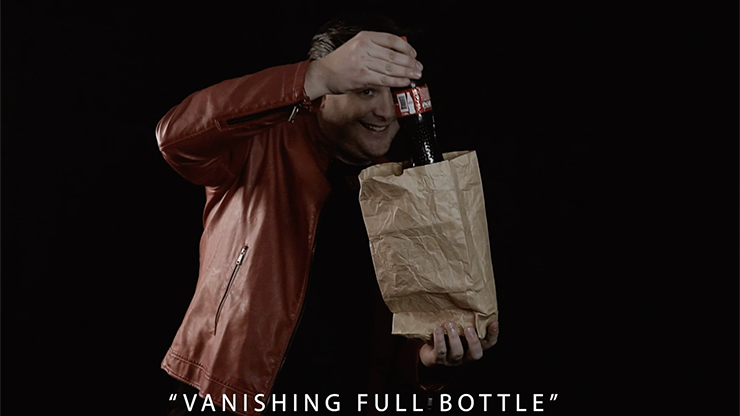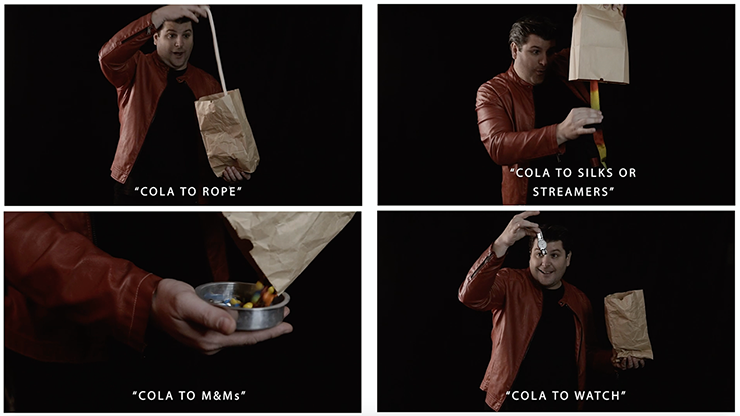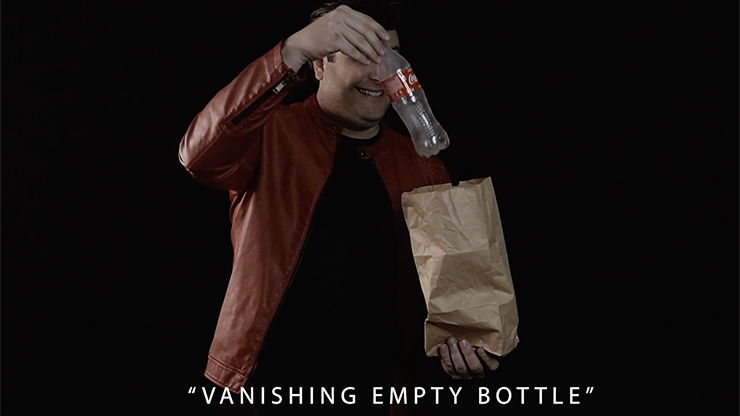 REVIEW
Peruvian illusionist Jorge Larrabure AKA El Mago George Iglesias has done it again… His latest product release is yet another classic in magic: the appearing/ vanishing bottle. If Norm Nielsen's bottles are considered the gold standard of our industry, read on to find out how this new offering stands from Twister Magic ?
First things first…
This is not one product: there are three different varieties to the Super Latex Cola Drink. As per the official description shared above, there's a full bottle version (which I have), an empty version (which allows you to fill up on soda), and what's touted as their "top of the line" half bottle version that has a secret compartment that kets you store a load (e.g. silk streamers or candy or rope or even a wristwatch). You can of course let your imagination run wild and come up with a fun routine combining the different bottles. These would be GREAT for a magic show performed over Zoom, especially since these online shows are now the "new normal" no thanks to COVID-19.
What I really like about these new and improved bottles from George Iglesias is that they can be very easily squished to a teeny tiny 1/10 of their size. But they also expand pretty fast into their full form and there is a glossy sheen (he calls it a "natural brilliance") which is a great design element that adds to the subtlety of it being the real deal. These Super Latex Cola Drink bottles are also touted as being "maintenance free" so there's no need to keep them powdered in a ziplock bag or whatsoever.
In comparison, my Nielsen vanishing bottles do feel a touch stiffer. One big thing that is important to highlight as well, is that these new bottles from Twister Magic are a bit less expensive and manufactured to look modern with plastic cap bottles. The classy offerings from Norm Nielsen have that retro look about them with the old school Coke glass bottles and silver metal caps. So this is something to take note of.
Just like the classic Nielsen bottles, to protect their longevity, you have to store them properly – extended and not compressed – at room temperature (in my experience if you live in a humid country like I did, the latex will get sticky if not kept in an air-conditioned room) which is around 22 degrees Celcius or 72 degrees Fahrenheit. So don't just leave it with the rest of your props after a gig; make sure they're not compressed or squashed by something. Your bottle should be quite safe kept in the original cardboard box it came in, or a poster tube cut to size.
If you happen to be a newbie to magic or a parent wanting to perform some magic at your kid's birthday party, you'd be happy to know that there's a password protected video hosted on Vimeo with over a dozen presentational ideas to get you started. Running about 42 minutes long, it's a quick run through of the three different kinds of Super Latex Cola Drink bottles. The audio of George's lapel microphone sounds a little distorted, with the levels peaking when he speaks, and then midway through the batteries seem to have died out… but you'll still be able to hear him okay. He's also stated that he'd be happy to help if you have questions, so you can just drop him an email.
So there you have it. Three different varieties of Super Latex Cola Drink bottles for different folks. These bottles are really very well made and you should seriously think about including a vanishing/ appearing bottle comedy magic routine in your kids show. It has always been a hit with children and there's just SO MANY POSSIBILITIES with this. And oh, did I mention that you can also twist open the cap? It's a real plastic bottle cap but the entire bottle (sans the plastic wrapper which really is from a Coke label) is moulded from latex… yet everything looks real.
How real exactly? Here's a close-up picture. I'll let you decide ?
Highly recommended.
As mentioned, these modern looking Super Latex Cola Drink bottles will be especially sweet (pun not intended) for Zoom parties and online magic shows, besides the traditional kids birthday stage or parlour performance. Bravo!
[usr=8.5]
Magic is our passion but we are not a magic shop 
You can purchase this here!
[/vc_column_text][/vc_column][vc_column width="1/3″][vc_column_text]
[/vc_column_text][vc_widget_sidebar sidebar_id="gp-standard-sidebar"][/vc_column][/vc_row]