[vc_row][vc_column width="2/3″][vc_custom_heading text="Reviewer: Michael Siegel"][vc_column_text]DESCRIPTION
Bigblindmedia presents Sweet Simplicity with John Carey
John Carey has built an international reputation for his streamlined approach to card magic. Simplicity of method and great routining equals great magic that is EASY to do BUT still utterly fooling! On Sweet Simplicity you'll find ten self working or super easy to do card tricks that will slay any audience. Simple to perform they may be – but the effect on your audience will be KNOCKOUT!
FEATURING:
1 in 52 – Carey's self working streamlined imaginary deck routine is a total worker.
The trick that can be explained – Carey's spin on a Dai Vernon classic. Devious!
Technicolor Reset – Four blue backed Jokers transpose in slow motion with four red backed Jokers in an exceptionally clean manner and then immediately transpose back in a flash!
Five Oh?! – Semi automatic card magic on steroids, where you get five effects from practically nothing. Super strong and so much fun!
The Perception Shuffle – A self working false shuffle. Yes, you read that right!
Spectator Star – Make your spectator the star as they shuffle, cut and turn over the aces. Boom!
Somewhere over the rainbow – John's rainbow deck is a thing of beauty. No sleights, just pure subtlety.
Don't Make Me Cross – Carey's ungaffed Brainwave effect where the card they think of is the only odd back card – so cheeky and yet SO strong!
Entrapment – A really cool, self working slow motion sandwich effect that you will love using.
One thought One Spell – A very subtle spelling effect you will want to add straight to your repertoire.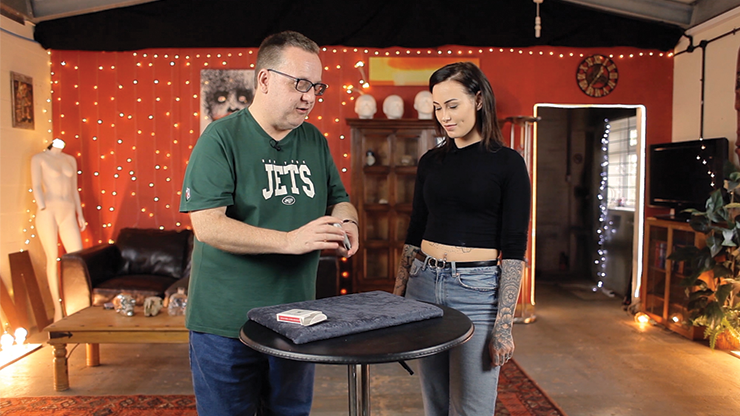 REVIEW
Sweet Simplicity by John Carey and Big Blind Media is available as a DVD and download which contains 10 card tricks are either self-working or extremely easy to do even if you are a beginner to card magic. 
1 in 52 is a self-working routine using an imaginary deck.  The routine uses equivoque to force a card. While you will not be using this to fool your fellow magicians at the next convention or magic club meeting, if done properly and with conviction, it can certainly entertain your spectators.
The Trick That Can Be Explained is an effect where the performer predicts the selected card from a shuffled deck. The way the card is finally selected by the spectator is not that strong or convincing. 
Technicolor Reset is a packet trick that uses red and blue backed Jokers. Basically, the blue backed Jokers change places with the red back Jokers. And then back to their original positions. This effect is not self-working. The performer will need to do some special counts and moves. While these sleights are not difficult, the performer will need to remember the order of these moves. While this effect is entertaining and strong, the performer will need to practice and use this often to remember the moves and in what order they need to be done.
Five Oh?! Is a multifaceted effect where a you have predicted which card the spectator selected in a multiple of ways including the selected card being sandwiched between other cards, but the effect does not end like other sandwich effects. The deck the morphs into a deck containing all Jokers. It is very easy to do resulting in five effects in a single routine. This is a very strong and entertaining routine.  
Perception Shuffle is a false shuffle that can be used in a multiple of effects. It is easy to learn and quite deceptive.
Spectator Star is John Carey's rendition of the spectator cutting to the aces. John Carey has masterly crafted this routine to have the spectator freely shuffle and cut the cards. There is a set up of the deck, but everything is easy to do and well taught. This is a very strong and entertaining routine that your spectators will enjoy. 
Somewhere Over the Rainbow is another four Aces trick but concludes with a very nice rainbow deck ending Get yourself a nice rainbow deck and you will have a very easy and strong effect that will amaze your audience.
Don't Make Me Cross is a Brainwave type effect where a thought of card is the only card found by the spectator from a deck that has a different colored back from the rest of the deck. The card also has a cross drawn on the back. The specially prepared deck is easy to set up. This is a fun routine that is sure to leave the spectators entertained and perplexed.
Entrapment is a self-working packet sandwich effect that utilizes a certain type of dealing move. While this is not a magician's fooler, it will fool a spectator is performed correctly.
One Though, One Spell is basically a spelling card effect where the spectator shuffles a deck and cuts to a card. That card is then spelled from the top of the deck and the results shows that the performer knew what card would be selected by the spectator. I personally am not a fan of spelling card effects, but this version was good and easy to perform.
There is quite a variety of easy to do card effects presented in this DVD or download. While some effects are better than others, there is enough simple, easy to do material presented by John Carey that everyone will be happy with their purchase of Sweet Simplicity. The instructions are clear, direct and thorough. The DVD or download menu is straight forward and easy to maneuver to the desired effect. The effect is performed and then is immediately followed by the explanation. The video and audio are expertly done as you would expect from a Big Blind Media production. Sweet Simplicity has a collection easy to do, self-working and semi-automatic card effect that sweet and simple. Recommended.  9 out of 10 lucky charms.  
[usr=9]
Magic is our passion but we are not a magic shop 
 You can purchase this here![/vc_column_text][/vc_column][vc_column width="1/3″][vc_column_text]
[/vc_column_text][vc_widget_sidebar sidebar_id="gp-standard-sidebar"][/vc_column][/vc_row]