[vc_row][vc_column width="2/3″][vc_custom_heading text="Reviewer: Ning"][vc_column_text]DESCRIPTION
Limited to only 250 units. Will not be remade.
From the creative mind of Luke Jonas, co-creator of the Jekyll and Hyde Test, comes a new, perfectly created book test with truly uncapped potential that will withstand the test of time for any performer. Created with the performer in mind. Welcome, to The Alice In Wonderland Book Test.
A freely chosen spectator is chosen to join the performer on stage and is handed the book Alice in Wonderland. The book can be freely examined from cover to cover, the performer remains 100% hands off throughout the entire performance. The spectator freely selects any page and the performer is able to reveal the first word. Another page is selected and the performer is able to name a freely selected word from another line on the selected page. A spectator can land on another page and another freely selected word can be chosen — this time the performer is able to tell the audience the exact paragraph that contains this word. A separate spectator from the audience writes down 3 or 4 page numbers, unseen by the performer, and the spectator on stage turns to one of those pages without telling the performer (who can be blindfolded). Another word selected by the spectator is deduced and can be revealed as a drawing duplication.
Throughout the book, there are illustrations. Any of these can be freely selected by the spectator. The book is then closed and without seeing the chosen illustration, the performer is able to describe intricate details about the selected illustration through a miraculous drawing duplication and an astonishing color reveal!
This book test is 100% readable and examinable, meaning that any book-test methods you already use with un-gimmicked books can also be applied to The Alice In Wonderland Book Test, making this probably the most versatile book test on the market.
100% examinable.
A fully readable book.
A book that people will know and recognize.
No fishing, stooges, or sleights.
No dual reality.
Suitable for both stage and intimate performances.
No preshow.
Fully detailed instruction booklet.
Take your book test performance to a whole new level.
Welcome to 'The Alice In Wonderland Book Test'
"I'm a big fan of people that take time to perfect something. To work on every single angle to make sure what they want to show people is nothing short of flawless. If you got the Jekyll and Hyde then you will know what I'm talking about. Luke is someone I have nothing but time and respect for."
– Ben Cardall, mentalist and deductionist.
"This book test is brilliant. I've done in it a few shows now and it kills!!"
– Morgan Strebler
"After many years of research, development and refinement, Luke Jonas shared this diabolical tool in confidence with me … and to call it a 'book test' would be a dis-service. He has cleverly taken the universal innocence of 'Alice in Wonderland' (the title in itself encourages imagination!) and inserted various hidden mentalism mechanics and presentation approaches, to create an accessible and powerful device. This is a special book that enables you to develop professional effects beyond a book test and be remembered."
– Steve Drury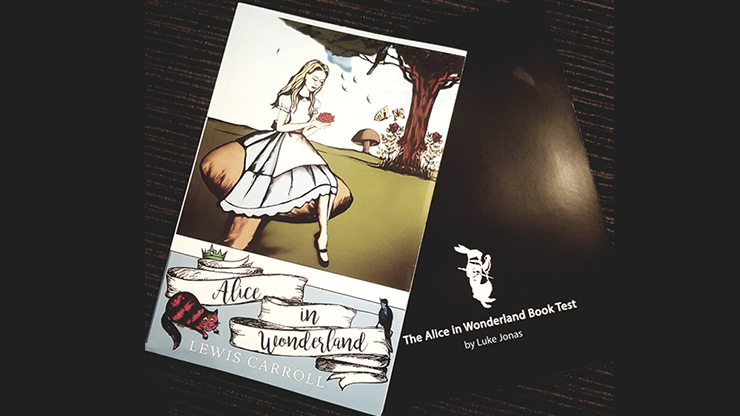 REVIEW
You may remember Luke Jonas (nope, not part of the Jonas Brothers) from a past review of another book test that we've done before. He has now come up with a new book test, based off the 1865 novel Alice's Adventures in Wonderland (commonly shortened to Alice in Wonderland) by Lewis Carroll. After checking it out, it is obvious to me that this newest brainchild of the clever UK mentalist is a true labour of love that took much time to create.
The Alice in Wonderland Book Test is not a one trick pony! The description of it in the official marketing copy rings true. Within its 122 black and white pages lies a devious multi-system that goes beyond the standard expectations of the typical book test. There's even a drawing duplication built in. There is some memory work on the part of the performer (to be fair, even the MoABT requires it) but without exposing the four different systems developed by Luke Jonas too much, let's just say that this is extremely practical and very versatile.
Instructions for the performance and use of the book come in the form of an accompanying book that is professionally printed, about 38 pages long. It even touches on memory techniques least you are of the opinion that recalling 25 words is a daunting task. The unapologetic math nerd in me especially likes the 1089 Force and Word Number Principle. This product is really one of the more solid book tests currently available in the market. So why doesn't it get a perfect score?
Like the creator mentioned, you can hand out the book since it looks like what it is, a simple paperback. But my friends (mind you, these aren't even the ones in the publishing industry, just regular folks who like to pop into a bookshop every now and then) immediately got suspicious when they eyed it up close. They then commented about the covers looking a bit dodgy and a wee bit off.
I'm not entirely sure if they bought my "I dunno, I picked this up second hand" reply but I guess, at first glance, the cover design looks like it's been done for free by a well-meaning buddy, or a disgruntled "artist" from Fivrr (an online platform that offers services priced from five dollars) who rushed the project because they have a bunch of other gigs to fulfil. While I'm not too concerned about the black and white illustrations inside, the book cover may be a bit of a let down for some. At the price of 70 bucks, people will expect a more professional standard. More so when this is advertised as a limited edition with a short run of just 250 copies.
I suppose it is inevitable that people judge a book by its cover; that's why real world publishers put in so much time and effort making the design attractive for the book to be plucked off the shelves. I suppose the creator had carefully considered all these aesthetic qualities, aiming for the Alice in Wonderland Book Test to pass off as one of those cheaply priced abridged readers for young pupils, possibly printed somewhere in a developing country with looser publishing standards.
But having said that, due to the cover artwork's non-expensive feel, the MSRP would come across as too steep despite the sheer brilliance within its covers. To achieve a price point where it is a win-win for everybody, it might be a good idea to not have a limited print run, and simply direct owners to a download link for the instructions (ironically the simple vector design of the cover of the instructional booklet looks a lot classier). And moving forward in the future, consider how most people do value appearances and would be happier to part with their hard earned money for things that look more attractive. It seems like such a shallow trifle thing, to be let down by aesthetics… but I still respect Luke Jonas for his brilliant mind, and I'm excited to check out the next book test he comes up with because I know it will be even better!
Recommended to the performer willing to put time and effort into book tests 🙂
[usr=7.5]
Magic is our passion but we are not a magic shop 
 You can purchase this here![/vc_column_text][/vc_column][vc_column width="1/3″][vc_column_text]
[/vc_column_text][vc_widget_sidebar sidebar_id="gp-standard-sidebar"][/vc_column][/vc_row]