[vc_row][vc_column width="2/3″][vc_custom_heading text="Reviewer: Debra Cheah"][vc_column_text]
DESCRIPTION
Joel has been perfecting these mind-blowing tricks over many professional performances. The effects are well thought out and are pure eye candy.
"All I can say is that The Trix is one of my favorite magic purchases this year."
"Joel has released another excellent product and the asking price is for nothing as, in my opinion, he could have put a bigger price on this."
STRETCH ARMSTRONG: The magician animates his cartoon of a stickman on a signed playing card, then jaws drop as the stickman remains stretched. Finish by handing the stretched stickman to the participant as a souvenir.
BURNED AGAIN: The best take available on the "burnt and restored match" plot.
CONTAGIOUS: A selected card becomes infected with spots. Then a series of baffling visual magic follows. Finally the spots become holes. It looks incredible!
THROUGH: Manipulate ink drawn on your finger. This is a visual delight. The subtleties taught make this 110% more impossible. This is so good my brother is about to get this piece of magic permanently tattooed.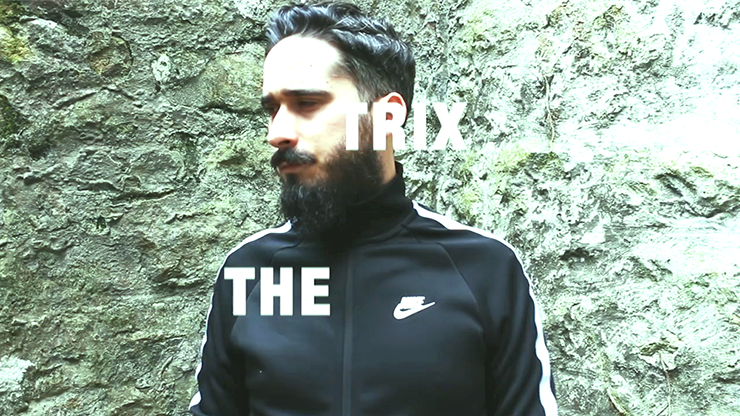 REVIEW
This download by Joel Dickinson brings 4 interesting and fun effects with cards, marker ink, and matches.
Contagious – After you introduce a card with 6 pre-drawn dots, another card is selected and is then shown to have dots in the same pattern as well. With a wave, the card visually rises from the middle to the top. But it doesn't stop there, you hold the card up and the dots have now become holes in the card.
Through – You draw a circle and an arrow next to it on your finger. With a shake, the arrow is now inside the circle.
Stretch Armstrong – Your spectator signs a card on the face. You turn the card over and on the back of the card, you draw a stick head at the bottom, with the legs going over to the next card. As you pull up the card, the body begins to lengthen and with a wave, the head combines with the newly lengthened body on a single card; the spectator's signed card.
Burned Again – You strike a match and let it burn. With a wave, the match is restored and can be struck and lighted once again. 
Overall, Joel gives straightforward explanations for each of the tricks which I was able to easily follow along while watching the video. The tricks are also generally easy to execute, making them beginner friendly. 
Contagious has probably the most intense gimmick construction among the four tricks, as accuracy in the gimmicks is quite key to pulling off the routine. However, the construction is easy to follow along and is no issue as long as you do it slowly and patiently. Best of all, it is an instant reset which makes it perfect for walk around performances.
Through, has an extremely simple execution method, but requires a preset which has to be done undercover before you perform and you have quite a huge cleanup which is extremely difficult to do in front of an audience. This makes it more suitable for social media. 
Stretch Armstrong will require you to know a few basic card sleights, which will be no issue for you if you are a seasoned performer. If you are a beginner, Joel goes over the sleights in the video briefly, but the sleights are easy to pick up on your own. The other thing is you have to pre-prepare a card before the performance, which is easy to do. But due to the nature of the performance, if you intend to do this for walk-around, you may have to pre-prepare a few more cards and load them before each time you intend to perform. 
Burned again also requires you to know some basic sleight of hand techniques, which will require a bit of practise considering you are working with matchsticks, which are thinner and smaller than some close up props. Also as you are working with fire, you have to take extra note of your environment. So for the much younger magicians, do this with a trusted adult present. 
Overall, I feel this download will be more appreciated by beginners in magic due to the knowledge of similar, and possibly stronger effects, already in the market that seasoned performers will be familiar with. 
But whether you are a beginner or seasoned performer, this is definitely a unique download of visual magic which can provide you something fresh to your performing or social media repertoires.
[usr=8.5]
Magic is our passion but we are not a magic shop ? If you like it, you can purchase this here!
[/vc_column_text][/vc_column][vc_column width="1/3″][vc_column_text]
[/vc_column_text][vc_widget_sidebar sidebar_id="gp-standard-sidebar"][/vc_column][/vc_row]