[vc_row][vc_column width="2/3″][vc_custom_heading text="Reviewer: Ning"][vc_column_text]DESCRIPTION
From the mind of Nicholas Lawrence comes an ingenious and innovative utility device: TITAN.
TITAN is a truly revolutionary contribution to the world of instant, visual "flap" style gimmicks, but it is nothing like what you have seen before!
This gimmick changes the game.
Most importantly, it is streamlined in a way that makes the magic look casual and effortless. With a simple riffle of the cards, the magic happens! TITAN uses no dental dam, elastic or thread of any kind and is built to withstand thousands of changes without breaking, making it virtually indestructible.
TITAN can be stored set and will fire when you need it to… every time.
Your package comes with one fully handmade gimmick that's ready to go out of the box. PLUS, Nicholas teaches you how to make your own TITAN gimmick with any type of playing cards, allowing you to make your own customized gimmicks. On top of that, he teaches several applications, including:
Torn and restored card
Jumping ink
Instant transformations
Transpositions
Appearances and vanishes
TITAN is one of the best utility card effects that you will perform!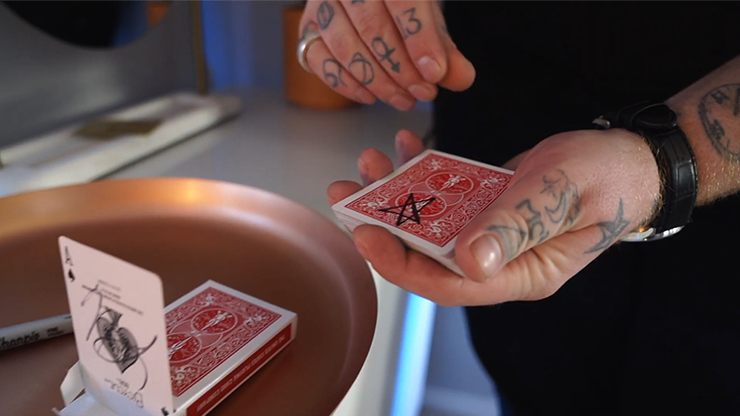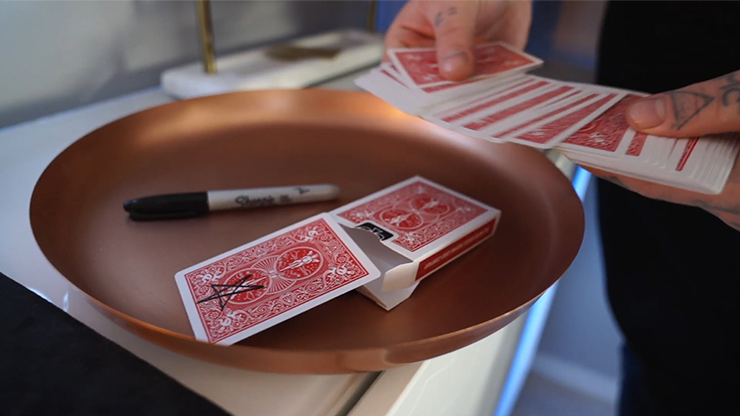 REVIEW
Titan is what I would call, a "classic" Nicholas Lawrence effect… modern close up card magic that looks like wicked CGI. This highly visual aspect makes it specially awesome for TV or magic on Instagram or YouTube!
For those amongst us who absolutely hate having to DIY and put stuff together, you'll be happy to know that a fully set up gimmick comes in this package. Also included are small neo magnet discs to craft your own enhanced version of the T-flap gimmick.
Obviously, you'll need a matching Bicycle deck to perform this transposition trick (I received a red backed gimmick), and you'll need to get the usual art supplies like scissors and glue for the DIY aspects of Titan. Everything is well covered by the creator in a 32 minute online video, hosted online by Murphys Magic. You'll be properly directed in how to handle the deck and gimmick.
While I always consider effects such as Titan to be perfect for the camera, IRL one has to be wary of angles, lighting, and audience management. Practice and timing is crucial to pull this off well. Some basic sleight of hand is required, nothing overly complicated. If you're new to cards however, fret not. Nicholas Lawrence does run through quickly all the moves needed like the pinkie break, false shuffle, second deal, etc.
Some other quick ideas, like the classic moving hole plot in magic, are also shared in the online video tutorial. In particular, Nicholas teaches a short and sweet torn and restored version with the T-flap gimmick (made using a court card), which he shows how to craft step by step. I think the time and effort invested in the build is worth it… Especially if you're trying to put together a show reel to impress, let's say Netflix, in convincing them to give you your own TV special, Titan would definitely be a good inclusion 😉
Recommended!
[usr=8]
Magic is our passion but we are not a magic shop 
 You can purchase this here![/vc_column_text][/vc_column][vc_column width="1/3″][vc_column_text]
[/vc_column_text][vc_widget_sidebar sidebar_id="gp-standard-sidebar"][/vc_column][/vc_row]