[vc_row][vc_column width="2/3″][vc_custom_heading text="Reviewer: Madame Curator" font_container="tag:h3|text_align:left"][vc_column_text]If you haven't watched the official demo video for Triage, check it out now… the classic torn and restored plot in magic just got powered up with this visual contemporary number by Danny Weiser and Shin Lim. Triage's potential WOW factor is obvious.
However, with a casual bit of scrutiny, you'd notice that the short punchy clip produced by its creators, does have a particular video filter masked over it for a grunge effect… which doesn't exist in real life. How exactly will Triage hold up IRL (in real life) I wondered, as I ripped through the plastic wrapping sealed around its handsomely fancy black box.
Flipping open the elegant magnetic lid with the enthusiasm of a gleeful child on Christmas morning, my first reaction was to blink once, then blink again, before riffling through the package's contents………… which would have fit snugly into a regular coin envelope (you know, the very same ones that most of us use when performing various mentalism effects).
So I honestly thought it was a bit odd and wondered if someone had messed up my order when it was packed. Was something missing? Why was such a spacious (albeit grandly decorative) box used to house the provided lot of gimmicks?
Keying in the provided password to watch the instruction video online, I realized quickly that there was no mistake. Everything you need to put together your own Triage gimmick was in the package. There's enough materials given for you to build one gimmick, but I'd encourage you to simply use what you're equip with as your master template for future Triage gaffs.
Yes, if it isn't obvious already, this is a DIY passion project that will take you about an hour to make (the usual craft tools for close-up magic gimmickery applies).
This is a craft project that you need to respect as a labour of love. Rushing it would leave you with an incorrectly made Triage gimmick rendering the trick ineffective. This is definitely not a card gaff you can use immediately right out of the box. So, patience, my young magi 😉
I think Shin Lim and Danny Weiser did a very decent job with the instructional video, which is available as a download from Murphy's Magic. The procedure of creating the Triage gimmick is done pretty much in real time on the video, so it is easy to follow along and pause the clip whenever you need to catch up.
After building your own Triage gimmick, you will still need to set some time aside to properly practice and rehearse the required performance handling and timing, before unleashing the diabolical visual effect on the world.
My set originally came with a red backed Joker on regular Bicycle stock. Not exactly the most perfect stealth option really; so I created my own gaff using a court card with a dark coloured back design instead because it worked better.
Watching the effect in the mirror is pretty hypnotic, I've got to admit. But magic geekdom aside, how would Triage stand up to the real world audience exactly?
For one, you do need to mind your angles and lighting conditions. And for obvious reasons, while this can be performed close-up, you have to manage your audience so they aren't standing too close to you.
I personally feel Triage is awesome as a YouTube effect or filmed-for-TV magic. If you're doing a stage show, I imagine this would look absolutely fantastic on the auditorium's giant screen filmed in real time too.
For Triage's price, I would have preferred no lavish black box, but the inclusion of a ready-made gaff instead. Having said that, I really do appreciate how swift and visual the effect looks when Triage is performed (and made) correctly.
I'm sure you can also come up with alternatives to playing cards (postcards, business cards, etc.) using this nifty method, making this stunning effect your very own.
Please support intellectual property. Only buy original. Available from all reputable Murphy's Magic dealers.
[usr 6.5][/vc_column_text][vc_separator][vc_custom_heading text="Reviewer: Bernard Sim"][vc_column_text]Triage is a very visual torn and restored card. I'm sure you'll be intrigued by the trailer, Shin Lim always have very nice trailers (can you feel a "but" coming?)  BUT (I did give you a heads up that a "but" was coming)…….. read on to find out more.
Take a look at this pic and make a guess what is the correlation?
Don't know? AIR, both have air inside…. lots of it.
I always remember this joke – I always thought air was free until I bought a bag of potato chips ☺. Well, I think the air inside the potato chips is to protect the chips from being crushed, plus it does make it look better and more value for money.
In the case of Triage, the purpose is just to make it look more expensive and grand. The box that Triage comes in is way too big for what is inside. While I can't tell you what's inside, the size are just cut playing cards with a few small and flat objects.
This could have easily been packed in a zip lock bag but of course a zip lock doesn't look as good as a box with a magnetic lock. I asked my wife to guess what's inside; she says it could be a pendant. See? The box does elevate the value of the item in it. When I showed her the contents, it was a look of surprise, same reaction as mine.
Anyway, what I am trying to get the point across is, selling magic is not exactly like retailing (IMO). You don't package it in a way to attract buyers; people will be disappointed when they see what's in it. In the earlier days, tricks are sold in envelopes! Ok, enough of my ranting.
I kinda like this effect (performance only), it looks visual and magical. Imagine a card torn into 4 pieces gets restored by a wave of the hand. It really looks like magic. There are a few routines that come with a streaming/ downloadable video). One of the basic restorations is by tossing the torn cards onto the table where it instantly restores. I don't like this routine as it may just give away the method.
In the basic routine, Shin Lim teaches you to take the card and put it into the pocket; he does have an "excuse" for that with a patter to cover it. However, I don't think spectators are that gullible, they will be burning your hands. If you put it into your pockets, they will surely suspect there is something fishy happening there.
There is a also a bonus routine showing how you can instantly change a card into 4 pieces of torn card. This requires a gimmick not related to Triage. Shin Lim doesn't teach you how to construct it and even mentions that you can find this online and he refused to tell you where to look for it, so I don't understand why it was included as a bonus.
Shim Lim does a good job in teaching how to go about doing everything. However, there is some difference on the video performance by Shin Lim and Danny Weiser. In Shin Lim's performance, the restored card looks a lot better than Weiser's. Perhaps the difference is due to the construction of the gimmick.
The construction of the gimmick will take some time and I seriously think that the gimmick will not last for a long time. Certain part will definitely wear out or weaken over time, you probably have to make new ones pretty soon if you use this often.
Having said all of the above, I think this is too much of a hassle to prepare for a TNR card. There are many in the market that is pretty strong. The closest to Triage is probably Tenyo's Card Surgery. I don't really recommend getting this, it looks good on video, but like I said before, it's too much of a hassle.
[usr 5][/vc_column_text][/vc_column][vc_column width="1/3″][vc_column_text]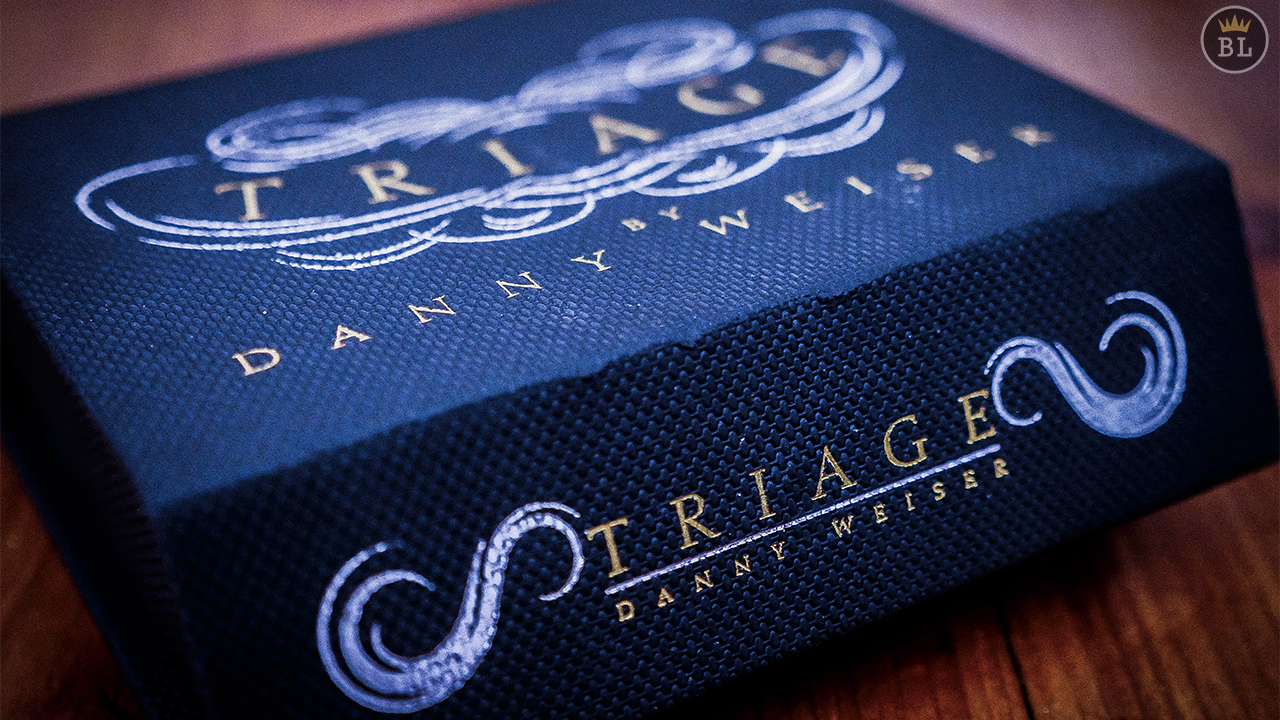 [/vc_column_text][vc_column_text]
[/vc_column_text][vc_widget_sidebar sidebar_id="gp-standard-sidebar"][/vc_column][/vc_row]