[vc_row][vc_column width="2/3″][vc_custom_heading text="Reviewer: Harapan Ong"][vc_column_text]
Get your glue and cutting boards ready: this lecture will challenge your handicraft capabilities as Shin explains the intricate secrets behind his award winning competition acts.
And I feel that there is a heavy emphasis on the word "competition" – in the lecture, Shin features two of his competition acts. The first is his current competition act called 52 Shades of Red, which is also a marketed routine. The second, which he features later in the lecture, is called the Dream Act and is an older competition act. Personally, I feel that a lot of the magic being shown and taught in this lecture tend towards the extremely visual but impractical side of magic, which I feel is often typical of "competition magic". The effects are only suitable under strict conditions which can be controlled in a competition venue, but not in a real world setting. Many of the effects involve either heavy gimmicking, lapping or highly angly moves. They all look very visual and impossible, but do not expect these effects to slip easily into your own repertoire. Treat them instead as inspirations for your own routines and effects.
A big part of the lecture is based on constructing various gimmicks, including some gimmicks used in Shin's competition act and some involving a Tic-Tac box. From these in-depth tutorials, Shin goes through basic skills that you would need in making gimmicked cards such as card splitting and using thread effectively in flap gimmicks. These insights could prove useful to those new to making gimmicks and who wish to try their hand at making these gimmicked cards. The tutorials were well done and relatively detailed, and I had no problem following along with the instructions. However, just make sure that if you wish to follow along, you might need some raw materials like sewing thread and needles which may not necessarily be lying around your house (at least it isn't for my house, I had to look around a lot longer than I expected!).
However, there is a segment in the lecture where Shin teaches some of his sleight of hand ideas, including a visual change of four Aces to four Kings and a rather eye-popping Twisting routine that is already on the market. The mechanics of the moves and tricks he presents are rather interesting and I believe that the sleight of hand aficionados out there will definitely enjoy these, so do keep a lookout for them.
At this point, I would just like to make a comment about my overall opinion about Shin's lecture and the magic he showcases in the lecture itself. It seems that comparing this lecture to other At the Table Live Lectures, other magicians (at least the good ones) all seem to not only showcase their own pet effects, but also intersperse the tutorials with their theory, ideas and philosophy behind their magic. I personally feel that this is a very important part of every magic lecture, and I feel that this is unfortunately lacking in Shin's lecture, and I think it shows in the type of effects he does and his competition acts. It always feels like he is simply running through gimmick after gimmick – even his competition act feels that way as well. Each new phase feels disconnected from the previous, with an emphasis on squeezing in as many visual moments as possible with his arsenal of gimmicks. As a result, some of the ditches and loads in his act feel forced in and were rather obvious, which is surprising considering these are award winning acts. You can also sense the lack of theory and thought behind the competition acts when Shin is asked questions about his act and he often seems slightly lost about how to answer them. Overall, I think the most useful lessons are Shin's sleight of hand routines and the gimmick-making sessions – I was just slightly disappointed by the lack of structure and theory behind the competition acts Shin presented.
Magic is our passion but we are not a magic shop 
 You can purchase this here!
[usr 7]
[/vc_column_text][/vc_column][vc_column width="1/3″][vc_column_text]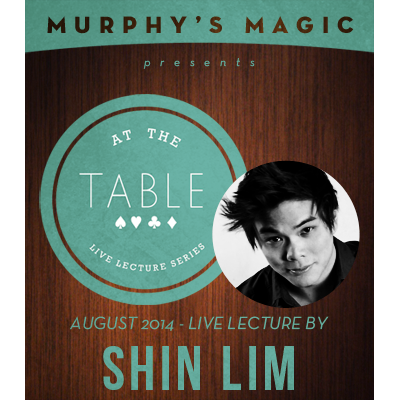 [/vc_column_text][vc_column_text]
[/vc_column_text][vc_widget_sidebar sidebar_id="gp-standard-sidebar"][/vc_column][/vc_row]