[vc_row][vc_column width="2/3″][vc_custom_heading text="Reviewer: John Teo"][vc_column_text]Paul Brook has written more than 20 books on mentalism, but currently does not have many products out in the market.  Cool Beans is one of them.
Paul created Cool Beans because of his love for both coffee and mentalism.  He also wanted a pocket mentalism effect that uses ordinary objects, has multiple applications, and yet the method is hidden in plain sight.  Cool Beans meet all of these criteria.
Cool Beans is a set of 5 small stamp cards from 5 different coffee shops.  They are the type of cards where you get a stamp each time you visit the coffee shop and spend up to a certain amount.  The stamps can then be exchanged for discount or other items in the shops.
A spectator selects any one of the 5 coffee stamp cards and put the others away.  She is asked to concentrate on either the images or the words on her card.  The performer is then able to pick up her "signals" and tells her the actual coffee shop card that she chose.
Paul gives 3 different ways of diving the chosen card.  You can choose to use any one of the methods you like, and adopt a different one for repeat performance for the same audience.
Paul has cunning designed the cards such that all the items depicted in each of them can be used for performance.  These include the logo, the name of the coffee shop, its tag phrase, and even the stamps.
You can also use the 5 coffee cards for forcing a range of numbers.  Numbers are useful to a mentalist – for example, for use in a book test.
Paul discusses other subtle uses such as drawing duplications, colour and number reading, and a synchronicity effect involving 2 spectators.
You receive the 5 coffee stamp cards.  To give them a sense of authenticity, each of them is printed on different card stocks, and the stamps are hand printed.  You are also supplied a special gimmick that hides a crib – this means there is nothing to memorise at all.  
You can download an instructional video as well as a pdf manuscript from the internet that features Paul Brook explaining everything on Cool Beans.  
Cool Beans is a specially designed mentalism effect that you can carry in your pocket, uses regular and authentic objects, is easy to do, and is capable of multiple applications.  Cool!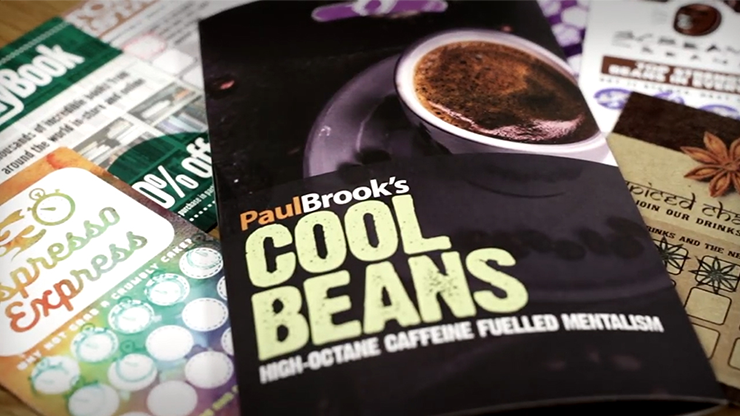 Magic is our passion but we are not a magic shop ? You can purchase this here!
[usr=10][/vc_column_text][/vc_column][vc_column width="1/3″][vc_column_text]
[/vc_column_text][vc_widget_sidebar sidebar_id="gp-standard-sidebar"][/vc_column][/vc_row]