[vc_row][vc_column width="2/3″][vc_custom_heading text="Reviewer: Madame Curator"][vc_column_text]Juan Pablo is perhaps one of Argentina's greatest contemporary magicians 🙂 I enjoy his magic: simple, clean, direct, and on point. In Fruitfull, he teaches how he does his version of the classic signed bill in fruit trick.
Only one bill – theirs- is used. There are no switches. There's no need to prep any fruit/ vegetable/ bread. No reset is required, if you wish to go again, you can… but why would you want to repeat the same trick twice? 😉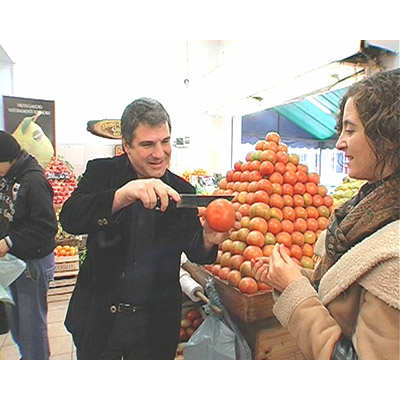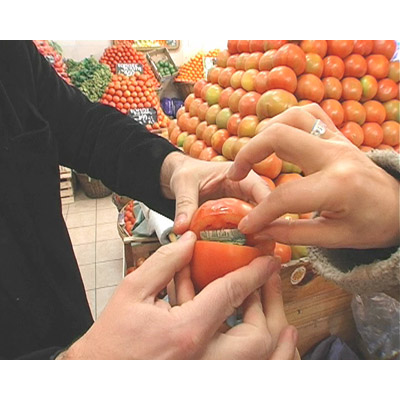 Inside the box you get everything you need to start doing the effect immediately… sans vegetables and spectator's signed bill of course! The DVD is short and to-the-point, like his magic. You can watch it in either English, Spanish or Japanese.
Besides the instructions, he performs the magic effect twice – first in a studio setting and later outdoors in a marketplace with real people. If you select the English or Japanese options, you get a professional voice-over artist speaking what Juan Pablo says. That's not a problem for me at all, as I found the instructions to be clear and not lacking 🙂
Props wise, they are solid and the quality is fair for the price and if you use/ store them well, it will last you for a long time. I must say that I'm especially happy with the size and weight of the knife, as well as, how it handles.
Obviously, while I'm sure you'd be really excited to start working on this right after watching the instructional video, this is not a magic effect that you can perform instantly. Practice and rehearsals are necessary if this is the first time you're performing such an effect, which in the right hands would no doubt be a reputation maker!
Well done Bazar De Magia. This one's a clear winner!
Magic is our passion but we are not a magic shop 
 You can purchase this here!
[usr=9][/vc_column_text][/vc_column][vc_column width="1/3″][vc_column_text]
[/vc_column_text][vc_widget_sidebar sidebar_id="gp-standard-sidebar"][/vc_column][/vc_row]