[vc_row][vc_column width="2/3″][vc_custom_heading text="Reviewer: John Teo"][vc_column_text]Marc Oberon has won numerous prestigious international magic awards.  His awards include the European Close-Up Magic Championship (2005), the International Brotherhood of Magicians (2006), the Macmillan International (2007), the SAM/IBM Magic Championships (2008), and the FISM World Championship Close-Up Magic Beijing (2009).
His consistency in winning awards indicates that there is something about his performance of magic that sets him apart from other magicians.  Now, he reveals his personal system of magical choreography in this beautifully produced hard cover book of 125 pages.  It is amply illustrated with photographs and also comes with a DVD that shows you visually how he applies his system to ten magical effects.
Since magic (our form of magic) is not real, the magical element must be subtly conveyed to the audience by the magician's choreography, among other things.  Marc Oberon presents three important elements of magical choreography:
"Grips" define the manner we hold or handle our magical props, some of which are meant to be seen by the audience, while others are not meant for the audience's eyes.
"Lines" refer to the way we move our hands and body when we perform the magic.
"Looks" concern the way we look at our audience, and they include our facial expressions.
All these three elements work in concert to bring about the illusion that what we do is pure magical, where there seems to be no logical explanation for it.
Marc goes into details on how to achieve maximum impact on each of the three elements.  He also mentions about scripting, pattering and the use of music.  He then answers the most important question: "If your movements, gestures and patters are all painstakingly choreographed, how can your act ever appear fresh?"  His answer provides one of the objectives of the book.
In the second section of the book, Marc explains ten effects, and shows how he applies what he discusses about in the first part of the book to each of them.  This is captured in the DVD where you can actually see Marc Oberon demonstrating all ten effects.
Three of them are mentalism effects:
Another Night At The Bank – this is Marc's take on John Archer's Bank Night effect with envelopes.  Marc uses five colour envelopes and includes an interesting twist in the climax.
Clear Thought – it is a book test using a book of symbols.  Spectator No 1 transmits his chosen symbol through a crystal ball to Spectator No 2.  Here you get to learn Marc's book force and how to make a symbol or drawing appear in an otherwise empty and clear crystal ball.
Triangulation – a brilliant method of predicting which one of nine digits will appear in one of the three different symbols.
Three of the ten effects are complete routines involving sleight-of-hand:
Smoke, No Mirrors – performer attempts several times, but to no avail each time, to light a cigarette with a lighter.  Each time he attempts it, either the cigarette or the lighter disappears, and the other item suddenly appears.
Note Afloat – Marc's presentation of the floating note using Jon LeClair's method.
Free Flight – Marc's presentation of the 3 Fly effect using the TUC gimmicked coin from Tango Magic.
Four of the ten effects are "moves" by Marc Oberon:
Okito Re-Boxed – Marc's Okito Box reversal move.
Ring Away – how to steal a finger ring inserted in a non-gimmicked ring box.
Spellbinding Change – Marc's own take on the spellbound coin move.
Just One Coin – Marc's coin vanishes and appearances.
If you obtain only the ten effects/moves, it is already worth your investment for this product.  If you obtain only Marc Oberon's explanation of grips, lines and looks, it is also worth your investment, because this system will make you a better performer no matter what types of magic you perform.  To obtain both his choreography secrets as well as the ten effects/moves makes this a must-buy.  It is not meant to be placed stationary on your library shelf, but to read and re-read and to put into practice.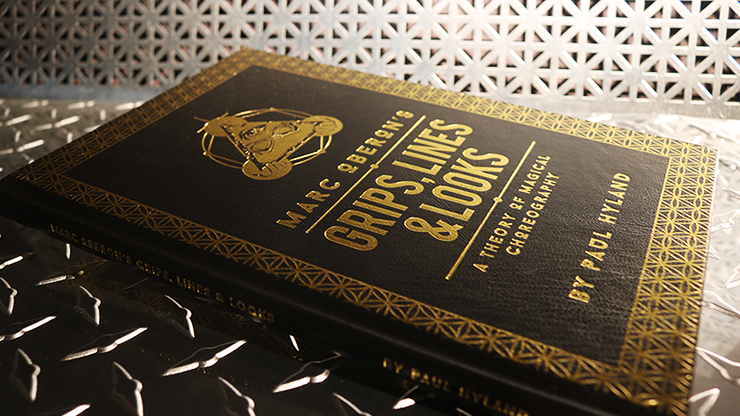 Magic is our passion but we are not a magic shop 
 You can purchase this here!
[usr=10][/vc_column_text][/vc_column][vc_column width="1/3″][vc_column_text]
[/vc_column_text][vc_widget_sidebar sidebar_id="gp-standard-sidebar"][/vc_column][/vc_row]