[vc_row full_width="" parallax="" parallax_image=""][vc_column width="2/3″][vc_custom_heading text="Reviewer: Nique Tan" font_container="tag:h2|text_align:left" google_fonts="font_family:Abril%20Fatface%3Aregular|font_style:400%20regular%3A400%3Anormal"][vc_column_text]This effect is going straight into my performing repertoire. Well, that is not exactly right – it would be more accurate to say that it is replacing the props for an effect that I currently perform. Let me briefly describe the effect.
A boxed deck of cards is placed in full view on the table. Two spectators think of numbers from 1 to 52 and a third spectator thinks of any playing card. The performer makes a prediction for each spectator on a notepad and hands each piece of paper to them respectively.
The deck is then shown to have numbers written on their backs; each card having their own number from 1 – 52. The performer locates the cards bearing the thought of numbers, and also the thought of card. Checking the written predictions, it is seen that the performer has correctly predicted the cards with the thought of numbers, and also the number with the thought of card on the face.
While I handle the performance of this effect differently, I have been performing using this exact deck of cards (self-made) for a couple of years and it has never failed to astound. I am extremely glad when I opened the package and saw that a professionally made deck was now available for the effect I do.
As mentioned in the blurb and instructions, this effect is based on Christian Schenck's Triple Coincidence and Brian Caswell's Trilogy. I am not familiar with Christian's effect, but the latter is a killer routine and I like it a lot.
What I love about this routine is that it naturally has a big presentation, involving more people in the effect. I use this for larger groups of people and also for small parlour shows. Since the effect requires absolutely no sleights, difficult memory work or complicated math, I can totally concentrate on performing the effect. This is a point I place much value upon these days, especially evident in my choice of performance material in recent years.
Reset is also not a big deal, as all it takes is to replace the 3 cards back into the deck and you are good to go again straight away. You cannot perform it for the same audience – not that you would want to, but I thought it would be good to mention that.
The only reason why I cannot give this a full 10/10 is because, it really is not new. The method, if you are familiar with the effects it is based upon, has been around for quite some time, and so has this plot of having numbers on the backs of the cards.
However, while I am giving this a 8/10 on paper, in my heart it has a heartfelt 10/10. I know this based upon how much I have been using this deck for the past few years, and how strongly it plays as a demonstration of mind reading and/or coincidence.
Please support intellectual property. Only buy original. Available from all reputable Murphy's Magic dealers.
[usr 8][/vc_column_text][/vc_column][vc_column width="1/3″][vc_column_text]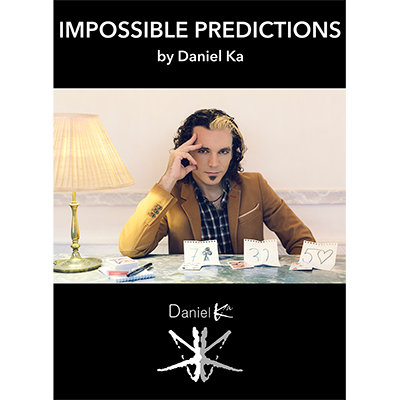 [/vc_column_text][vc_widget_sidebar sidebar_id="gp-standard-sidebar"][/vc_column][/vc_row]