[vc_row][vc_column width="2/3″][vc_custom_heading text="Reviewer: Adeline Ng"][vc_column_text]EFFECT
The basic effect of Mind Pod (as you might have glimpsed from the title!) is a divination of a song from the mini iPods. I should clarify, the iPods are sets of cards made to look like mini iPods.
The set comes with all the "mini iPods" you need for the effect and the songs come from these iPods.
Also included in the set is a compiled Spotify playlist that you can use to play the selected song… this I thought, was mighty cool.
PRODUCTION VALUE
The videos for the tutorial is well produced. It's from the EMC collection. 'Nuff said.
PROS
This is effect is totally self-working, as per in the Ad Copy. I picked this up and had my nephew (who is a magician too) perform this within 30minutes. The effect is simple and clear… they choose a song, and tell you which of your iPod contains the song. Then, 'syncing up your thoughts', you proceed to sing out the song (or not, depending on your choice) in sync with your volunteer.
The cards provided are of great quality. Stiff cards, matt finish. With the right care, these should have no problems lasting.
CONS
When I got this, the first thought I had was really: are there people still using iPods? I think most people use their phones nowadays for songs (at least none of my friends own an ipod now) so it might seem a bit dated.
Second point stems more from the fact that we're in Asia. The songs are generally not familiar to me, even though I'm already known as someone who likes oldies (Yay Eagles & Simon & Garfunkel!). I could recognize about 3-5 songs from one single card usually. With some, I recognize only one…  
As for my nephew (in the age group of roughly 24 years old), there was almost close to zero familiarity with the songs. The exception being Twinkle, Twinkle, Little Star. While a song could still be picked and matched, the emotional hook to the effect is almost certainly gone if there's no familiarity with the song.
OVERALL
I do like this effect. I thought the method was quite ingenious. Personally I do not like self working effects especially if they belong in the genre where you have to ask someone to point out which card their thought of item is on. HOWEVER, this was fast enough for this to pass (you only do that once), and the method was just so clever!
I love that there is an auditory aspect and that Joaquin talks about an encouragement of shift from the logical mind (analytical) to artistic mind (music) in the audience. It is almost rare to have anything auditory in magic, and even rarer to shift the mindset to artistic side when it involves mind reading which is so intellectual.
Unfortunately the cons of this effect (especially with the song choices being stuck) is a bummer. The fact that you do have to carry 20 cards around (almost exactly a deck of cards) is also a consideration.
I would not use this for my corporate work, but I would use this as a fun thing with my friends, as long as I'm sure they know the songs in the playlist on the cards.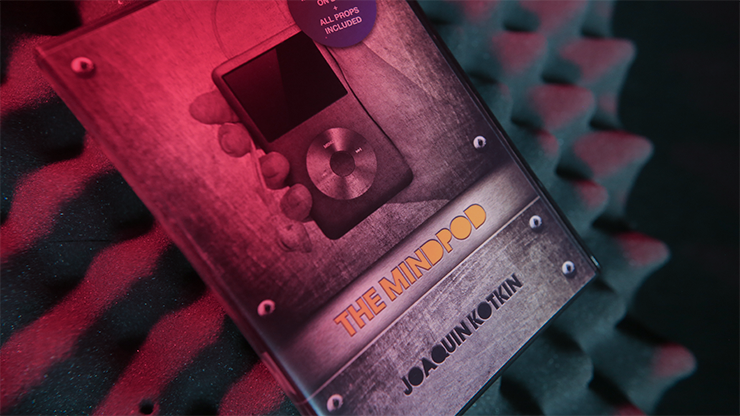 Magic is our passion but we are not a magic shop 
 You can purchase this here!
[usr=7.5][/vc_column_text][/vc_column][vc_column width="1/3″][vc_column_text]
[/vc_column_text][vc_widget_sidebar sidebar_id="gp-standard-sidebar"][/vc_column][/vc_row]