[vc_row full_width="" parallax="" parallax_image=""][vc_column width="2/3″][vc_custom_heading text="Reviewer: John Teo" font_container="tag:h2|text_align:left" google_fonts="font_family:Abril%20Fatface%3Aregular|font_style:400%20regular%3A400%3Anormal"][vc_column_text]This is a card to impossible location effect.  More specifically, it is a small flat object to impossible clear box effect.
The creator, Steve Rowe, explains his card routine used in his professional performance.
He folds a playing card, which he calls his favourite card, into quarters, and slips it inside a clear mint box.  A spectator is asked to take out her favourite card from a deck of cards and draw a simple picture on the face of the card.  Her card is then lost in the deck.
When Steve takes out his folded card from the mint box, it turns out to be the spectator's card, complete with her drawing!
You receive the clear mint box, not unlike a tic-tac box, with customised printed label and the necessary gimmick.  You are also supplied with actual mints, extra label, specially printed gimmicks to be used with red as well as blue back bicycle playing cards, and an instructional DVD.
Steve Rowe is joined by Liam Montier in the DVD as he takes you through Mint: how the gimmick works, handling tips and advice, how to construct your own gimmick, and his professional routine.
As with most folded card to box effect, you need to know a method of secretly folding the chosen card.  Steve explains the Mercury Fold as well as his inbteresting improvement which allows you to do the Mercury Fold quickly and accurately.
Objects other than playing cards can also be used in Mint, for example, currency notes.   Steve has a routine in which a borrowed note changes into a payment receipt for a box of mints.  The box of mints is taken out and a note is seen folded inside it.  It turns out to be the spectator's borrowed note.
Liam has his own take with Mint.  He uses it as a nest of boxes effect.  In his presentation, he explains that he quits smoking and takes mints instead.  Inside an empty cigarette box is the mint transparent box which also contains a spectator's selected card folded inside it.
Mint is easy to perform and quite deceptive to the audience.  If you like object to impossible location where the destination is an everyday container, you will love Mint.
Please support intellectual property. Only buy original. Available from all reputable Murphy's Magic dealers.
[usr 9][/vc_column_text][/vc_column][vc_column width="1/3″][vc_column_text]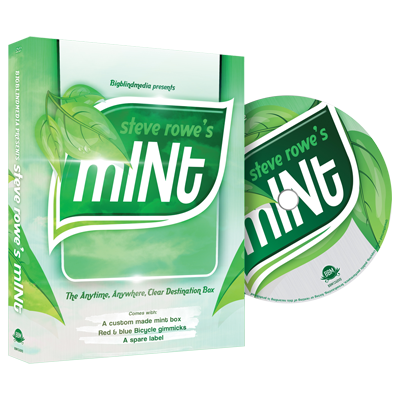 [/vc_column_text][vc_column_text]
[/vc_column_text][vc_widget_sidebar sidebar_id="gp-standard-sidebar"][/vc_column][/vc_row]