[vc_row full_width="" parallax="" parallax_image=""][vc_column width="2/3″][vc_custom_heading text="Reviewer: Bernard Sim" font_container="tag:h2|text_align:left" google_fonts="font_family:Abril%20Fatface%3Aregular|font_style:400%20regular%3A400%3Anormal"][vc_column_text]Let's face it, most of us, if not every magicians that buys a lot of magic will at some point put a newly bought item into the drawer and forget about it. For me, Octopalm is one of them. I was required to write a review for this and had to search for it and try it on. Boy…. I don't know why I did such a thing! I should have tried this long time ago!
Product description
True to its description, no hype about it but I think they have room for exaggerations as this is a really good product!
Effect
Below is what is taught on the DVD.
Coins Across – A very clean coins across that is very easy to do. Both hands are seen to be clean at all times. No sleights required. My favourite routine in this video.
Inflation – A small coin changes into a big coin, again, looks clean and easy to do. You just need to learn the Bobo Switch.
Penetrate – Coin thru spectator's hand. Anything is good with spectator's interaction. 1 coin penetrates a spectator's closed fist.
Intuition – Guess which coin in which hand routine. You can control the outcome, allow the spectator to win or lose. I like this but somehow this lacks an ending. Perhaps a prediction of how many wins or loses to conclude the routine would make this more interesting.
The Coin, Saltshaker and Napkin – The classic saltshaker through table, easy with the aid of Octopalm
Homing Match – Matchstick torn from matchbook is "thrown" in the air and is found restored in the matchbook. With Octopalm, the hands are shown to be very clean.
Linking Match – This classic impromptu effect is made more beautiful with Octopalm. The fingers need fewer movements.
Dice routine – Classic Sachs routine, such routines are often sold as a standalone effect but you get this included with Octopalm. This is a rather visual and magical routine.
For card moves – Discussion on how to use this to do bottom deals, second deals. A sticky finger will really help in such moves.
Additional Uses – Discussions on alternative moves for some of the routines featured in this video.
Method
The Method used in the routines are very easy and is easily accomplished by magicians of all levels. Octopalm is to make your life easier so you will benefit from using it. Most experienced magicians will be able to perform all the routines in this video but some may not achieve the cleanliness of the hands.
Quality
Packaging of this is just s small tub of gel, much like those lip balm containers. You only need a small amount each time and this little tub will provide you with many usages. No written instructions included but comes with a 90 mins video download which can be viewed streamed.
Pricing
I think this is way too cheap, it should be priced higher. The video is already worth more than the price of this item.
Verdict
This little tub didn't attract me initially, but I like it immediately after watching the video. There are so many things you can do with it. The streaming video allows you to select chapters which make re-viewing certain routines easier. At this price, it's a no brainer. Just buy….no buy a few.
Highly recommended.

Please support intellectual property. Only buy original. Available from all reputable Murphy's Magic dealers.
[usr 9.5][/vc_column_text][vc_separator color="grey" align="align_center" style="" border_width="" el_width=""][vc_custom_heading text="Reviewer: John Teo" font_container="tag:h2|text_align:left" google_fonts="font_family:Abril%20Fatface%3Aregular|font_style:400%20regular%3A400%3Anormal"][vc_column_text]Octopalm is a kind of gel to be applied to your skin.  It has gripping and adhering ability.  This will cause any lightweight object to stick to it.  You can therefore make any object vanish in a direct and visual manner.
You receive a small container of Octopalm, and a password to download or otherwise watch the 110 minutes instructional video from the web-site.  This supply of Octopalm will last you for quite a long time since all you need for each performance is just a tiny dab.
In the video, the creator of Octopalm, Jim Bodine, takes you through the applications and provides numerous routines using Octopalm.  The best use of Octopalm is to vanish small coins such as dimes or quarters.  Jim calls this vanish the Bodine Vanish.
Jim gives you the complete routine of his 6 coins across.  He then performs and explains other coin effects such as:
Inflation – a magical transformation of a small dime to a large silver dollar.
Penetrate – one of several coins penetrate a spectator's closed fist.
Intuition – a clean version of "which hand has the coin".  Jim embellishes it by using a special stone and a prize money of $100.  Jim also discusses variations of this effect.
Coin, Saltshaker and Napkin – Eric Jones joins Jim Bodine in discussing this classic close-up effect.  With Octopalm, both the saltshaker and the coin go through the table.  The coin can be signed.
Homing Match – this shows other small and light objects can also be used with Octopalm.  A burnt matchstick reappears back in the book match.
Linking Matchstick – one matchstick passes through another matchstick made easy with the use of Octopalm.
Dice Routine – this is not only an affect but a whole routine using 2 dice.  Octopalm makes the gripping of 2 dice easier and larger dice can be used.  Jim has come out with a really nice routine for Edwin Sacks' twisting the dice.  Jim also mentions the possible use of Octopalm for paddle tricks.
Card Moves – Eric Jones takes over and discusses and demonstrates the use of Octopalm in card magic, such as for bottom and second dealings, palming and the buckle count.
Eric Jones gives his own takes on Jim's effects "Penetrate" and "Homing Matchstick".  The last section of the video has Eric Jones and Jim Bodine answering frequently asked questions regarding Octopalm.  All in all, a well-produced video.
The video shows that a wide variety of applications is possible with Octopalm.  You can use it to ease difficult magic moves or come out with new effects.  Its use is limited only by your imagination.  With Octopalm, a revolutionary product is now available in the magician's arsenal.
[usr 9][/vc_column_text][/vc_column][vc_column width="1/3″][vc_column_text]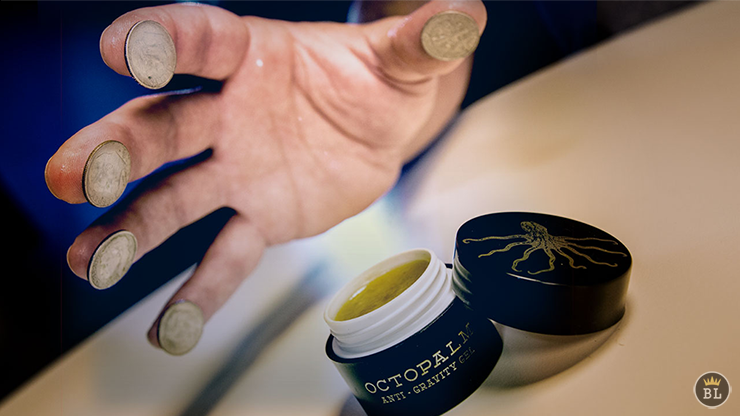 [/vc_column_text][vc_column_text]
[/vc_column_text][vc_widget_sidebar sidebar_id="gp-standard-sidebar"][/vc_column][/vc_row]