[vc_row full_width="" parallax="" parallax_image=""][vc_column width="2/3″][vc_custom_heading text="Reviewer: John Teo" font_container="tag:h2|text_align:left" google_fonts="font_family:Abril%20Fatface%3Aregular|font_style:400%20regular%3A400%3Anormal"][vc_column_text]Reaction is a blank-faced playing card with a small cut-out window so that whatever card placed beneath it can be seen through this window.
There are 2 main effects that can be performed using this window card.  One is an ambitious card type effect and the other is a colour changing back effect.
Ambitious Card Effect – the window card is introduced and placed on top of a face down deck.  Through the window, you can see the back design of the card underneath it.  A card is selected and is placed face up in the middle of the deck.  The cards are given a quick riffle and the back design of the card underneath the window card visually changes into the face of the chosen card.  The chosen card has indeed risen to the top of the deck.
Colour Changing Back Effect – a card is chosen from a red deck.  It is placed back to back with the window card.  You can see the red back design of the chosen card through the cut-out of the window card.  Visibly, the red back of the chosen card changes into a blue back.
The change of the card beneath the window card is very visual and looks magical.  It is also easy to use.  The window card can be shown casually on both sides.
You receive the window card and an instructional DVD.  The window card that came with my DVD was not well constructed.  Part of the shiny portion of the sealing tape used can be seen through the window when the card is placed on top of another card.
You may want to use the supplied window card as a template to construct your own window card.  It is not difficult to make one up.  The window card supplied has both sides blank.  You may want to make your window card out of a blank-faced playing card with a proper back design.  This will make showing both sides of the card more convincing.  Included in the DVD are 2 pdf files containing the artwork for a mechanical design of the window card so that you can make one up.
The DVD itself is well produced and the instructions provided are easy to follow.
If you like visual and novel magic, you will love Reaction.
Please support intellectual property. Only buy original. Available from all reputable Murphy's Magic dealers.
[usr 8][/vc_column_text][/vc_column][vc_column width="1/3″][vc_column_text]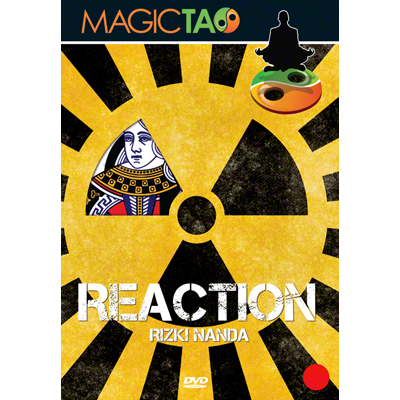 [/vc_column_text][vc_column_text]
[/vc_column_text][vc_widget_sidebar sidebar_id="gp-standard-sidebar"][/vc_column][/vc_row]