[vc_row][vc_column width="2/3″][vc_custom_heading text="Reviewer: John Teo"][vc_column_text]Anthony Owen is a creative British magician who was the editor of "The Magic Circular" as well as "The Dungeon".  He has won awards especially for his TV work such as in "The Quick Trick Show", a kids magic TV series.  He also produced Derren Brown's TV shows.  Together with another ritish magician, John Lenahan, he started a magic and comedy clu show entitled "Monday Night Magic".
"Secrets" is a well produced hard cover book by Anthony Owen.  He said in his own Introduction to the book that his approach to magic is to strive for the strongest possible effect.  You can expect that this book contains his greatest creations.
Published by Vanishing Inc, this 237-page book contains 43 effects divided into 8 chapters.
The first chapter is a bulky one entitled "Sticky Tricks" and occupies about a third of the book.  It is based in parts on his original booklet "The Sticky Blue Book 2.0."  It comprises 14 tricks utilizing a special 2-way glue that is more superior to magician's wax.  This chapter includes his super-clean oil-and-water effect called SOBW (Sticky Oil, Blue Water) with alternative endings, as well as his marketed effect "Miracle Monte 2.0" which is another super-clean find-the-lady 3-card monte type trick using the Queen and blank cards.  Other effects worthy of consideration in this chapter are "Sticky Blue Danube", an anniversary waltz card effect, and "Signed Card Anywhere" based on Chuck Fayne's card-on-seat.
In the next chapter, "Sleights And Sorcery", Anthony teaches 2 sleights.  "The Caravan Move" is a useful move for the "tent-vanish" of a face-up card on top of a face-down deck, but it requires a knack to perform it well.  Applications of the sleight are a colour change as well as a peek.  4 effects using this move are then described.  The second sleight is his window-stealing bottom palm, which is dependent on the size and shape of your hand.  It is used in a pop-up finale to an ambitious card routine.    
Two effects are described in the "Coins" chapter.  There is an interesting handling for pencil-through-coin where the spectator removes the coin from the pencil herself, and an easy but creative method of performing coin matrix without using any sleight-of-hand or shell coin.
In the fourth chapter "Out Of This Chapter", Anthony gives 3 variations of Paul Curry's original "Out-Of-This-World" effect.  His main objectives are to enable a spectator to shuffle the deck of cards, and that there is no swapping of packets half-way through the routine.  His 3 contributions achieved both aims.
"Cards" contains 4 card tricks utilizing gaffed cards.  There is "The Birthday Deck", his take on Dan Halan's Card-Toon Deck, a version of his "Holy Sh*t" trick and a transposition card effect called "The Miracle Card" that he collaborated with John Lenahan.
"Situational Sorcery" in a chapter on magic for special occasions.  Anthony discusses how to approach spectators at a table using the "Silk Handkerchief To Spectator's Sleeve" effect.  There is a brilliant knife swallowing trick which he used as an induction test to a magician's club, and a signature transposition effect using paper matches as an interesting ice breaker.
The "Mentalism" chapter showcases 4 excellent effects.  "Killer Kombustion" is a cunning take on Kenton Knepper's "Kolossal Killer" that eliminates the "one off" ploy.  "Re:Monition" is smart method of vanishing a randomly named card in a blue deck to have it reappeared face downwards in a cased red deck.  "Number At Card" is a devious presentation for ACAAN where the card named and the number called are totally random.  "The Natural Lottery" is an interesting creation of Anthony where the 6 numbers in a lottery ticket are divined by 6 different members of the audience.
The final and eighth chapter is entitled "Television Trickery".  It includes 3 magic effects each fashioned after a popular TV game or reality show.  "Who Wants To Be A Magician?" allows a spectator to always choose the correct answer among 3 others to any question asked, although her choice each time is random.  In "Big Survivor 2", the magician predicts in advance which one of 5 spectators the audience will pick to survive to the end.  In "Deal Or No Deal", a spectator wins a million dollar when she picks one out of a dozen sealed envelopes.  These are followed by 2 highly visual effects.  One is the vanish of a borrowed finger ring to reappear trapped within the metal bindings of a small notepad.  The other one is a weird trick where the magician drinks white coffee and then spits out its various ingredients such as water, milk, a lump of sugar and coffee beans.  Anthony also offers 3 interactive magic popularized by Max Maven where the audience at home can interact with the performer in the TV.  Rounding up this chapter are 10 valuable tips provided by Anthony for performing on TV.
The book is choke full of magic for all occasions and all types of performers.  There are effects that depend on sleight-of-hand, others that work on subtleties, methods that rely on gimmicks, and tricks that are self-working.  Many of the effects include the patter used by Anthony.  Credits are given where they are due, and these make for interesting reading of the history and evolution of a trick.
The ingenuity of the author is evident in all the effects.  The entire book is a study on how Anthony is able to use creative thinking to come out with solutions to overcome the weaknesses in a classic trick.  
Any magician should be able to find more than a couple of effects to add to his performing repertoire.  Some of ideas expounded in this book can help you come out with new effects or improve on your existing tricks.  
You will be pleased to add this beautifully produced book to your library.  It will be money well invested.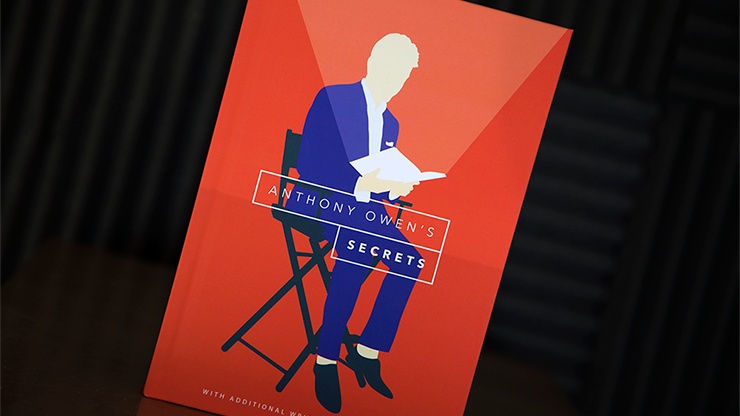 Magic is our passion but we are not a magic shop ? You can purchase this here!
[usr=10][/vc_column_text][/vc_column][vc_column width="1/3″][vc_column_text]
[/vc_column_text][vc_widget_sidebar sidebar_id="gp-standard-sidebar"][/vc_column][/vc_row]