[vc_row][vc_column width="2/3″][vc_custom_heading text="Reviewer: John Teo"][vc_column_text]The Silk to Egg effect has become a classic magic trick and is performed by many magicians.  If you think about it carefully, why would anyone want to change a silk into an egg, other than the fact that a hollowed out egg is a perfect hiding place for the silk?  An egg has no good reason to be in a magician's performance unless the performer is doing magic with chicks and eggs.  Most magicians would change a silk into an egg as a stand-alone effect and then move on to other tricks.
To transform a silk into a piece of chocolate and then hand it out to a spectator as a demonstration of the magician's prowess seems like a good effect to do.  This is what Sean Yang's "Silk To Chocolate" is all about.
You receive the gimmicked chocolate already wrapped with gold foil to simulate a Ferrero Rocher chocolate.  This is quite realistic in appearance.  You are also supplied with a 7 inches square silk.  There is also a QR code for you to view the instructional video.
Sean Yang really covers a lot of ground concerning the Silk To Chocolate effect in the nearly 18 minutes long video.
Firstly, he encourages you to purchase the real Ferrero Rocher and stick the base paper onto the gimmick.  This heightens the effect as the transformed chocolate does not seem to be the hiding place for the silk.  He then shows you a couple of ways to switch the gimmick chocolate for the real one.
Sean also demonstrates his own presentation for the sucker silk to egg effect (another classic) with the removable red sticker.  Other tricks you can do with this product are torn and restored chocolate wrapper and vanishing chocolate.  Sean shows you how to accomplish both effects.
A good advice from Sean is to use tissue papers instead of the red silk to transform into the chocolate.  Tissue papers are more of an everyday object than a red colour silk handkerchief.
There is a bonus gag that has something to do with picking your nose that you might want to consider whether it is appropriate to perform for some audiences.
As mentioned, the supplied gimmick comes with the gold wrapper.  Like the real thing, there is also a small oval label.  A close look at the label show that it does not bear the name of the chocolate but the words "Four of Hearts".  Nothing in the video mentions this nor explains an effect using this special label.
You can come out with your own routine.  But note that this fake label tends to indicate that the transformed chocolate is also a fake magician's prop.  
Here is one way you can use the fake label.  Take this label and stick it onto a real Ferrero Rocher.  Do a card trick in which you fail to find the chosen card of a spectator.  Offer to appease this spectator by transforming a silk into a piece of chocolate.  Switch it for this real chocolate and then offer this to the spectator.  Ask her to look at the label and she will be surprised to find the name of her selected card printed on it.  Take away the label (to use at another performance).  The spectator is left with a nice piece of chocolate for her effort in helping you in your performance.
This is an effect that is easy to perform and carry in your pocket.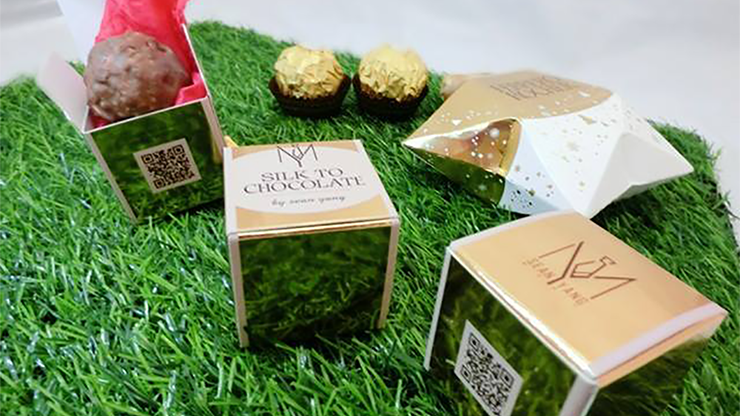 Magic is our passion but we are not a magic shop 
 You can purchase this here!
[usr=8][/vc_column_text][/vc_column][vc_column width="1/3″][vc_column_text]
[/vc_column_text][vc_widget_sidebar sidebar_id="gp-standard-sidebar"][/vc_column][/vc_row]