[vc_row][vc_column width="2/3″][vc_custom_heading text="Reviewer: Maarten Bosmans"][vc_column_text]Put simply, Andi Gladwin's At the Table Lecture is amazing. In this lecture Andi sits with his best friend Joshua Jay (who are also the owners of a great online magic store called Vanishing Inc. — be sure to visit this store if you need some effects they have an excellent customer service) to share his experience as a professional close-up magician.
We all want to perform for audiences and we also all love getting paid! Therefore, this lecture that should be studied by everyone because along with sharing some tricks, Andi goes into a lot of detail about marketing. Andi's advice is delivered in such a way that it will be extremely useful if you are an experienced performer or a starting novice. He explains a five-step program of things you need to do to get more gigs. I saw Andi lecture this at a live lecture in Belgium and I still remember these tips to the day. These are truly useful and actually work to get more gigs.
There are also five routines taught. Andi shares his "Fireworks Card Routine," which is really nice as he gets twelve different magical moments in a three minute routine! It clearly plays well in loud environments and is ideal for gigs in weddings and parties. Then Andi talks about how to create a great website and how to get more gigs. His comparison from his old website to his current website is really useful for every magician. You get the feeling from the decisions he made with his new website that Andi is not a random close-up magician, but a real magician who you would really want to book for your event. Later in the lecture Andi also talks about how to handle enquires to get more gigs from the people who want to book you.
We also learn some other effects such as "Pickpocket Biddless:" a nice pickpocket type of card effect that could be a lead-in for a pickpocket routine. His "Monte Python" routine is something I love because I always use a Three-Card Monte routine in my own close-up performance. Like Andi, I find it personally more interesting if you don't present this as a sucker effect but as an effect where the magician says where the X-card is and the audience be puzzled over the fact they do not seem to follow where the card is. I am going to add his handling to my own Three- Card Monte routine.
Just before the last trick Andi gives more information about doing magic for weddings. It is not something that is popular in every country, so Andi talks about his strategy how to do wedding magic if you live in a country where they don't do this often. His last effect is called "Pocket Mule," which is a really nice way to get out of an awkward situation. It is a real simple effect, but you can use in any close-up environment. It is always good to have the types of effects in the back of your head as a toolkit to use in case a spectator tries to hassle you.
I rate this lecture a 10 out of 10 because I think every magician should apply the rules Andi teaches about his marketing. This will get you more gigs and help you grow as a magician.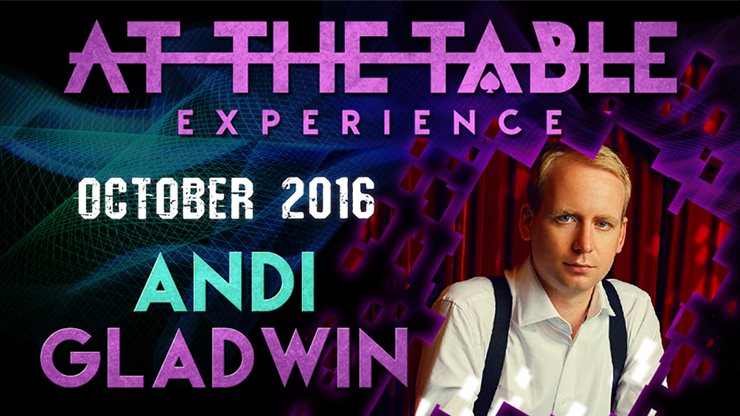 BONUS INTERVIEW WITH ANDI GLADWIN
Can you give us some tips on performing magic at weddings/parties (how many tricks you bring, duration per group,etc).
The best part about walkaround magic, for me, is that it allows you to adapt to each group. So your question is a difficult one to answer because in six years of working as a professional magician, I don't believe I have ever done the same show twice in a walkaround situation. Every group is different. If there are kids there, I'll adapt. If it's noisy, or if people don't speak good English, I'll do more visual tricks. If I can feel that a card routine isn't getting the impact it normally does, I'll do a coin routine. The goal is to be perceptive and be prepared enough that you can create a unique experience for every audience. That's how you create memorable performances, I think.
For Vanishing Inc. you have written a lot of books, are there any interesting upcoming releases coming out that we should keep an eye on?
In the next few months we have new books coming from Jamy Ian Swiss, Roberto Giobbi and more. I'm busy at work on a new Jack Parker book and am finally getting close to finishing the Scott Robinson book that has been on my desk for a few years.
What are your 3 favorite tricks to do?
It's always the tricks that I am currently working on. I get a kick out of seeing my tricks go from ideas to finished (or as close to finished as possible) pieces and I'm pretty much always working on something new. At the moment I have a lot of new stand-up card magic pieces that I am developing. In walkaround situations I love performing Multiple Revelation and my "Fireworks Card Routine" for the simple reason that it allows me to adapt and customize my performance for that audience. And one last one to round it up to three: I get a thrill performing my "Magic Squared" and live for the moment in my show where I get to turn the square around for the big reveal!
Magic is our passion but we are not a magic shop 
 You can purchase this here!
[usr=10]
[/vc_column_text][/vc_column][vc_column width="1/3″][vc_column_text]
[/vc_column_text][vc_widget_sidebar sidebar_id="gp-standard-sidebar"][/vc_column][/vc_row]